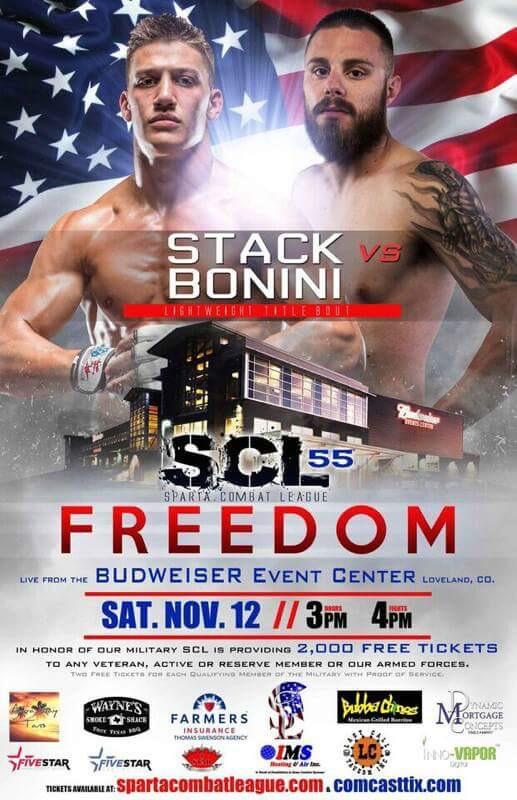 The day is finally approaching for Colorado State senior Michael Stack.
The amateur mixed martial arts fighter will duke it out for a chance to win the Sparta Combat League lightweight title Saturday Nov. 12 against Donni Bonini at the Budweiser Events Center in Loveland, Colorado. Doors to the event open at 3:00 p.m.
The Arvada, Colorado native has won each of his two Sparta League fights and is the No. 14 ranked amateur fighter in Colorado according to tapology.com
Stack comes in with a clean track record and reason to be excited, given he's won both of his fights by knockout. However, since he hasn't fought since mid-June, the upcoming title date feels a bit surreal to him.
"I haven't fought in around five months so it doesn't really feel yet," Stack said. "I'm sure around Friday I'll really start feeling it because at Friday's weigh-ins I'll be able to see him."
Stack debuted in the Sparta League last February against Austin Jackson. The fight didn't last long, as Stack knocked Jackson out only two minutes and 26 seconds into the fight.
"That was insane," Stack said. "When I was going out I wasn't even nervous. I remember getting in the cage and hearing everyone scream my name, I thought it was the coolest thing ever. Right when I got in the cage I was like it's go time. It was exciting and a lot of fun."
Domination was again the theme in Stack's second fight on June 25th. The 6-foot lightweight fighter only needed two rounds to knock out Austin David.
"Austin David was definitely tough," Stack said. "That guy could take a punch and he actually trained with Alejandro Abarra, the former 155 pound champ."
Stack's current competitor, Bonini, has a Sparta League record of five wins and five losses. In his most recent fight, he beat the former lightweight belt holder to grab the title. It only took Bonini 38 seconds to beat Abarra by submission.
Stack is looking to continue his trend of knocking his opponent out, however he is confident he can also collect the win otherwise.
"He's had a lot more fights than me, but his striking is not as good as mine," Stack said. "He is pretty confident on the ground but I still think my ground game is better. I'd rather knock him out, but if he takes me the ground he'll be sad that he did because I'll beat him up down there."
If he is able to beat Bonini, the next step for Stack is to go professional.
"After I graduate I'll likely go pro," Stack said. "From there I can still fight for SCL but I'll be getting paid. They get paid like $500-$1000 a fight, which is not something you can live off of but it's more than I make now."
Getting discovered by the UCF is tough since there are numerous qualified fighters worldwide. Regardless, everyone who has seen Stack's uprising believes he has what it takes to win this fight and then make the next step.
"He's in outstanding shape and his mind is focused," Stack's father Steve said. "He knows what he wants to do and I really believe that in a few years he'll be in the UFC. I'm really proud of him. I know he has the talent, skill, and the heart to do it."
Collegian Sports Reporter Eddie Herz can be reached by email at sports@collegian.com or Twitter @Eddie_Herz