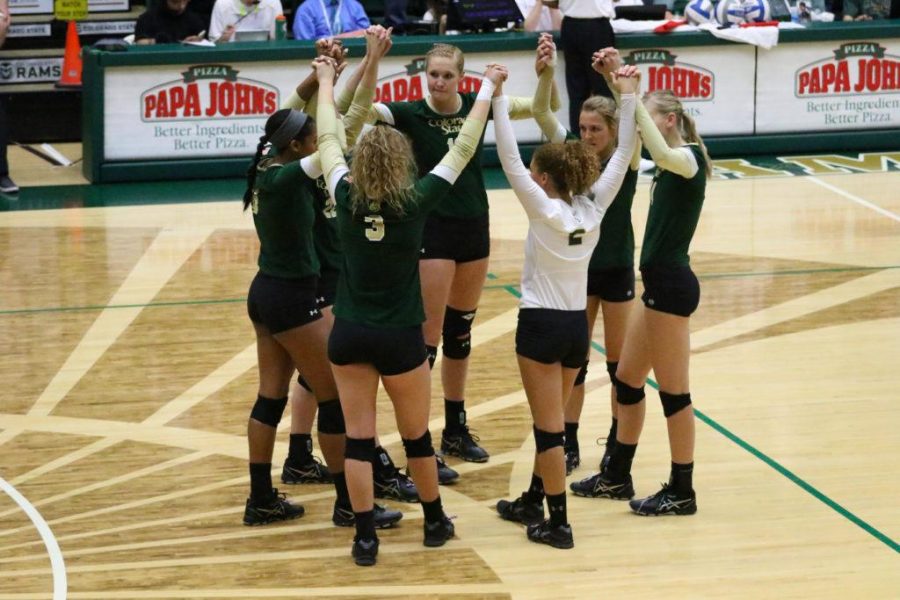 [new_royalslider id="539″]
It was everything anybody could have asked out of two teams vying for the top of the Mountain West conference.
A back-and-forth and closely contested five-set doozy was the result of Thursday night's pivotal conference showdown between CSU and UNLV in front of 1,948 fans at Moby Arena.
And the Rams came out victorious, winning 20-25, 25-18, 25-21, 17-25, 15-11 while making gigantic plays down the stretch to bury the Rebels in a match that featured 37 ties and 10 lead changes.
With the win, CSU jumps ahead of UNLV by half a game in the standings, but with the Rebels having played one more conference match to this point, the Rams are in reality a full game ahead of the Rebels. There's still six matches left in the conference slate for CSU, but this one came at a critical juncture.
"I think it's very valuable," head coach Tom Hilbert said. "We need to attach ourselves to this kind of competing and this kind of match and understand that we can play one of these and win it. I call them 'grinder matches.' You're just siding out, siding out, trying to sneak a point in here and there and we did that consistently enough to win."
Speaking of plays down the stretch, Kirstie Hillyer made her share in the fifth set. The redshirt freshman from Bayfield, Co., tallied five clutch kills in the final stanza. Alexandra Poletto added three more herself in the fifth.
"I really wanted it," Hillyer said. "I wanted the game to end. We grinded through that last set and I wanted to be able to do my part for the team and help us finish."
And for setter Katie Oleksak, who finished the night with 57 assists and two blocks, there was no doubt who was going to get the ball in that fifth set.
"We were in the huddle and everyone was just hyping each other up and Kirstie was like 'We're winning this,'" Oleksak said. "That's when I knew she was going to put a ball away. I knew she really wanted this so I gave her the ball."
Hillyer finished the match with 18 total kills and Poletto had 15. Jasmine Hanna joined the double-digit club with 13. Defensively, the Rams had 11 total blocks, led by Hillyer who was in on five. Libero Cassidy Denny compiled 23 digs while defensive specialists McKenna Thornlow and Amanda Young both added 10.
CSU also welcomed opposite hitter Olivia Nicholson back to the lineup. Nicholson missed the last three matches while recovering from a concussion suffered on Oct. 20 against San Jose State. In her return, Nicholson contributed nine kills on 23 swings while tallying 10 digs.
But perhaps her most notable contributions were less apparent on the final stat sheet.
"The best thing she did was ball handle." Hilbert said. "She managed her attacking well today. She didn't make a whole lot of mistakes…When you play the right-side position those people have to make plays on controllable balls to help our transition game. I really think her being in the back row may have been better than her being in the front row. It opens it up for other players if you have a right-side player that you get the ball to fast."
The win itself could end up going a long way for the Rams mathematically in terms of the conference standings. But, CSU came into the match 0-2 in five-set matches. They lost in five to Pittsburgh on Sept. 3 and then fell to San Jose State again in five. The difference tonight was simple.
"We were able to be terminal quickly in rallies and we didn't give up any point runs," Hilbert said. "And we also served and passed in that last game really well."
CSU will play next against New Mexico on Saturday at 7 p.m. MT. The Rams swept the Lobos in their first matchup on Oct. 6.
Collegian Sports Reporter Michael Roley can be reached at sports@collegian.com and on Twitter @michael_roley