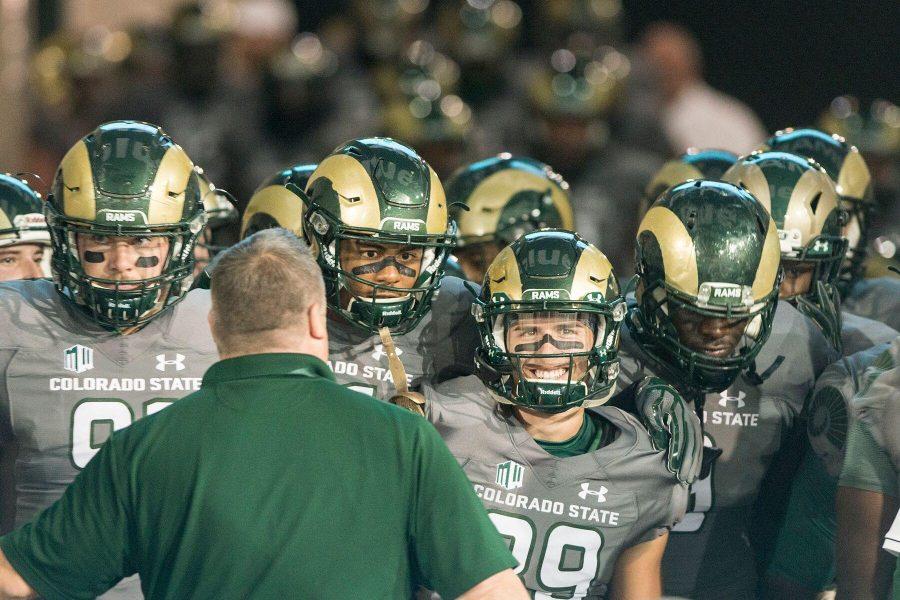 Coaches coach, players play.
It is a dynamic that has existed since, well forever. The coach explains what to do and how to do it; the player listens, and then emulates the coach's words on the playing field. Good things happen when the player listens to the coach.
But what happens when the player becomes the coach?
Colorado State (2-3, 0-1 Mountain West) head coach Mike Bobo wants to find out. He doesn't want his players to call the plays and come up with the schemes. He wants his players to coach leadership. Bobo wants CSU players to be able to teach each other what it means to be a Ram.
What does that look like exactly?
"It looks like this," Bobo said. "(Tuesday) we started team run, it was our first competition drill, and the offense was ready to go and they were kind of taking it to the defense. Didn't really hear anything form the defense. Coach (Marty) English had to get over there on the defensive side, amongst the linebackers, and start to challenge them and then they picked it up from that point."
When players are leading themselves, defensive coordinator Marty English does not have to harp at the linebackers. He just has to sit back, watch, and coach as players motivate themselves. The coach is there to do it if he has to, but Bobo does not want to have to.
"A player led team would do that themselves," Bobo said. "There is going to be bad plays, but they are going to speak up and realize what drill we are at, what we are trying to accomplish, what today is about. Just getting after it. Getting after each other. Coach English knows what good coaches do. They take over and he got it going."
Five games into the season, and Colorado State is not being player led. The team has leaders; the coaching staff just wants to see them do more leading.
The feeling is mutual.
The players know what their coach wants. Understanding that leadership is an area needing some attention has not gone in one ear and out the other. With that being said, it is still a work in progress.
"There are different aspects of being player led over coach led, I think personally," senior safety Jake Schlager said on how the team can become player led. "We do need to step up in the aspect that players need to be holding each other accountable and just not letting things slide."
Letting things slide is an easy way to stay stagnant. Issues do not get any better if you let them fester. The infection spreads form one thing sliding by to five. It is a mentality Schlager says the team is working to correct, but not where they need to be at this point in the season.
"I think we are continuing to get better at that each and every day, every week," he said. "But like coach said, we are just not there yet. I think that is going to be something that progressively comes, but obviously we are nowhere near where we want to be or need to be at the moment. And that is what the leaders, and myself and everybody else are working towards."
When the head coach wants something done, it is the player's responsibility to get it done. They take it upon themselves to correct flaws. For Schlager, becoming a leader has not been the easiest process, but is something he has strived for.
"You take that as a personal challenge," he said. "I have never been a huge vocal person my entire life. I'm blue collared, I put my head down and I work and I grind and I let my actions speak for itself. But stepping into a new role, it is just something that you have to get out of the comfort zone, grow out of your bubble and just sort of expand into a new leadership role and that is being more vocal … I know that I need to do a better role and do a better job with that myself."
It is one thing to continuously say you need to get better at something; it is another to actually do it. That is the battle presenting itself on the team: Enough saying, more doing.
A player can lead as much as humanly possible, but if the players he tries to lead do not want to see change, it does not amount to anything.
"You can harp and call people out and do everything, just try to be more player led. But at the end of the day, it's the person in the glass; it is the man in the glass," Schlager said. "It is who you have to look at in the mirror. At the end of the day it's yourself … you can harp on somebody as much as you want, but unless they want to change, unless they want to get better, then it is not going to get any better."
Schlager is right. At the end of the day, a leader can only do so much. It is up to the team as a whole to have the mentality, the urgency to see a problem and want to fix it. It is their legacy on the table. What do they want their time at Colorado State to represent?
"It is Bobo reiterating the fact that it is our team and we are the ones that need to do it," senior tight end Nolan Peralta said. "Sometimes you look to the coach to kind of give us the answer of what he wants us to do in any given practice and sometimes we need to take it over for ourselves. It is really just having that click in our mind that it is our team."
"Players are the ones that have got to step up and hold each other accountable," Bobo said. "It is their football team."
Collegian sports editor Chad Deutschman can be reached by email at sports@collegian.com or on Twitter @ChadDeutschman