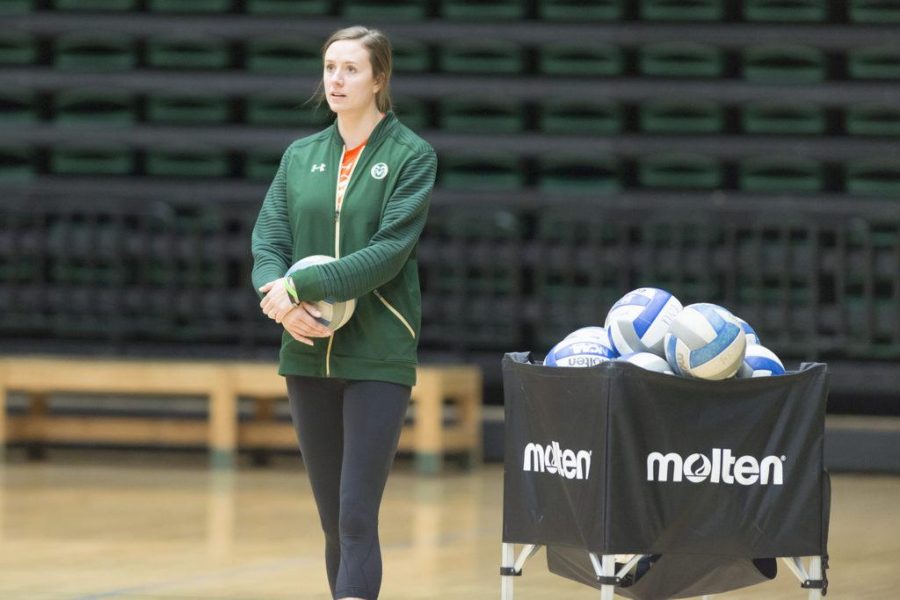 When performing at a concert, the musicians on stage are undoubtedly what draws the attention of most of the crowd.
And understandably so, they are talented and in the midst of putting an elegant product on display.
But it is not just those who are responsible for turning out a successful event that people are willing to fork over half the week's wages to attend. The diligent workers behind the scene are what make the show go on.
The CSU volleyball team is no different. Beyond what is seen on the court, there are contributions made by individuals that go far beyond what any box score could cover. Their efforts are not noted in reporter's post-game recaps. But without them, the entire operation and success of the program would not be the same.
The behind the scenes work begins with director of operations Bri Olmstead. Olmstead was a former standout player for the Rams, who still ranks sixth all-time in program history with a career average of 1.22 blocks per set while playing two years in 2003-2004.
In 2007 she was back at CSU as a video and statistics coordinator before becoming an assistant coach from 2008-2011. Then in 2012, the director of operations position for volleyball was created and Olmstead entered the role.
Anything that happens that does not have something to do with movement on a volleyball court, Olmstead probably is involved in. She runs all the administrative duties you can think of, from arranging team travel to coordinating the details of a recruit's visit. She ensures player's needs are taken care of, and frees up time for head coach Tom Hilbert and his assistants to do what they need to do.
"She's like running the program," Hilbert said. "She does the nuts and bolts and the everyday operations, she's doing it all…She does all the other stuff so that we as coaches can focus on coaching and recruiting. She essentially does everything else."
For Olmstead, the players always come first. If they need additional food in the locker room or after a match, she's on it. If they need equipment? She can do that too.
"First and foremost, student-athletes come first," Olmstead said. "Any loose ends, it's my job to tie those up."
Olmstead does not sail the ship entirely on her own. She has a student manager, sophomore Olivia Torres, who assists her. Torres is primarily in charge of constructing and tearing down the practice setup. After seeing a posting for a work-study job last fall, the daughter of a high school coach saw the opportunity to help out the team and remain a part of the game she enjoyed.
"I wasn't necessarily looking for a job that had to do with volleyball," Torres said. "It kind of just fell into place because it was my first year off playing any volleyball. It worked out that I got to get a job and I got to be a part of a team again and be around something that's been such a big part of my life."
While Olmstead and Torres handle a lot of the administrative and other duties that take place off the court, Dana Hallisey does the same but with the more on-court matters.
Hallisey, who was formally known as Dana Cranston before recently getting married this August, played for Hilbert from 2009-2012. She was brought on at the beginning of this season as a volunteer assistant coach, a perfect position, she said, since she's on a "weird visa from Canada" that prohibits her from working.
Hallisey returned to Fort Collins with a yearning to coach after spending time competing for a spot on the Canadian National team at the Rio Olympics and playing overseas in France and Germany. Since she left, she maintained strong connections with the program and has discovered an interest in coaching. She's learning how coaching at the NCAA level works and the time that goes into it. But right now she's a valuable resource to the team. Hallisey played under Hilbert, she knows the system and has a heck of a lot of pride in it.
There's a very fine line between being coach and friend, one that Hallisey is well aware of, but given her situation right now, she is a trusty link between the players and staff.
"I can make that bridge for them," she said. "I see the coaches' perspective because I'm talking with them but I see the player's perspective because I just came from that. I can be a bridge for them. It allows them to see what the coaches are thinking but then I also can be a bridge in that understands what they're going through."
Hallisey works thoroughly with scouting opponents and prepares scouting reports on them. And it might her first experience coaching at this level, but she's turned some heads. Most notably, the boss himself.
"Dana's been great," Hilbert said. "She knows the program, she knows the history of the program. She's a Ram through-and-through which she spreads to the new players. She's also very, very competent as a coach. I've been impressed with how well she scouts opponents and with the observations she brings to our meetings."
While Hallisey is busy scouting and piecing together ways to beat opponents, another behind the scenes person, sophomore Ryen McClain is busy tracking data about what the Rams are doing. McClain, who found out about the stats manager job in a business class, applied thanks to the encouragement of friends and then eventually got the position.
Analytics use is widespread in volleyball, perhaps more so than any other American sport, Hilbert said. They track every point of contact with the ball. They use it to find where players are finding success hitting the ball, which they use to adjust on the fly during matches.
"Ryen plays a big role and she's quiet and just sits back and does her deal," Hilbert said. "We look at those stats. Those are live, in-game stats that we're looking at and making decisions on so it's important that whoever does that is good."
Anything that happens during a match and then some, McClain probably has typed into the program. She does it both during matches and in practice. Hilbert even said that it was a major factor in determining that freshman Amanda Young should start at the beginning of the season. It's very complex and requires significantly deft typing skills.
McClain came along last November and then began doing it full-time during matches this season, but she's continue to improve at it just like the players are at their craft.
"I'm still learning," McClain said. "I don't think the learning will ever be over… I'll get three years doing it by the time I'm a senior and I'll still be learning new things and trying new things my senior year."
The spotlight doesn't always shine bright, but there's a tremendous value in the work that gets done behind the scenes. And it comes with all sorts of rewards.
"It's awesome to see these athletes come in during the recruiting process and they're so young when they first step on campus and get to meet the staff," Olmstead said. "Then to watch them transition from being a high school student and making a decision to come here. Then they're freshman on campus and some of them are 17 years old, they are babies. You see them go through this process which is not easy by any means. You get to see them grow, that's really what stands out to me."
Collegian Sports Reporter Michael Roley can be reached at sports@collegian.com and on Twitter @michael_roley