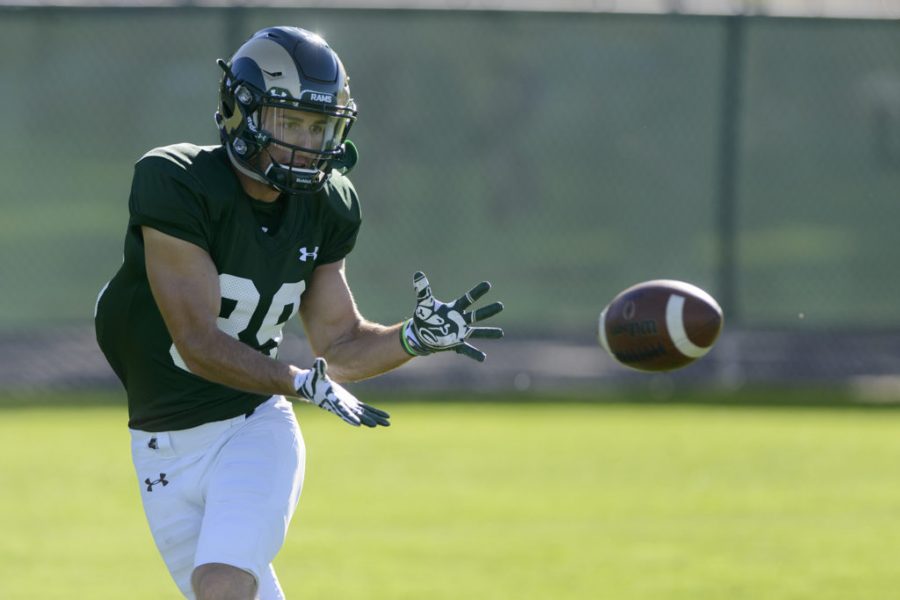 Colorado State wide receiver Robert Ruiz was preparing to take on a role behind Rashard Higgins and Joe Hansley heading into the 2015 season. After redshirting in 2012, Ruiz played sporadically in his freshman and sophomore seasons.
2015 was going to be the walk-on's shot at seeing the field. It was going to be his turn to have all the hard work, all the dedication pay off. Ruiz tore his right ACL on Aug. 26, 2015 during a fall camp practice, ending his season before it began.
"It was hard. I thought I kept a positive attitude about it when it first happened," Ruiz said about dealing with the frustrations of his injury. "Football isn't everything, but sometimes when you put all the hours in that we do, and you put a lot of hard work in that we do, it kind of becomes that in your life. I feel like when I tore my ACL, when I was finally going to get my shot at this program, it kind of felt like I lost a little bit of my identity."
Six months, minimum. That is the path that faced the El Cajon, California native. A pop in the knee meant at least six months before Ruiz could attempt to step foot on the gridiron again.
Ruiz didn't call his mother, Denise, until a few days after the injury. He was scared to tell the 24-year Marine Corps veteran the news.
"Currently I have 1,000 Marines that are in my charge, 90 percent of them are between 18 and 23 years old," Denise said. "I am taking care of all these men and women from across the country every day all day, and he can call me and tell me about anything. He called me a day or two later (after he tore his ACL) because he was scared to tell me, thinking I was going to be mad because he hurt himself. But when he called it was the absolute opposite, I immediately flew out there."
When Ruiz began to battle back form his injury, there were no major setbacks in the rehabilitation, but when things didn't progress as fast as hoped, frustration set in.
"I was a little bit more depressed than I thought I was at first, but I got stronger, and coming back I thought I was ready and then during camp I was watching film and I still wasn't there," Ruiz said, speaking about coping with the recovery time. "I was getting really frustrated with myself."
Ruiz was about to get his chance in 2015, and then it was taken away. The thought of never getting that chance again loomed over him.
The world would not stop turning for Ruiz if he couldn't get that second chance, but when you spend more time focused on football than anything else, it can be hard to tell the difference.
"Athletes, we are told school comes first, then football. But when your whole life revolves around playing this sport, it kind of makes it hard to concentrate on anything else and not feel self-pity," Ruiz said.
That is the demon hanging over the shoulder of Ruiz. Will an injury define him as an athlete, or could he return to form? Denise gave her son only one choice.
"I stayed out there for three weeks during his rehabilitation and surgery," Denise said. "He did reach out a few times saying he wasn't sure if he was going to make it back and bounce back, but I just kept giving him positive feedback and stories about Marines that have been injured and how they're walking again. I just give him combat stories that I have lived with and helped with and just gave him that encouragement…this is not the end all be all."
Denise wanted Ruiz to fight; she wanted her son to come back from the injury stronger than before. She had seen Marines scratch and claw their way back; she knew her son could do the same. It's how she raised him, with the mentality and grit of a Marine, every step of the way.
"He didn't have a choice. Starting from a young age, I had him at 21 years old when I was a corporal in the Marine Corps, and he has been with me the majority of the time except for my deployments," Denise said about how her Marine background has rubbed off on Ruiz. "He has (that mentality). I am a loving, care free let's go have fun mom, but the respect factor, the work hard factor, work hard play hard factor (were instilled at) an early age. Everything you do, you have to go 100 percent. Sometimes you can be lazy and relax, but when it's time to have the game on, it's game on."
Ruiz sat out the entire 2015 season, working his way back. The walk-on watched his team play on the field he was supposed to be on, patiently awaiting a second chance. Encouragement came in many forms, especially from his mother, but also the team.
"The coaches were really encouraging, saying 'we know it takes time, we've seen a lot of these injuries. People come back, and come back, stay with it, stay with it,'" Ruiz said.
Heading into fall camp for the 2016 season, Ruiz was ready to strap on the helmet once more. It was time to see how far he had come.
Ruiz didn't step back onto the field and not miss a beat. It took time, effort, to get back to full speed.
"I lost a little bit of confidence, until finally something just clicked," Ruiz said. "I was able to push through the pain and I was back to running routes like I was supposed to. I got my speed back up and it's been great ever since."
Great ever since might be an understatement for Ruiz.
On Aug. 17 2016, after four years at Colorado State, the redshirt senior was awarded a scholarship. Taking the burden of paying an out-of-state college tuition out of his mother's hands.
"I knew I was still struggling on the field. But it was definitely a relief," Ruiz said. "It felt like it was less about the money and more about the respect of getting the scholarship, feeling like you were good enough to be paid to play to play here kind of thing, like the majority of the team that is here that actually touches the field. Just knowing that my mom is not going to have to pay for this last semester of school, which out of state gets pretty high."
Marines don't cry often, but an exception was made when Ruiz made the call home.
"After the three years of walking on and making it and traveling, he has been so grateful for everything. He just didn't think this day was going to come," Denise said. "Every time I see his number call I think, 'oh God, oh God.' I'm always afraid it's going to be a bad thing ever since he called me and told me he ripped his ACL last year. Every time the phone rings I get nervous. I take deep breaths and prepare for bad news. I have had many accomplishments and many proud moments in my career, my son's career, but that … it is hard to describe the level of pride, the level of relief that he was being recognized for his talents and his hard work. For a badass Marine, I cried."
Ruiz's college career is now coming full-circle. From walking on in 2012, to being injured in 2015, to now returning punts and starting as the slot receiver, Ruiz has taken the unconventional path.
"Raising (Robert) by myself being a single mom, he and I have worked very hard and we're very close. I just know a lot of the frustration he has gone through to get where he is at right now, being a walk-on sometimes you get overlooked," Denise said. "Knowing that he can compete with the other scholarship kids that were being recognized and not in a selfish way, but just wanting to play. The passion, the pure passion of just wanting to play."
Ruiz has played in all four games thus far in 2016 at wide receiver and punt returner, recording three catches for 61 yards and averaging 6.1 yards per return. He scored his first collegiate touchdown Sept. 17 against Northern Colorado.
Collegian sports editor Chad Deutschman can be reached by email at sports@collegian.com or on Twitter @ChadDeutschman