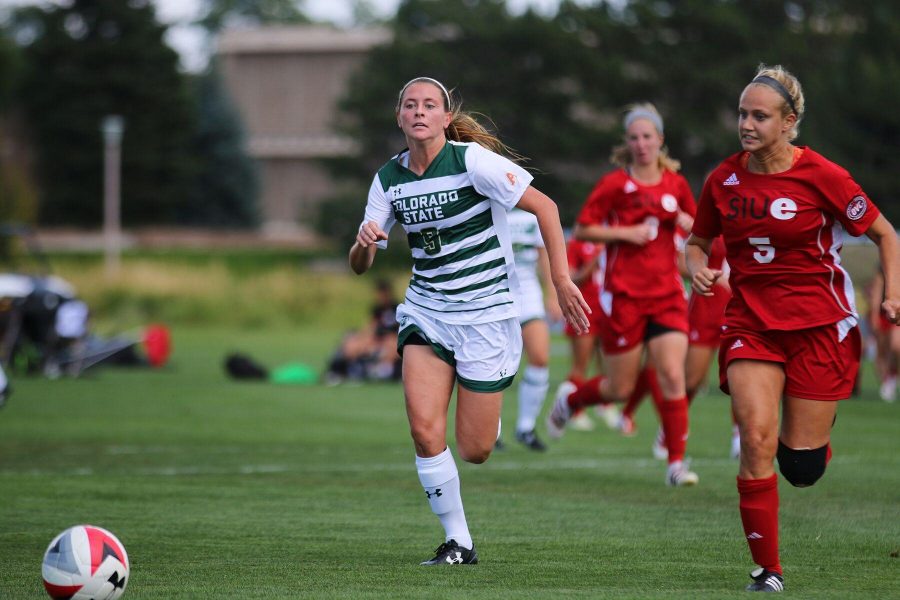 It was déjà vu for the CSU women's soccer team (2-3) when they fell to the Iowa Hawkeyes (3-1) 4-1 Friday night. In the two teams one previous meeting in 2013, the Hawkeyes took the win 4-0 and would continue their dominance on Friday.
The Hawkeyes started out fast when a shot bounced off the top cross bar two minutes into the game and then 10 minutes later when Iowa midfielder Karly Stuenkel booted home a goal off of the cross from her teammate Hannah Drkulec.
The Rams offense struggled at the beginning game, as seen by their first shot on goal coming in the 30th minute. A few minutes later, Iowa put away another goal when Iowa forward Bri Toelle hit a strike from the left side across the goal and into the net in the right corner.
The Hawkeyes led 2-0 at half, with the Rams having only two shots on goal and one corner kick. A positive was that Rams goalie Natalie Dierickx had nine saves and had a brilliant diving block in the 25th minute where she had to completely layout to her right on a bending shot from the Hawkeyes.
The start of the second half gave the Rams some hope when junior forward Janelle Stone put her team on the board with an unassisted goal. The offense finally looked as if it was coming together after they looked out of sync in the first half when passes were wide or players were not in the place they should have been to receive the pass.
However, 10 minutes later in the 57th minute, Stuenkel hammered home her second goal of the game after forward Rose Ripslinger missed an open shot on goal, but the rebound went off of Dierickx and right to the foot of Stuenkel. Iowa would put the game away 20 seconds later when Ripslinger avenged her miss and found the back of the net for the Hawkeyes' fourth goal of the game.
For the Rams, this game was definitely a learning experience, going against a team in a power five conference like the Big Ten. Dierickx ended the game recording 11 saves on the 24 shots she endured from the Hawkeyes.
Up next for the Rams will be an even tougher test when they take on the No. 24 ranked Northwestern Wildcats on Sunday.
Collegian sports reporter Austin White can be reached by email at sports@collegian.com