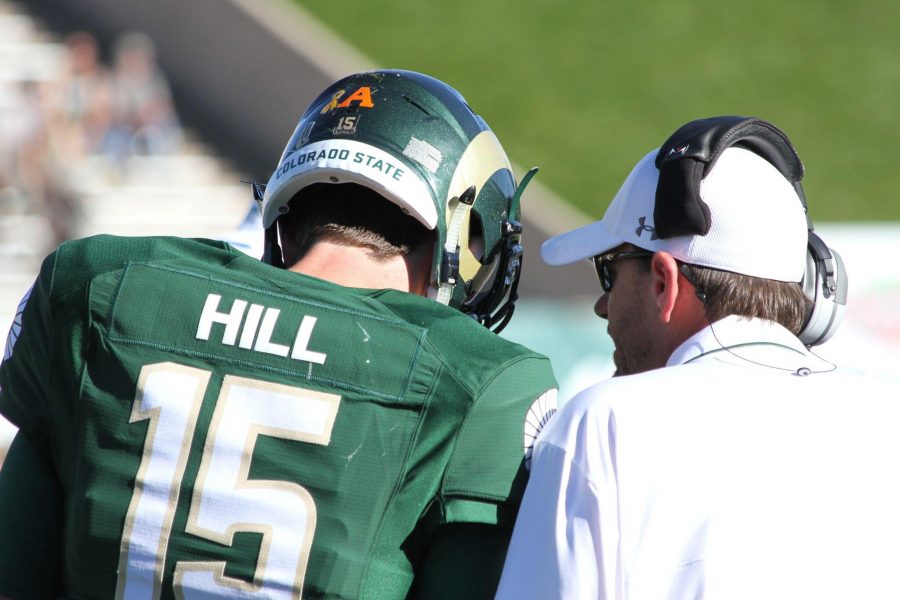 Coming into the season it was unclear who would be the Rams starting quarterback, but most assumed it would either be Faton Bauta or Nick Stevens. Stevens was ultimately named the starter for the Rocky Mountain Showdown, but after struggling immensely, he was pulled week-one and has not seen the field since.
Bauta was then given a chance to lead the offense in week-two against UTSA, but was replaced by true freshman Collin Hill in the fourth quarter.
Head coach Mike Bobo had spoken highly of the young quarterback since he arrived on campus last Winter, but Hill was expected to redshirt this fall with two veteran quarterbacks on the roster. Instead, Bobo through him into the mix when Bauta struggled to complete a pass for most of the afternoon.
In limited action, Hill went 2-6 for 26 yards, including an 11-yard strike to sophomore wide receiver Olabisi Johnson on his first career pass attempt. Obviously we did not get an extended look at Hill, but in those few snaps, the Rams fans got the first taste of the apparent future of Colorado State football.
After going to Hill in just the second week of the season, the obvious question is should Bobo commit the rest of the season to Hill? The obvious answer would be yes, now that redshirting him will be out of the option, but the situation is not so black and white.
On one hand, the coaching staff would like to develop their young quarterback, especially with redshirting out the window. On the other, committing to a true freshman at quarterback would certainly change the outlook of the season.
Committing to Hill in 2016 would mean a few things. First, it essentially would be a sign that Bobo no longer has faith in Bauta or Stevens as starters and would rather prepare for the future, essentially deeming 2016 a rebuilding year.
Bauta would still probably see the field in running packages, which is something Bobo referenced after the win over the Road Runners last Saturday, but the focus would be on developing Hill as a passer.
Expectations for Bobo's Rams were high heading into year-two of the former Georgia offensive coordinator's tenure at CSU, but fans would definitely have to be more realistic with their hopes for the season if a true freshman is under center. A fourth-straight bowl appearance may become less likely in 2016, but the optimism for 2017 would be high.
Starting Hill moving forward would also mean that Stevens likely would not see the playing field in a Colorado State uniform again. As a redshirt junior, Stevens is set to graduate this year and would be eligible to transfer without sitting out for the 2017 season. If Hill surpasses him full-time in 2016, it would be shocking to see Stevens stick around for next year.
At the time being, it does not look like the coaching staff has much faith in Stevens or Bauta as a legitimate passing threat, so rolling with Hill very well might be the best option for the future of the program. Stevens has been a class-act throughout this tough situation, but at some point, you have seen everything you can from a player.
If Bobo really believed Stevens was going to be the guy this year, it would have been No. 7 coming in relief of Bauta, instead of No. 15. It took nearly half of last season, before Bobo committed to Stevens as a starter in the first place. Bobo pulled the California native after just one half in 2016. Does that seem like a situation where the coach is truly content with his QB?
Quarterback play has been downright miserable through the first two weeks of the season and honestly there have not been any indications that it will get better with Stevens or Bauta under center. Bauta and Stevens are a combined 12-37 on the season, and once the competition picks up, you cannot win games with that type of production.
Maybe it is jumping the gun a little bit, but after not being able to complete a pass for essentially two-straight weeks, CSU has nothing to lose and everything to gain by starting Hill.
At some point, it is time to accept the fact that the ceiling for this team may not be as high as expected coming into the season. If that is the case, then prepare for the future and be better off in 2017-19 because of it.
Collegian sports reporter Justin Michael can be reached by email at sports@collegian.com or Twitter @JustinTMichael.