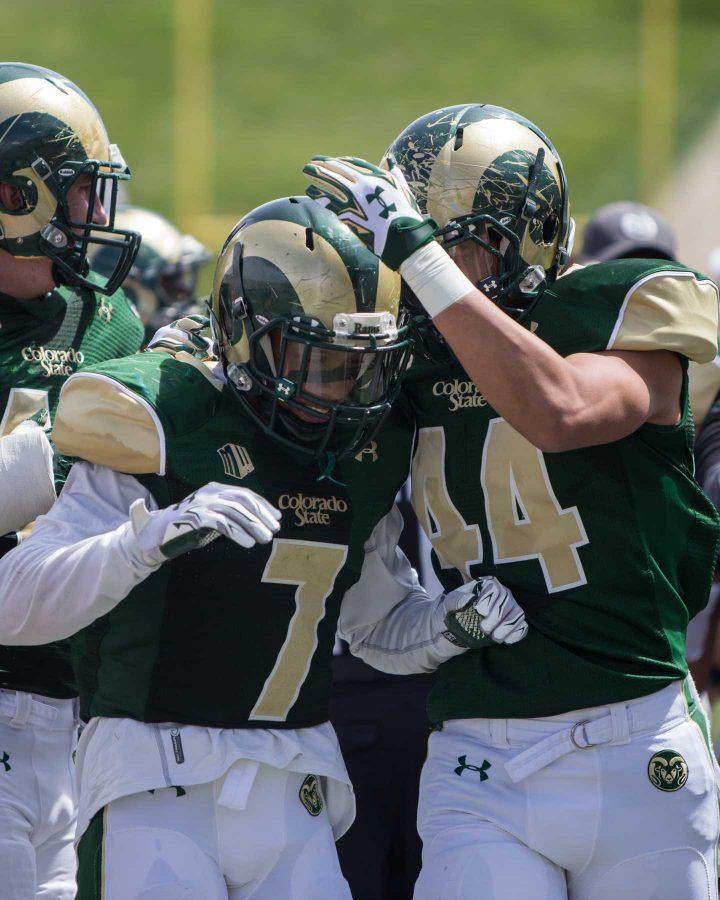 The narrative surrounding the Colorado State Rams defense for much of spring practice was one of uncertainty. A new defensive coordinator, a new defensive scheme and eight new starters all combined to bring plenty of questions towards the defensive side of the ball.
With a whole spring and summer of work behind them, the defensive players are ready to move on from that narrative and move forward in preparation for the upcoming season.
As fall camp officially opened up Thursday morning, the players got their first chance to put it all together.
Defensive lineman Jakob Buys noted that day one of practice did not really feel like the first day, but more like the fifteenth.
"It felt like we have already been doing this for awhile," Buys said. "Just that things were easier than in the past. Today just felt good. Everything felt normal."
After switching back to a 3-4 defense under current defensive coordinator Marty English after last season, spring practice was more of a refresher course for the players who had already worked under the system, as well as an introduction for those who had not.
With spring having been a refresher course, the players put in even more work in the summer. Team and individual work, as well as time with coaches gave the defense even more time to internalize their new system.
"We are way past where we were at the beginning of spring," Buys said. "We know coach English, we know what he wants and how to run his plays."
"I mean we have been in this defense for half a year now basically so I think we are getting to the point where we know what we are doing," linebacker Kevin Davis said. "Now we just have to play fast."
Davis noted that the summer was all about perfecting what they had started working on in the spring. To do that, the players watched plenty of film of the 2014 season where the Rams employed a 3-4 scheme under coach English featuring players like Max Morgan and Aaron Davis.
"I think that summer was critical," safety Jake Schlager said. "But I think that it went really well and I think we are just carrying over from summer right into fall camp."
As far as spring practice was concerned, there was much more thinking involved as adjustments were made. Moving forward from spring and summer, the emphasis has shifted from learning the defense towards gaining a next level understanding of the defense and putting all of that together on the field.
Schlager thought that summer looked and felt like more of a camp in itself. It has all helped the defense hit the ground running as fall camp opens up. No setbacks or overthinking everything, but a steady climb upward from where they were.
All of the work has opened up a bigger picture for the players on the defensive side of the ball. They know what they are doing and why they are doing what they are doing under coach English. They are all just ready to play football. In their own system and with the players out there on the field.
The players recognize there has been some concern surrounding the defense entering a transitional phase coming out of last season, but are quick to assure themselves and those around them that they have the pieces in place.
"I get it. People are worried about new faces," Schlager said. "In the secondary (there's) a whole bunch of new people, you only have one veteran with a lot of starting experience, and the front line is pretty fresh too. But we are all here for a reason, everyone has the skills, everyone has the skill-set, everybody was brought here for a reason."
For now, Schlager and the rest of his defensive teammates are focused on putting in the work as a team to be ready for the first game of the season. "Just keep the worry out of people and just be ready to go," Schlager said. "Everyone is trying to be the best they can be and come week one we will see how it is. We have 28 practices from here until then. I think that we will be just fine."
Collegian sports reporter Eric Wolf can be reached by email at sports@collegian.com or by Twitter @Eric_Wolf5