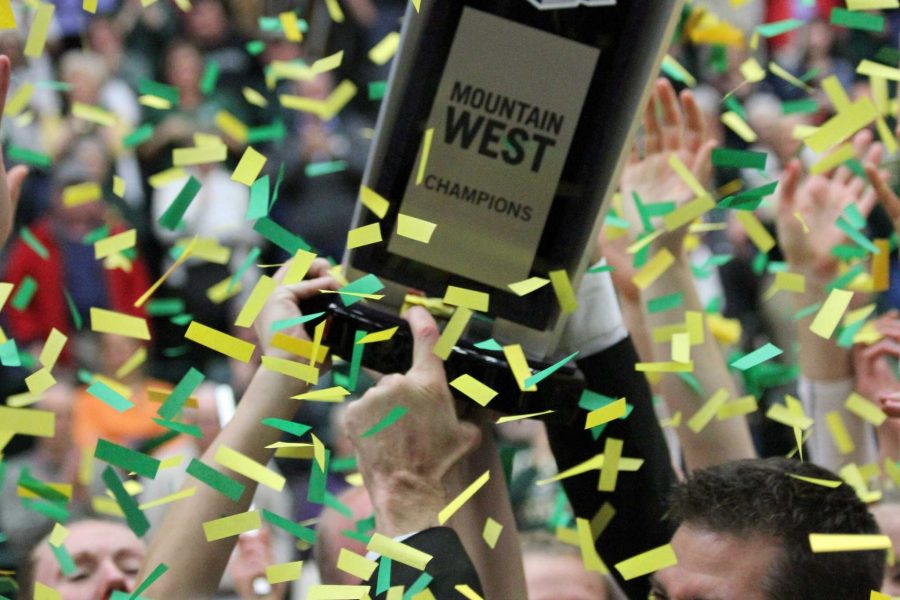 There will be no co-champion in Mountain West women's basketball.
The No. 22 CSU Rams made sure of that Tuesday night with a tight 68-55 victory over Fresno State to clinch sole possession of the regular season crown for the third straight season in front of 2,114 fans in Moby Arena.
The Bulldogs gave CSU everything it could handle before surrendering their own conference title dreams, though.
Fresno State (18-9, 14-3 MW) trailed right behind CSU (27-1, 17-0 MW) in the MW standings all season long, and until taking the loss Tuesday, was still mathematically in the race for the regular season championship.
"I'm still in shock we won the game," CSU senior guard Keyora Wharry said.
FSU looked like it had something to prove to the Rams from the start, coming out with focused shooting strokes. Before the Rams knew what hit them, they were trailing 9-2 in the first quarter as FSU hit a trio of 3-pointers to open.
The Rams fought back into contention before the first frame ended, heading into the second quarter down 20-16 after Wharry hit a shot at the buzzer.
That wasn't the last buzzer-beater Wharry made – another one came when it really counted. With seven seconds on the clock after FSU's Shaquanna Collins hit a free throw to put FSU up 45-41, Wharry went coast-to-coast for an and-one layup and made the ensuing free throw to bring the Rams within one, 45-44, at the start of the final 10 minutes.
"I knew for me, I didn't want to lose to Fresno State, because this is home for me," Wharry, a Fresno, Calif. native, said. "I did what I could."
Wharry finished with 16 points on 7-for-12 shooting to go with three assists.
Physicality of fouls escalated throughout the first half, which peaked during one stretch in the second quarter where players from both teams seemed to end up on the hardwood every play. Fresno State was called for a whopping 24 fouls in the game, some of which CSU coach Ryun Williams labeled "borderline-chippy."
But the physical nature of their Bulldogs' full-court press may have ended up hurting themselves more than CSU. Star FSU center Bego Faz Davolos, who leads the MW in both rebounds (9.7 per game) and blocks (4.1), ended up with three fouls in the first half, sitting out the last half of the second quarter. She picked up her fourth in the opening minutes of the third, and did not return until CSU had built a safe lead in the fourth.
Building off momentum from Wharry's and-one to end the third, an Ellen Nystrom dime to senior Alana Arias in the paint gave the Rams a 47-45 lead early in the fourth.
This time, the Rams would not give up their lead.
Just when the Rams needed some big buckets from their leaders, they got them. Nystrom and Patrick stepped up and drilled back-to-back 3-pointers for a 55-47 lead with 4:44 to go.
While there was certainly plenty of ballgame left, Moby Arena could sense a third title coming, rising to its feet as the eight point lead provided a sense of security in a game that was neck-and-neck until the final minutes.
"Our crowd was amazing tonight, and they were so loud," Patrick said. "You could just tell their emotion totally changed, it flipped a 180."
Patrick finished with 21 points, 15 in the fourth quarter, on 4-for-7 shooting from the field and a perfect 10 of 10 from the free throw line.
"This was a real test," Wharry said. "That's why I was surprised the last five minutes wasn't as close as I thought it was going to be, we kind of pulled away. I was really amazed with that."
With the conference title officially in their hands, the Rams will look to achieve a final regular season goal of ending MW play a perfect 18-0 Friday against Air Force. Tipoff with the Falcons is set for 7 p.m.
While the Rams have never been a team to look ahead, they know three more real tests await them next week during the MW Tournament in Las Vegas. The past two seasons, the Rams have fallen short of the Tournament championship as the No. 1 seed, and failed to make the NCAA Tournament as a result.
"Winning the title feels good, but then again you can't be to happy because we have next week, and Friday," Wharry said.
Following the game, Wharry, Patrick, Alana Arias and Emilie Hesseldal were honored as seniors in their last home game in Moby Arena.
"It's pretty impressive for that bunch to do this," Williams said. "It means a lot, because an 18-game conference season is a grind. And you see what we have to go through, Fresno State was absolutely outstanding tonight."
Sam Lounsberry can be reached at sports@collegian.com and on Twitter @samlounz.