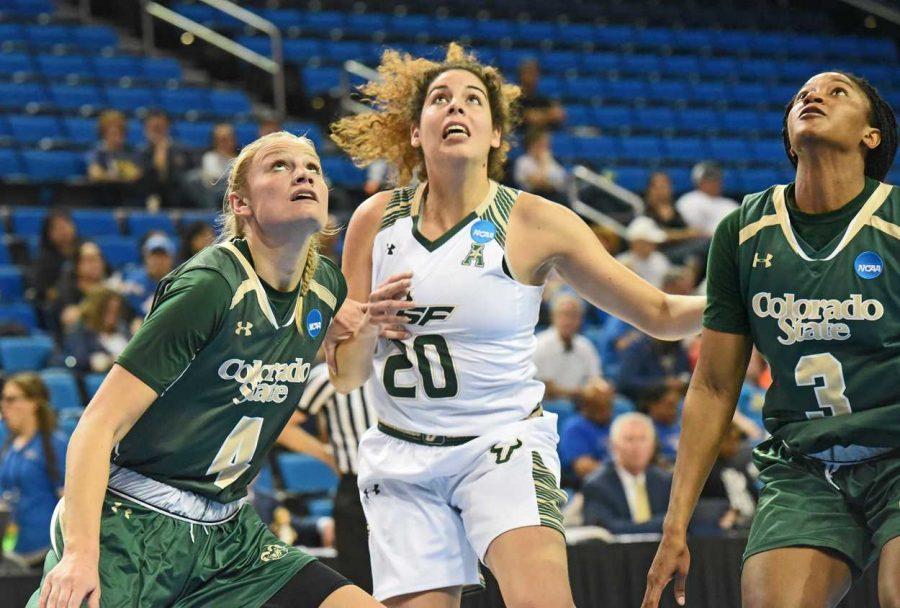 The Rams had their chances. But, Sofie Tryggesson's 3-point attempt to tie at the buzzer was no good, as were the looks that Elin Gustavsson and Jamie Patrick each had in the final minute. 
No. 6 seed South Florida, led by star Courtney Williams and her 31 points, defeated No. 11 seed Colorado State by a score of 48-45 to end the Rams' season in the first round of the NCAA women's tournament. CSU finishes the season 31-2. The loss snaps a program record 28-game win streak.
"For 33 nights this year, these kids have showed up and put themselves in a position to win," CSU head coach Ryun Williams said. "Not one bad night, not one time did they not put themselves in a position to win. That's hard to do, that's how competitive they are. It doesn't surprise me that it came down to that last shot with our group."
In the early goings, the Rams were in control while Courtney Williams sat on the bench for the first five minutes. CSU capitalized by taking a quick 10-0 lead. After she finally checked in around the 5-minute mark of the first quarter, though, the Bulls went on to outscore the Rams 22-14 for the rest of the half.
"Courtney [Williams] is the real deal," Coach Ryun Williams said. "The kid is incredible. She is rock star. I'm a proud basketball coach. These kids represented Colorado State big time."
The Rams still managed to carry a lead into halftime, 24-23, thanks to Patrick's 14 points. She was 5-for-6 from the field in the first, while the rest of the team was 5-for-18. Williams gave the Bulls 13 first half points, but the rest of her team was 3-for-17 in the half.
"This is one of my favorite teams I have ever been apart of," Patrick said. "There are so many memories on this team that I'm going to take with me. I love this team."
Patrick got the Rams going in the third quarter with another three, but Williams made tough shot after tough shot to put the Bulls in command. USF also made a living on second chances. Alisia Jenkins and Maria Jesperson cleaned the glass, finishing with 13 and 10 rebounds respectively.
CSU fell into the habit of settling for long jump shots, and did not shoot a free throw until there was 2:33 remaining in the game. Still, the Rams made a late push, making it a one-possession game with just under two minutes to play on a three by Hannah Tvrdy.
"They made some tough shots," CSU juior Ellen Nystrom said. "We just knew if we stayed in the game, we were going to get back in it. That's how this team is. We just try to stay in the game and not get down and think it's over, because it wasn't."
They got the stops they needed, but the Rams failed to convert three looks from outside to tie in the final minute. Patrick, who led the Rams with 17 points, missed with 6 seconds. Tvrdy came up with a steal to give CSU the ball with 1.6 seconds on the clock, but Tryggedsson's shot from the corner did not fall.
Nystrom finished with 12 points, eight rebounds and six assists. Keyora Wharry had seven points and 11 rebounds.
Collegian Sports Editor Emmett McCarthy can be reached at sports@collegian.com and on Twitter @emccarthy22.