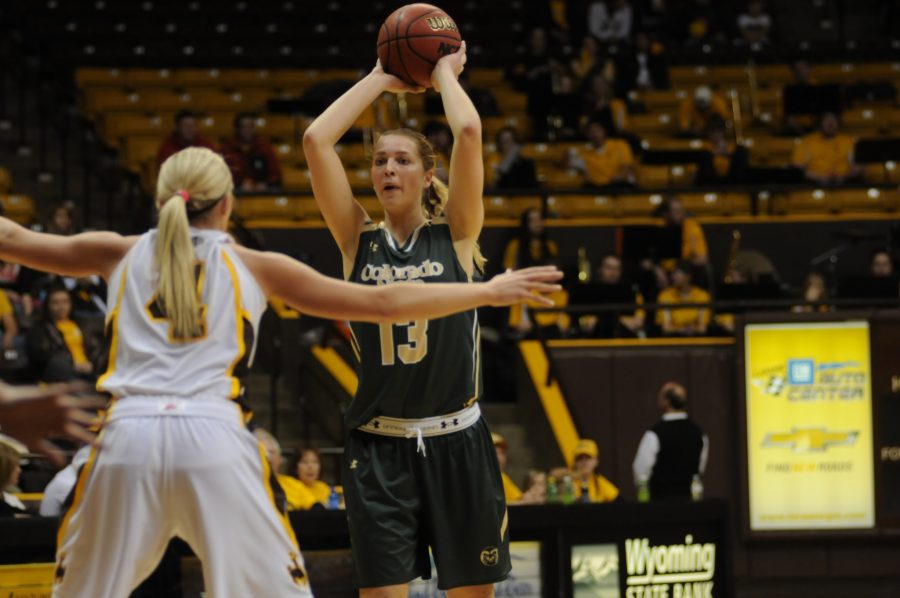 An undefeated record in the conference virtually guarantees that the CSU women's basketball team features the best player in the Mountain West.
But by simply glancing over the Rams' individual stat sheets, it might be hard to decide player which most deserves the Mountain West Player of the Year award.
There's senior Jamie Patrick, who leads CSU in scoring with 13.2 points per game by splashing strings of 3-pointers right when her team needs it.
Keyora Wharry probably deserves some consideration for the Player of the Year honor, too, especially since she's improved so much in her senior season from last year, becoming the most dangerous player in the league off the dribble.
Any fan who has paid attention to this talented team over the entire season, though, knows junior Ellen Nystrom is its heartbeat. Whether or not she wins the award, it is important to recognize what exactly Nystrom has meant to this program.
Her whole career, she has been a winner, as she helped CSU win a conference championship as a freshman. Even in that first collegiate season out of her home in Lulea, Sweden, Nystrom proved her value on the court with feats such as the first triple-double in CSU basketball history, men's or women's.
Fast-forward two seasons, and Nystrom has collected two more MW regular season championships en route to becoming one of the most talented players in program history. Versatility is the name of her game, as she averages 10.8 points per game, 5.2 rebounds and 5.4 assists (third in the MW) on the year while remaining arguably the league's top lockdown defender at a number of positions.
You would never know she was the team's true leader if you talked to her, though. The Swede rarely discusses any individual milestones. Rather, her leadership stems from a love for her teammates instead of a love for success.
"She's probably a better person than a player," CSU assistant coach Tim Moser said of Nystrom. "That's one of the reasons we're winning, is because she's a leader. She has a soft heart. I think it's helped us become a better team, when the best player is the most humble on the team."
Nystrom is not out there to prove she is the best, or to show off her skills. Proving her team is the best is what drives her. Here's a typical Ellen Nystrom quote:  "I just want to do what's good for the team, and I play my game that's very all-around."
In fact, her selfless nature has even developed within her an ability to dominate a game without scoring much. Last week against Nevada, the junior netted just six points, yet there was no doubt as to was who the best player on the floor for fans watching; she also finished with nine assists, four rebounds and a block.
"I would have rather assist on a game winner than make a game-winner," Nystrom said.
Still, her desire to win has forced her to make her fair share of big shots, too, like the turnaround jumper she sank against in-state rival Colorado to win as time wound down earlier in the year.
While her pass-first mentality has certainly made the players around her better, head coach Ryun Williams knows she will have to start using her ability as a scorer, too, especially next season after the departure of seniors Wharry and Patrick, CSU's top scorers this season.
"I want to make the pass instead of taking the shot, but I know coach doesn't want me to," Nystrom added. "He's very, like, 'You gotta take more shots.' I'm working on it, and it's been a process."
Nystrom knows she has one more place to take the Rams: the NCAA Tournament, which CSU missed the last two years as they fell short in the MW Tournament in Las Vegas. But next week, the Swede has a chance to finally emerge as a champion from Vegas, a feat that would solidify her on the list of CSU's all-time greats.
"If we win four and we get to the NCAA Tournament, her number will be (retired) up there next to Becky Hammon's," Moser said. "I think it would be cool, and I think it would be well deserved. She just has to keep getting better, which we think she can do."
Sam Lounsbery can be reached at sports@collegian.com and on Twitter @samlounz.