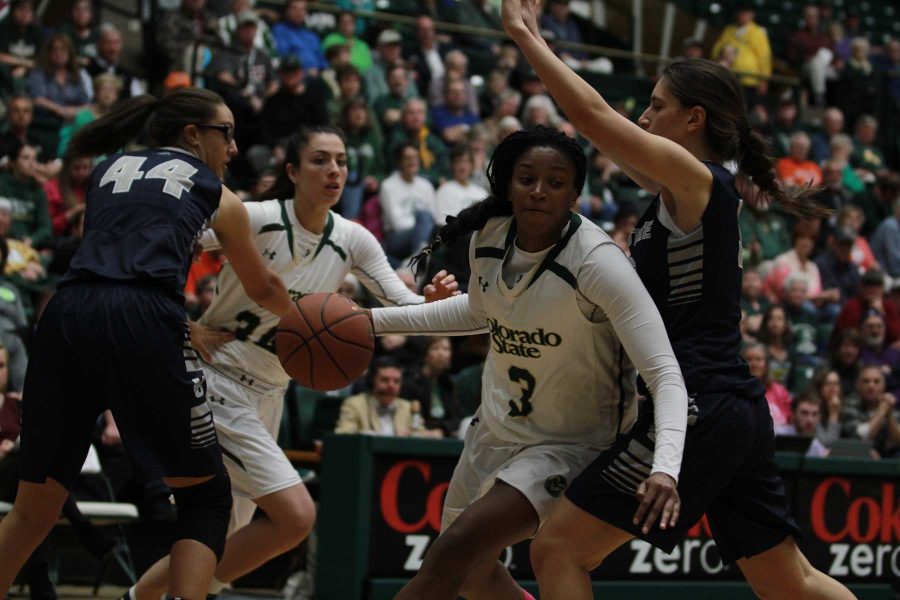 LARAMIE, Wyoming – On the road, or at home in Moby Arena – the gym doesn't matter to CSU's women's basketball team.
The Rams (24-1, 14-0 MW) have won nearly everywhere they have played this season, including Arena Auditorium, where CSU captured a 62-57 win over Wyoming (12-13, 5-10 MW) in front of a rowdy 3,269 fans on Saturday.
In CSU's only close game in its past seven contests, the Rams remained poised and made the right plays on both ends of the floor in the clutch to come away with the narrow victory.
"The Border War is obviously an emotional game," head coach Ryun Williams said. "It was good for us to be in this position. We haven't been tested since San Jose State (on Jan. 27), so it was good to play with those nerves and to play with this tournament type of intensity. And it was great our kids made some plays during some adverse moments."
At the start of the fourth quarter, Wyoming seemed to have all the momentum. In the previous moments, during the final seconds of the third quarter, UW sophomore Liv Roberts hit a step-through layup in the paint to give UW the lead 38-37. Then, at the third quarter buzzer, UW guard Marquelle Dent pumped up the AA even more with a jumper over the outstretched arm of  CSU's 6-foot-4 senior Alana Arias to take a 40-37 lead into the final frame.
But the Rams wasted no time in making a fourth quarter comeback. Right at the start of the period, Jamie Patrick and Stine Austugulen hit back-to-back 3-pointers from the corner to establish a 43-40 lead. From there, CSU lead the rest of the way, with Wyoming nipping at its heels for a come back the whole time.
Patrick, CSU's leading scorer, attempted just six shots on the day, which made her timely trey impressive to Williams.
"They did a great job on Jamie," Williams said. "That just shows you how tough Jamie Patrick is, because a shooter needs rhythm. It's easy to make them when you're in rhythm, but when you get one shot every 20 minutes almost, or 12 minutes, that's hard to make them. … And Stine comes off the bench, she's ice cold and sticks that three. That's a tough situation for both those kids."
While Wyoming fed off the energy of its home-crowd, CSU guard Keyora Wharry single-handedly brought the emotion for her team. The senior scored 17 points on 8-for-10 shooting, and banged her fist against her chest after several big buckets throughout the game.
"The atmosphere was really, really, really hyped today," Wharry said. "We knew if we let the crowd get into it, our energy would go down. I feel like when I get hyped, it helps."
As usual, Wharry got her buckets on the drive, going over, around and through defenders upon arriving in the paint.
"She is so good, no one can stop her," CSU forward Elin Gustavsson said of Wharry. "And I told her that, 'You're so good and have developed so much this season.' I'm so proud of her."
Dent kept the Cowgirls in it down the stretch with some tough buckets, including one she banked at a seemingly impossible angle over CSU forward Emilie Hesseldal on the baseline. But when UW was forced to foul late to stop the clock, the Rams sank their free throws to stay out of reach. They made 9-for-13 at the line on the day.
"Dent is a rockstar," Williams said. "That is a great, great player. … But our ladies showed great resolve, because (Wyoming) made plays, here comes the noise. We could have panicked, we didn't, and got enough stops."
Though Wharry led emotionally, Gustavsson led statistically with a game-high 19 points, which she scored coming off just a 5-point performance against Utah State.
"Eli played great today," Williams said. "She made big shots, defensively she was really good, she battled on the glass. Eli is just a huge part of our basketball team. When Eli's playing well, we're playing well."
With the victory, CSU extended its school-record win-streak to 21 games, the second-longest streak in the nation behind only women's hoops powerhouse Connecticut. Also, CSU's road win-streak of 10 games is the fourth longest in the nation.
CSU hits the road to play New Mexico on Wednesday. Tipoff is set for 7 p.m. MT, and fans can tune into 1410 KIIX to listen, or watch on the Mountain West Network.
Sam Lounsberry can be reached at sports@collegian.com and on Twitter @samlounz.