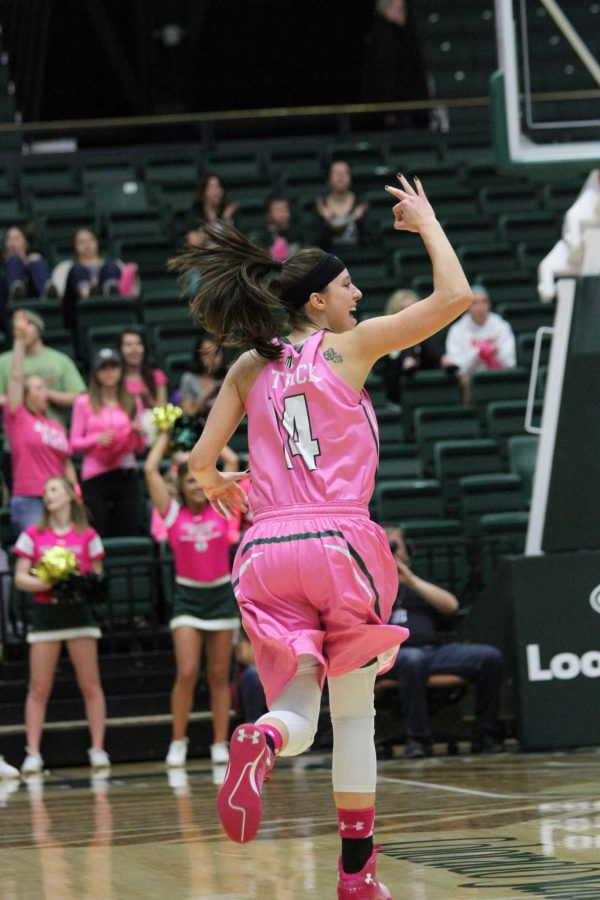 The Rams' record run rolls on. 
Led by a balanced offensive performance and another suffocating defensive effort, the Colorado State women's basketball team cemented itself in the school's record books Saturday afternoon, and did so in dominant fashion, routing visiting UNLV 83-52 in the team's annual Pink Out game at Moby Arena. 
Saturday's win, which moves the Rams to 22-1 overall and 12-0 in Mountain West play, now gives CSU 19 wins in a row, tying the streak set by the 1998-99 team led by All-American Becky Hammon that finished 33-3 and advanced to the Sweet 16 of the NCAA Tournament. 
The Rams never trailed Saturday, marking the 11th game this season that CSU has not trailed in from start to finish. Even more impressive, CSU has trailed for a total of one minute and 10 seconds in their last five games, while outscoring their opponents 363-236, an average of 25.4 points per game. 
CSU assisted on 23 of its 33 baskets, while turning the ball over just four times against the Lady Rebels' half-court trap defense. On the flip side, UNLV finished the game with just one assist, while turning the ball over 11 times, leading to 13 CSU points. 
"I think anybody watching could see that they do a lot of one-on-one stuff," senior guard Jamie Patrick said. "Obviously they have some plays but we are always unselfish and looking for the best pass or the best basket." 
"I think that's why its fun to play," added Elin Gustavsson, who scored 17 points in just 22 minutes of action. "Everybody can score and everyone is playing for each other. If (someone else) scores and I make the pass, I'm happy." 
In this one, CSU jumped out to a 24-12 first quarter lead, buoyed by the play of senior forward Keyora Wharry and junior Ellen Nystrom. The duo combined for 15 of the team's 24 points on 7 of 9 shooting. 
The Lady Rebels couldn't get any closer than 12 points the rest of the half, and CSU took a commanding 42-24 lead into the break. 
Things didn't get much better for UNLV in the second half, with the Rams extending their lead to 23, 53-30, midway through the third quarter. The Lady Rebels were able to close the gap to 16 on a 3-pointer by Amie Callway with 9:13 to go in the fourth quarter, but a quick 8-0 CSU run extended the Rams lead back to 21 with 6:07 to go. 
Patrick led the Rams with a game-high 19 points, while hitting five of her eight 3-point attempts. Wharry didn't score in the second half, but notched 12 points while Nystrom stuffed the stat line with 11 points, five rebounds and seven assists. 
As a team, CSU shot an impressive 49.3 percent from the field, while knocking down 12 of 21 3-pointers. 
"I think everyone knows we're one of the strongest defensive teams, but now on offense, we have so many weapons that they can try to stop us driving, but we have shooters, and they can try to stop our shooters, but we have so many drivers like Keyora, and Ellie and Ellen that no one can stop," Patrick said.
The Rams now have a chance to sit alone atop the record books with a win Wednesday night at home against Utah State, a team CSU routed 69-49 on the road a month ago. 
"It's pretty special, to be honest with you," CSU head coach Ryun Williams said of the Rams' streak. "Winning college basketball games is hard to do, whether you're at home or on the road. And we've had some tough ones, but I'm glad that this group gets to share that and they just keep pursuing better play. But to be mentioned in the same same sentence as those great teams, the ones with Cronin and Hammon, I never got to see them play in person, but that's all anybody talks about. I think now, with the last three years, this group deserves to be talked. We've obviously got a lot ahead of us, but it's a special group." 
Collegian Senior Sports Reporter Keegan Pope can be reached at kpope@collegian.com and on Twitter @ByKeeganPope.