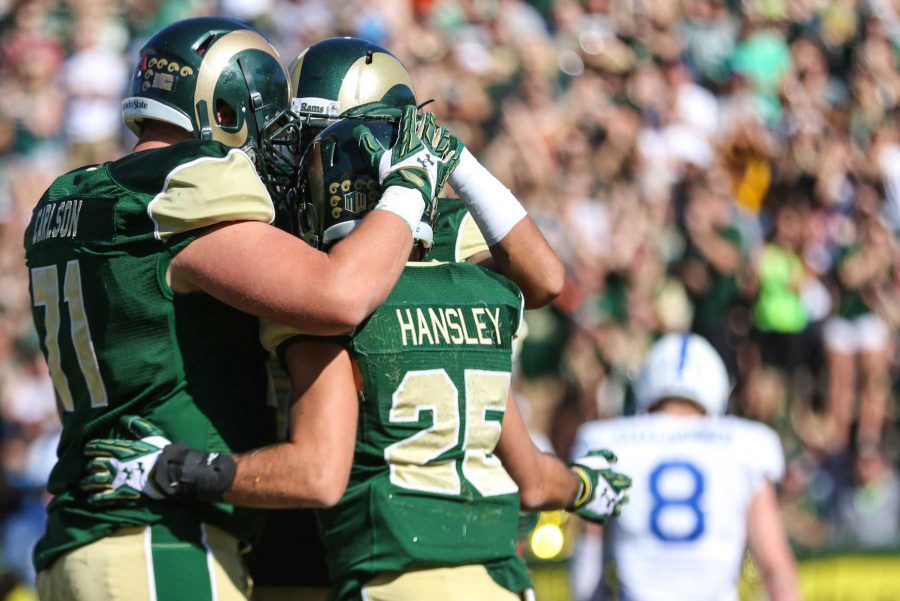 Mike Bobo's second recruiting class at Colorado State is complete — for now.
The second-year head coach, who came to CSU from the University of Georgia, announced a class of 26 student-athletes Wednesday, including four who signed with the Rams in December. 
The class was headlined by the late signings of 3-star defensive tackle Christian Colon and 3-star defensive back Devron Davis, who initially committed to CSU this summer before re-opening his recruitment. 
In total, CSU added two quarterbacks, three running backs, two wide receivers, two tight ends, two offensive linemen, two defensive linemen, three linebackers, four defensive backs, a kicker and three players who are listed as athletes that have yet to be determined positions.
One of CSU's biggest areas of need wasn't so much at a specific position, but rather just players who could bring an explosive element to CSU's team, especially on the offensive side of the ball. The Rams got exactly that with the additions of speedsters Detrich Clark, Marvin Kinsey and Darius May. 
"You address needs first of all," Bobo said Wednesday afternoon. "Obviously we had attrition at the defensive line and defensive backfield, so we felt the need to fill those areas with quality players, but then at the same time, I just want to recruit the best players. Just because we have a number at a position doesn't mean that I'm okay. I'm going to recruit the best player out there that I feel can help this team win and compete at a high level. It's a mixture of both that you're going to recruit need and you're going to sign the best available player out there that you think can be a quality football player for this team." 
CSU did its best to address its losses on the defensive line with the addition of Colon, who was previously committed to Penn State, as well as 3-star defensive end Anthony Smith, who was the top-rated player in the state of Nevada in the class of 2016. The Rams also added a pair of pass rushing linebackers to fit their new 3-4 scheme with St. Thomas Aquinas (FL) linebacker Arjay Jean and Westminster Christian (FL) linebacker Trey Sutton. Though their size doesn't jump off the page, Bobo said he likes both players ability to get around the edge, and with time believes they can fill out to somewhere around 230-245 pounds. 
After adding a trio junior college defensive backs during the early signing period (one in Domonique Williams who reportedly did not qualify academically), CSU added to its depth at the position with the addition of Davis, as well as Robert Awunganyi, Chris Gaston and Jamal Hicks. Following the losses of seniors Kevin Pierre-Louis, Trent Matthews, DeAndre Ellliott and Nick Januska, the Rams needed secondary depth immediately and look to have locked down a handful of ready-to-play prospects. 
The Rams also needed to add to their wide receiving corps following the departure of 2014 All-American Rashard Higgins and speedy slot man Joe Hansley. They did just that, signing Butler Junior College wideout Michael Gallup and Arlington Bowie High School slot receiver Anthony Hawkins. 
Maybe the biggest surprise of the day, outside of the commitments of Colon and Davis, was the addition of junior college kicker Tavis Guerra from Fullerton (CA) College. Rarely are kickers given full scholarships when they first arrive to a school, but CSU's inconsistency at the position last season forced Bobo's hand somewhat. 
"We need competition at that position," Bobo said. "Wyatt (Bryan) I thought improved and made several kicks for us, but we weren't consistent enough. Any time you miss multiple extra points and several field goals and weren't able to kick it out of the end zone consistently, we need to re-evaluate that. Wyatt Bryan and Braxton Davis and our new signee are going to be right in the mix, and there's going to be competition. And that's going to bring the best out of those guys."
Stay tuned to collegian.com for more on National Signing Day 2016.
Collegian Senior Sports Reporter Keegan Pope can be reached at kpope@collegian.com and on Twitter @ByKeeganPope.