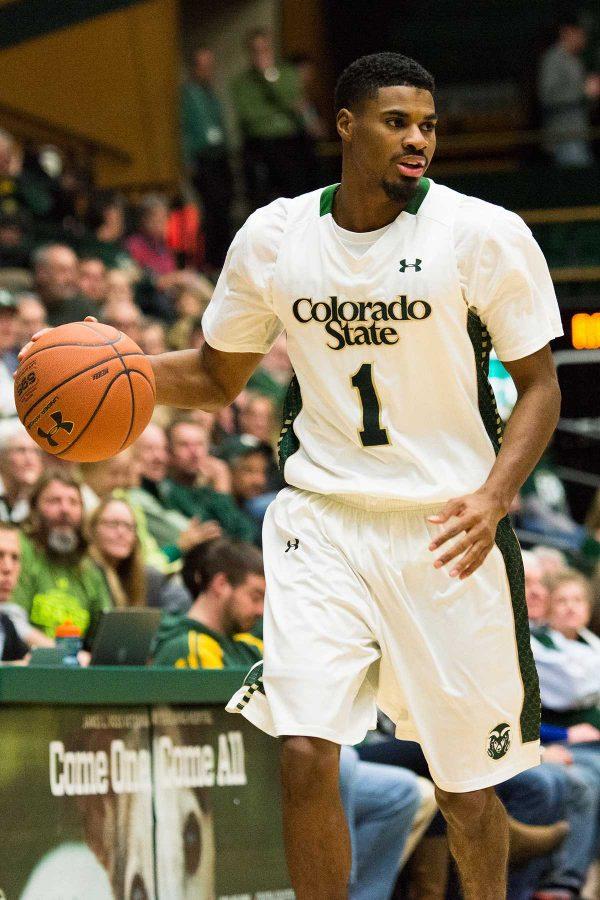 [new_royalslider id="431″]
Photos: Luke Walker
Late in the second half of Wednesday's game at Moby Arena, CSU forward Emmanuel Omogbo caught the ball on left wing, drove down the baseline, took off and double-clutched in mid-air, laying in a reverse lay-up that put the crowd into a frenzy and gave the Rams a six-point lead with just over a minute and a half to go. 
As he turned to run down the court, Omogbo did something he likely hasn't done much of in the past week — smile. The junior forward's face lit up like a kid in a candy store, just eight days removed from getting a phone call from a family friend telling him that both his parents, as well as his twin two-year-old niece and nephew had died in a house fire in suburban Maryland. 
Wednesday night, Antwan Scott led CSU with a game-high 23 points, another impressive game from the streaking senior guard. But the man of the hour, and really the entire game, was the 6-foot-8 Omogbo. His 11 points and seven rebounds, including four on the offensive end, wouldn't be extraordinary in any other situation, but they were exactly what the Rams needed to fend off a scrappy San Jose State squad 74-66. 
"(Those moments) are priceless," CSU head coach Larry Eustachy said of Omogbo's layup. "He's in his element when he's out there and he's able to put the real life on hold for just a moment and really enjoy himself. I thought it was absolutely terrific."
The Rams, playing at home for the first time since Jan. 16, got off to a slow start, falling behind early to Spartans, who came in Wednesday's game at just 1-7 in the Mountain West. 
Omogbo, who entered the game at the 15:24 mark of the first half, was given a standing ovation by the home crowd.
"We were kind of feeding off of that energy, too," senior forward Tiel Daniels said. "It was positive energy for us, and when he first came in he had a standing ovation for about a minute and a half, and it was crazy. He came out and he played well, and I think that's good for us. He's an athletic, high-energy guy, and he helps us win so much." 
CSU traded baskets with the Spartans for the majority of the first half before extending its lead to 18-12 with 10:53 to play in the half. San Jose State responded with 9-0 run though, retaking the lead 21-18 on a 3-pointer by 6-foot-9 forward Frank Rogers. 
The Rams came back with a 12-2 run of their own over the final seven minutes of the half, taking a 30-26 lead into the break. 
Out of the break, CSU extended its lead to double digits just four minutes into the second half, but the Spartans quickly cut the deficit back to five on a 3-pointer from Cody Schwartz and a lay-up by Utah transfer Princeton Onwas. 
The Spartans eventually cut the deficit down to two, but couldn't retake the lead until the 3:30 mark of the second half, when a pair of free throws put the Spartans up 63-62. 
That's when Scott and Omogbo took over. 
Scott scored eight of the Rams' next 10 points, with the other two coming on a dandy up-and-under from Omogbo, as CSU stretched its lead to 72-66 with 45 seconds to go. A pair of free throws from center Tiel Daniels all but ended it, moving the Rams to 12-8 on the season and 4-3 in the Mountain West. 
Scott, who has been on a tear of recent averaging 28.3 points per game, was quick to deflect the praise to Omogbo, who did all of his damage in just 20 minutes of game action.
"This team really needs him, he's a big part of this team," Scott said of Omogbo. "He impacted us winning so much tonight, like so much. We missed him, he went back home for a little while, but we're happy he got to grieve a little bit with his family. It's a blessing to have him back."
Collegian Sports Reporter Keegan Pope can be reached at kpope@collegian.com and on Twitter @ByKeeganPope.