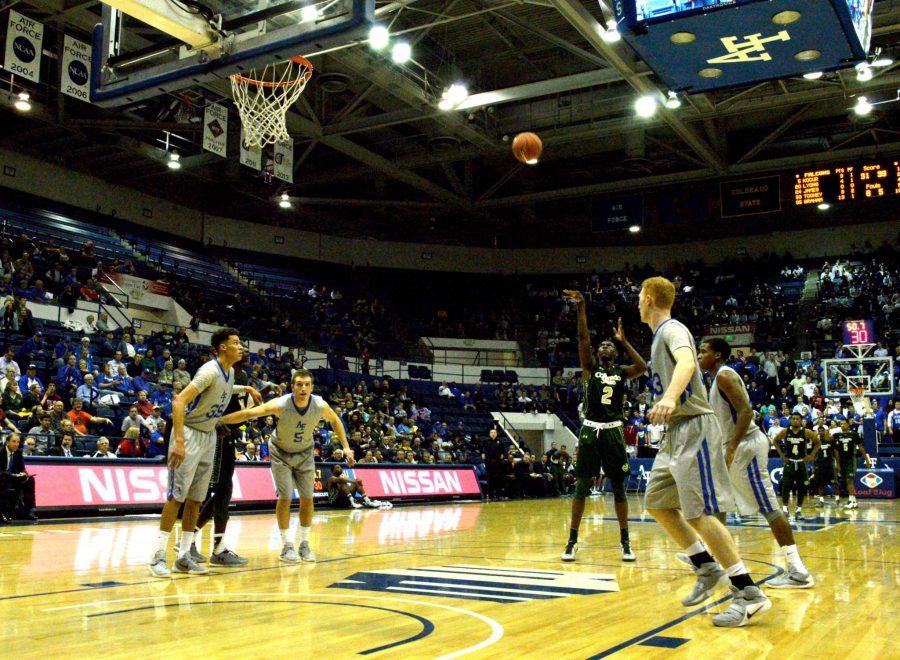 AIR FORCE ACADEMY – Teamwork. Brotherhood. A love for the game.
At their core, those are what sports are all about.
The CSU men's basketball team put all three on display Wednesday night in Clune Arena by snagging an 83-79 win with forward Emmanuel Omogbo in the wake of a family tragedy. Early Tuesday morning, Omogbo's parents and two-year-old twin niece and nephew passed away in a Maryland housefire.
The Rams' (11-8, 3-3 MW) sense of urgency was palpable from the very beginning. They wanted the win for Omogbo, who courageously suited up with his teammates to contribute to the win over the Falcons (10-9, 1-5 MW).
CSU coach Larry Eustachy said he secured the game ball after the win and that all of Omogbo's teammates signed it and gave it to him.
"It's not that we won," Eustachy said in the locker room with tears in his eyes. "We got the ball for Emmanuel, we're going to get it signed by his teammates and everybody that loves him. To say that this has been a stressful 48 hours would be an understatement. I'm really proud of our guys, I'm really proud of Emmanuel to be able to give us some minutes and help us win."
Senior guard Joe De Ciman hustled all over the court for loose balls and offensive rebounds, all while torching the Falcons from deep in the first half. De Ciman shot 3-for-5 from 3-point range in the opening frame and 4-for-8 from the field for 11 points before halftime.
Tiel Daniels dominated on the inside for a stretch in the first, too, scoring on three straight post-ups late in the half to help the Rams amass a 41-31 lead they took into the locker room.
"It's been rough," Daniels said. "But I think with everything going on with Emmanuel, he's been the strongest person on the team. We wanted to get this win for him, we wanted to play hard for him because we can feel his pain. It's been a whirlwhind, but I'm glad we got the win and I'm glad Emmanuel is trying to hold on because we're doing everything we can for him."
Omogbo ended with one point and two rebounds in 10 minutes off the bench.
"I think him practicing and him being with us and playing, he suppressed everything and now it's starting to come out, and we will deal with it as a basketball family," Eustachy said. "There's a lot of guys crying in that locker room. You can say what you want about these guys, they are very close and I've always said they're as good of young men as I've had."
CSU was still firing on all cylinders in the initial moments of the second half. A flurry of jump shots by Antwan Scott and some layups by Daniels and guard John Gillon helped build a 17 point CSU lead, 53-36, with 16:55 to go.
But that would not be enough. Instead of putting the Falcons away, CSU watched its lead melt away over the next seven minutes. With 9:29 to go in the game, Air Force tied the score at 62 on a Zach Moer layup.
From there, it was a battle that came down to the final seconds. Air Force even took the lead 64-63 with two free throws by Pervis Louder.
Both Eustachy and his players agreed that the emotions the team was sharing with Omogbo began to catch up to them during the second half, making it challenging to keep it together enough to fend off AF's furious comeback attempt.
At the free throw line, though, the Rams kept their poise enough to stay just out of reach. Redshirt freshman JD Paige made it to the line several times down the stretch and was solid. He ended the night 8-for-10 at the charity stripe.
CSU was led by Scott, who poured in 27 points while shooting 6-for-11 from 3-point range. Two of his treys answered Air Force standout Hayden Graham's back-to-back jumpers with under five minutes to go. Graham led the Falcons with 25 points on 9-for-13 shooting to go with seven rebounds.
"That's the best feeling in the world seeing him – even though he was emotional – he was able to smile to get that game ball," Scott said of Omogbo. "It would have been devestating to not get that win for him, because Emmanuel is a guy we love, man, that this team really needs. We are going to be here to support him all we can."
Eustachy and his assistant coach Ross Hodge plan to fly out to Maryland with Omogbo tomorrow, Eustachy said. They are unsure when they will return.
"We'll go from there," Eustachy stated.
CSU has this weekend off and plays its next game Wednesday against San Jose State in Moby Arena at 7 p.m.
Sam Lounsberry can be reached at sports@collegian.com and on Twitter @samlounz.