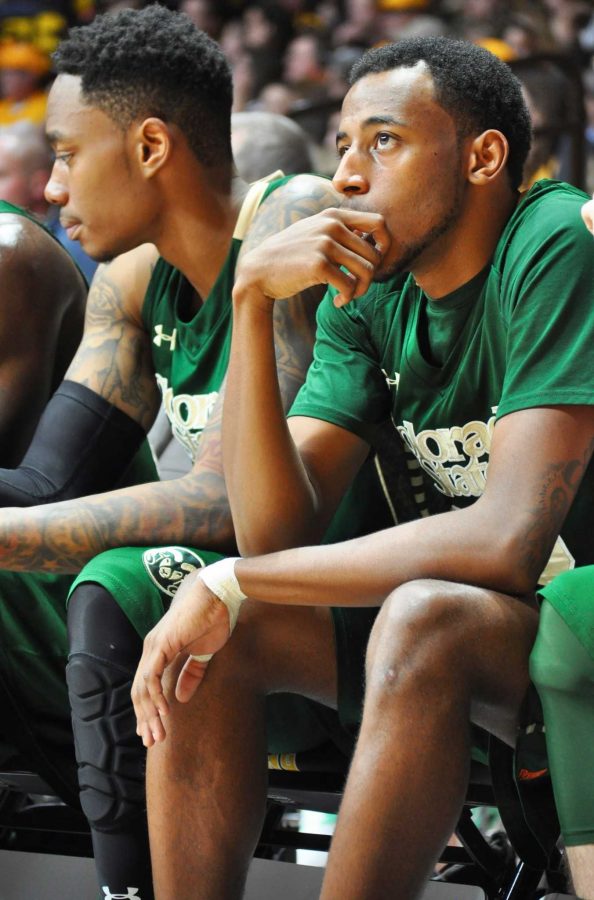 (Emmett McCarthy/Collegian)
***
LARAMIE, Wyo. — Colorado State held Josh Adams under wraps for a half. 
But whether is was some of Michael Jordan's "Secret Stuff" from Space Jam or just  better shot selection, Adams found his groove in the second half, scoring 26 of his game-high 28 points to lead the Cowboys to an 83-76 win Saturday at the Arena Auditorium in Laramie. 
"Adams got going, and their whole team kind of fed off of his energy," center Tiel Daniels said. "He hit some shots and they started hitting shots, and we just kind of came unraveled. We made a run there a little bit at the end, but in the first half we got just comfortable. As Coach would tell you, we were just kind of happy to be tied with them. In the second half, we come out and make a run, then they make a run and we take their punch but we just couldn't respond."
[new_royalslider id="432″]
(Bianca Torrez/Collegian)
Adams, who came into Saturday's game at the fourth-highest scorer in the country at 25 points per game, struggled mightily in the first half, scoring just two points on 1-for-7 shooting. His teammates picked up his slack though, with Jason McManamen kicking in 11 first-half points, while Justin James and Alan Herndon each added seven. 
Despite being dominated by CSU 23-13 on the glass in the half, Wyoming was able to keep the game within single digits, before taking a lead of its own with 8:16 to go in the half. The teams would trade the lead three more times in the final eight minutes, with the Rams even the score at 32 on a 3-pointer by Antwan Scott with 42 seconds to play. CSU had a chance to take the lead going into the half, but JD Paige and Fred Richardson III's jumpers both hit the back rim and bounced out. 
The Cowboys came out firing early in the second half though, opening the second frame on a 7-0 run before extending their lead to 53-38 with 12:40 to go in the half. CSU was able to close the gap to five with 9:34 to go, but every time the Rams made a run, Adams and Co. were there to answer. Wyoming extended its lead back to 10 with 4:27 to go, and CSU could get no closer than five points the rest of the way.
"The game was decided in the first five minutes of the second half," CSU head coach Larry Eustachy said. "They went 9-for-12 (from the field). A lot of them were tough shots to make, but the tougher team came out in the second half and won the game. It's another learning lesson. 51 points in the second half, we have to realize that it's not a 30-minute game or a 20-minute game, it's a 40-minute game. Give Wyoming all the credit, they made the plays." 
McManamen finished with 19 points for the Cowboys, while true freshman Justin James added 10 points of his own.
Antwan Scott continued his offensive tear, leading the Rams with 19 points while Tiel Daniels added 13 points and 11 rebounds, but CSU shot just 7 of 17 from the the free throw line after coming into the game as the Mountain West's best free throw shooting team, hitting 74 percent of their shots from the charity stripe. 
"Every time we come to town, and every time we play those guys, I don't know if they drink some Space Jam water or what, but they hit shots," Daniels said. "… They just come to play when it's against us." 
CSU drops to 12-9 overall and 4-4 in the Mountain West. The Rams will have a quick turnaround, facing San Diego State Tuesday night at Viejas Arena in San Diego. Tip-off is set for 9 p.m. MT on ESPN2. 
Collegian Senior Sports Reporter Keegan Pope can be reached at kpope@collegian.com and on Twitter @ByKeeganPope.