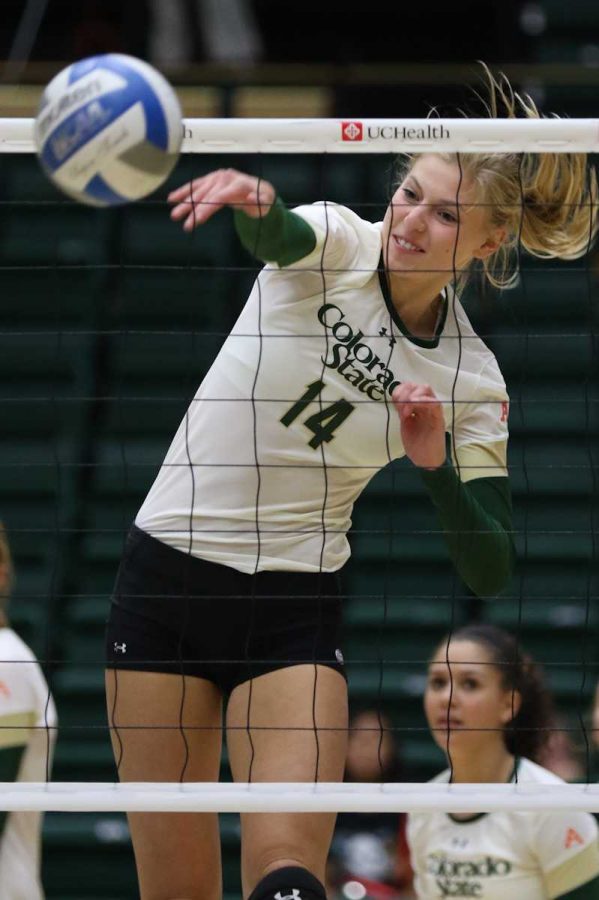 The Rams' tournament dance starts with first-round opponent Loyola Marymount. The Lions finished the regular season with a 22-8 record, and a 13-5 record in the West Coast Conference, highlighted by a five-set win over No. 11 BYU.
No. 13 Colorado State comes into the game as Mountain West champions after going 18-0 in conference. The Rams are riding a 20-game winning streak.
After having a chance to watch film, CSU head coach Tom Hilbert elaborated on what the Lions will bring to the table.
"They're like us in that they're a senior laden team," Hilbert said. "… They have three attackers that take most of the load: Jamie Lea, Sarah Sponcil and Rachelle Suaava."
Lea led the team with 410 kills on the season, while Sponcil was right behind her with 390. Suaava was third on the team with 342 kills and also provides an important defensive presence at the net, averaging 1.22 blocks per set.
"They've had some significant wins, so they will be a good team," CSU libero Jaime Colaizzi said. "They're a smaller team, so they're more shotty. They're not going to be as big."
Sponcil also helps anchor the Lions defensively with a team-high 339 digs on the season. Sponcil, much like CSU star Adrianna Culbert, was a setter coming out of high school before converting into a successful hitter.
"We haven't seen that kind of middle attack," Hilbert said of Sponcil. "She's kind of like an outside attacker playing middle. She really has good shot range, hits higher balls and then quicker balls, and goes all over the place."
Alexandra Poletto is one of the middle blockers who will be tasked with stopping LMU's hitting attack. The sophomore leads the team in blocking (1.33 per set), and has nabbed two Defensive Player of the Week honors from the MW in just the last month.
"They have a really fast offense, and that makes my job kind of hard for closing blocks," Poletto said. "They have great outside hitters who have good range so it'll definitely be a challenge."
With Poletto and Acacia Andrews (1.31 blocks per set) solidifying the middle for CSU, Hilbert believes his Rams have the personnel to at least bother LMU's attack.
"We probably have a matchup advantage in the middle athletically or size wise," Hilbert said. "But other than that, the two teams are about the same."
The coach also believes he has the Lions' defense scouted, and focused on preparing specifically for it in practice.
"They run a system called middle-middle defense, so we know what they're going to do," Hilbert said. "It's not like they're simple, but we know what it is they're going to do."
Hilbert said that everyone on the team is in good shape physically, and that no key players are nursing injuries.
The Rams face off with LMU at 5:30 p.m. MT Thursday on Stanford's campus in Palo Alto, California. If the Rams advance, they will face the winner of eighth-seed Stanford vs. New Mexico State. 
The match can be seen here: pac-12.com/live/stanford-university 
Collegian Sports Editor Emmett McCarthy can be reached by email at sports@collegian.com and on Twitter @emccarthy22.