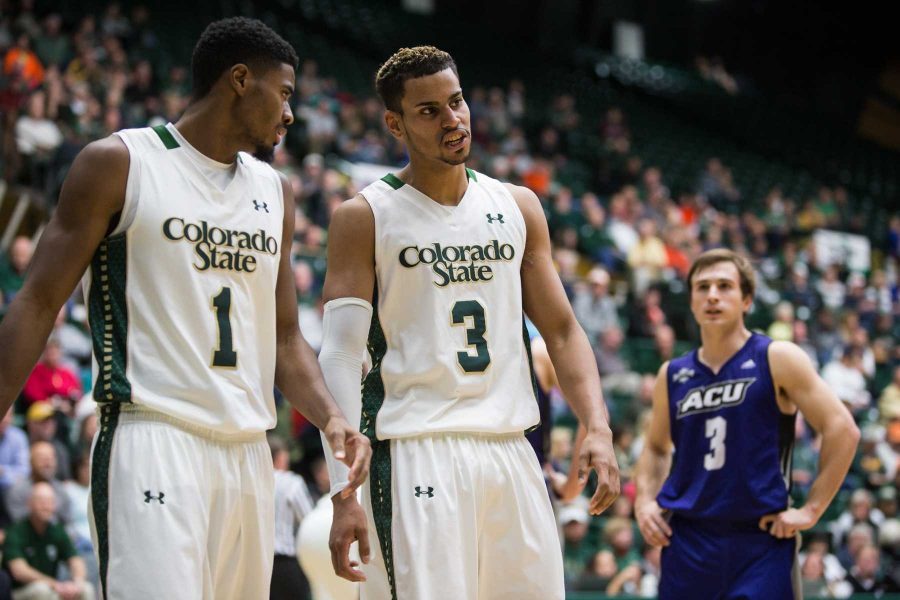 (Keegan Pope/Collegian)
Colorado State needed a rebound game Thursday night against Long Beach State.
Nick Faust had other ideas.
The 49ers' senior guard, a transfer from Maryland, poured in a team-high 27 points as Long Beach State handed the Rams their second-consecutive loss, beating CSU 83-77 at Moby Arena. 
Coming off of a 99-90 double overtime loss to UTEP Saturday in which they shot 32 percent from the field and blew a 17-point halftime lead, CSU couldn't slow down Faust, who came into the game averaging just over 14 points per contest.
Despite shooting 77 percent from the free-throw line coming into the game, the Rams hit just 23 of 39 from the charity stripe, good for 59 percent. 
"It's all about concentration," said senior guard Gian Clavell, who shot 10 of 15 from the line. "Every team is tired, every team is practicing every day. It's an every day thing. I think it's just our concentration."
CSU jumped out to an early 10-5 lead and led for more than 10 minutes before a jumper by LBSU's Justin Bibbins tied the game at 20 with 9:41 to play in the first half.
Faust scored 15 first-half points, including a contested 3-pointer as the halftime buzzer sounded to put the 49ers up 42-34 at the break. During one 4 ½-minute stretch midway through the half, CSU made just 1 of 12 shots, and a four-point lead quickly turned into a five-point deficit.
The 49ers stretched their lead to as much as 11 early in the second frame, but CSU was able to retake the lead 50-49 on a 3-pointer by freshman guard Prentiss Nixon with 13:44 to play, capping off a 14-2 run.
A quick 5-0 run put LBSU up four with 12:57 to play and the 49ers would stretch it to as many as nine points, but the Rams cut the deficit down to one an three-point play by Emmanuel Omogbo with 3:53 to go. Nixon had a chance to take the lead, but missed a pair of free throws with 3:04 to play. 
A free throw, plus Faust's fifth 3-pointer of the night, extended the 49ers' lead to 78-73, and the Rams could get no closer than three points as they fell to 5-2 on the year. The loss was CSU's first non-conference home loss since Dec. 12, 2013. 
Long Beach State dominated in the paint, outscoring CSU 32-14 points, with 20 of those points coming in the second half where Rams center Tiel Daniels played just five minutes. Daniels free throw struggles have continued, with the senior shooting just 1 of 11 from the stripe in the past two games. That inefficiency is what kept him out of the game, CSU head coach Larry Eustachy said.
"We got in the bonus quick (in the second half), and Tiel's back to struggling," Eustachy said. "He went 1-for-7 in the game before and he was 0-for-4 tonight, which makes him in my math, 1 for his last 11 free throws. That's a problem, and Kimani (Jackson) was a part of it, too. He's not a great free throw shooter, and we work on it as hard as anybody." 
CSU was led by 28 points from junior guard John Gillon, while Clavell notched his second-consecutive double-double with 20 points and 15 rebounds. Omogbo also added 15 points and 11 rebounds. 
The Rams were beaten in nearly every statistical category except rebounding, and gave up 17 points off turnovers, 10 second-chance points and 20 points on the fast break. A lack of toughness, Gillon said, is the reason for CSU's struggles.
"I'd say no, we're not tough enough," Gillon said. "We're not as a team."
Next up for CSU is a home matchup with in-state rival Colorado on Sunday at noon. The game will be broadcast on ROOT Sports and ESPN 105.5 FM. 
Collegian Senior Sports Reporter Keegan Pope can be reached at kpope@collegian.com and on Twitter @ByKeeganPope.