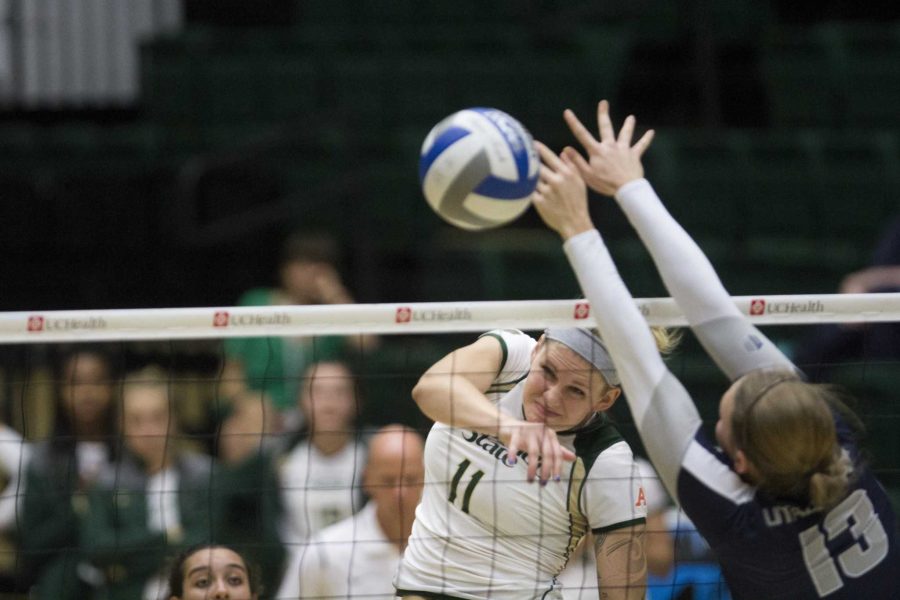 No. 15 CSU volleyball went head to head against Air Force Academy, but took the win after in four sets after dropping the first (24-26, 25-19, 25-20, 25-21).
The Rams fell to the Falcons during the first set 26-24 but Air Force had no chance of taking the win over CSU with Acacia Andrews fueling the Rams throughout the entire match. 
Andrews had a career-high tonight in kills, leading the Rams with 18, along with two digs and five blocks while managing to keep her hitting percentage at an efficient .517.
"We knew that we had a match-up advantage with (Andrews). So, it was part of the game plan to get her a lot of sets, but you know she really took care of it," CSU head coach Tom Hilbert said. "She managed her game very well, she was hitting all shots, she was high and she was really a dominant force for us tonight."
From the beginning to the end of the match, Andrews came out swinging, and cinched the match winning point off of her 18th kill of the night.
Coach Hilbert was pleased with his teams performance and perseverance throughout the match.
"Well, I think that we continue to play with maturity. We were playing pretty well in the first set. I thought Air Force just played pretty well too," Coach Hilbert said.
Air Force put up a tough fight in the first set, but slowly succumbed to CSU volleyballs level of high playing until midway through the fourth set. AFA came back during the fourth set and tied the set up at 11 points, which is when Coach Hilbert called a timeout.
"At that point I was just telling (the team) to relax and pass the ball," Hilbert said.
Not only was Andrews a driving force for the Rams against Air Force, but honorary team member Sara Robinson also gave the Rams the final push to finish the match off.
Robinson spent her 11th birthday with the CSU volleyball team as she traveled with them down to Colorado Springs, cheered them on against the Falcons and was able to celebrate another win beside the Rams.
Senior outside hitter Alex Reid has formed a particularly close bond with Robinson. 
"It was pretty awesome, we decorated the bus with balloons and streamers," Reid said. "We got her a bunch of presents, made cupcakes and when she got on the bus we all sang happy birthday to her. It was just a really cool experience to be able to celebrate that with her."
The entire team was thrilled to be able to share Sara's special day with her, even Coach Hilbert could hardly contain his excitement.
"Oh it's been fantastic since the moment we got on to the bus and surprised her and everything," Coach Hilbert said. "It just adds so much to our team, they have so much fun. It is great to have her here and it just puts a smile on everyone's face."
According to Hilbert, Robinson adds so much to the team and provides a sense of comfort, especially for Reid.
"I mean it makes it seem more like we're at home because always when we're at home she's standing and cheering for us and she was standing and cheering the entire time here too. So it's awesome to have her," Reid said.
Between Andrews' phenomenal game and Robinson's presence, nothing could stop the Rams tonight from taking home another win, despite dropping the first set.
"I really do think our team competed very well and played at a high level," Hilbert said.
Collegian Sports Reporter Pia Myers can be reached by email at sports@collegian.com and on Twitter @ByPiaMyers.