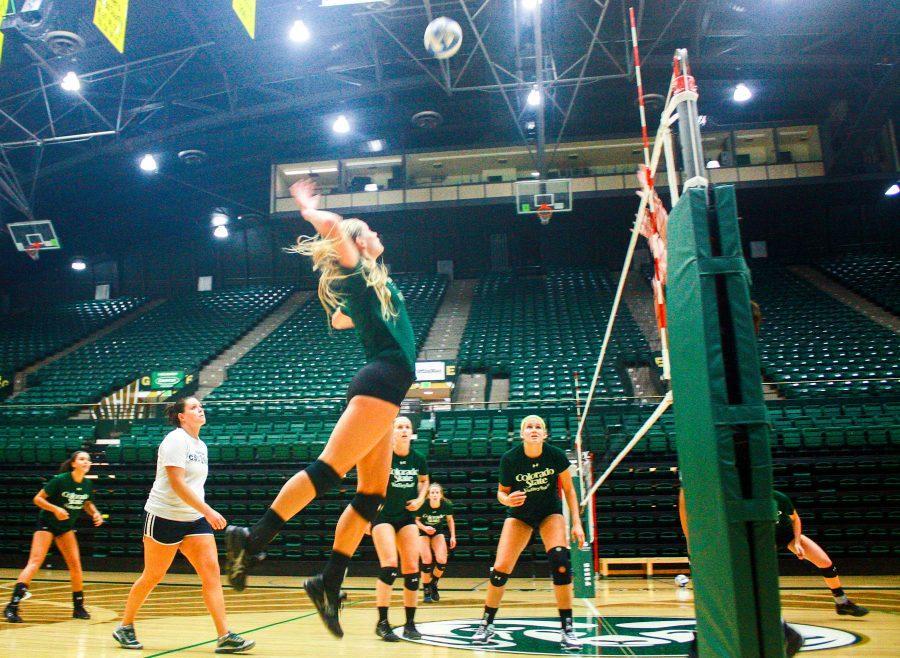 The No. 13 Colorado State volleyball team is riding a 15-game winning streak and is in the midst of trying to clinch a seventh consecutive Mountain West title.
But head coach Tom Hilbert and his staff have done some building toward the future. Five players signed their National Letter of Intent to play volleyball for CSU: Amazing Ashby, Olivia Nichols, Katherine Oleksak, Breana Runnels and Amanda Young.
"Overall I feel that this a great class because it is a combination of athleticism, volleyball skill and character and they're all very positive," Hilbert said. "I think this class will be kind of a new era as they move through their classes."
Amazing Ashby (middle blocker)
The middle blocker from Aurora, Colorado is a dual-sport athlete who also plans to compete for CSU's track and field team. She holds the Cherokee Trail High School record for the triple jump and the 4×1. Ashby is a three-time varsity letter winner for volleyball, as well as track and field. She also competed for the 303 Colorado Volleyball Academy.
"Amazing is a little more raw than the rest of the players but she is still very good," Hilbert said. "She is a very good one-foot takeoff middle, which we don't really have right now. She's not as big as the middles on our team currently, but she jumps very well and is extremely fast. Our track team is also recruiting her and she will participate in track. I've heard those coaches quoted as saying that she might be the best overall female athlete in any sport in the state of Colorado. She's just learning volleyball, and she's probably played it seriously for just two years. She's very physical and fast and fits the mold of these quicker, lateral speed middle blockers and she gets up high."
Olivia Nicholson (middle blocker/outside hitter)
A member of the 2015 AVCA All-American Watch List, Nicholson has a skill set that could allow her to play multiple positions at CSU. She comes from North Platte High School in Nebraska where she was a two-time all-state honorable mention and a member of Associated Press All-State First Team. Nicholson earned four varsity letters for volleyball and three for tennis, and has earned numerous academic honors. She has also competed for Flatrock Volleyball Club.
"She's playing middle right now at her high school but I don't see her being there in the end," Hilbert said. "She can ball-handle, she can pass, she can defend and she has great vision of the game. She's the kind of athlete that I kind of liken to Angela Knopf. She's so aware of what's going on around her, and she's developed into a nice physical player, too."
Katherine Oleksak (setter)
The setter is a Third Team AVCA Under Armour All-America selection and a four-time varsity letter winner at Sunnyslope High School in Phoenix, Arizona. In 2014, she was named both Division and Section Player of the Year in the state of Arizona. In 2013 and 2014, she led her high school to win the Arizona state championship. Oleksak also competed for her club team the Arizona Storm, where she won two national championships over the last three seasons. The Rams will be in need of setting as both Crystal Young and Adrianna Culbert are seniors.
"Katie Oleksak is a leader," Hilbert said. "She is a very talented setter. She is very active and mobile and athletic. She has played on a club team that has won two national championships in three years, and they will play for another one this year. Her club team is laced with top volleyball talent going to places like USC and Arizona and Nebraska, so she's played volleyball with great players for a long time and she understands how to create things through tempo and deception. In my opinion, she is ready to go as a player, as much as anyone has been. I look across the country and I see a lot of great setters, and Katie is right there with them. So because of the success of her team and what she's done to help them win, that's why I feel she's the top setting prospect in the country."
Breana Runnels (outside hitter)
The outside hitter was named top offensive player (2013) and team MVP (2014) at Independence High School in Bakersfield, California. She led her team to South Yosemite League championships and was the league MVP in both 2014 and 2015. Runnels earned an AVCA Player of the Week recognition in 2013 as well. She also competed for the Bakersfield Volleyball Club.
"Breana has a fantastic arm swing and she does jump well," Hilbert said. "She's not a big tall outside hitter, in fact we are getting a little bit smaller with this class. She gets up in the air high enough. Two things she's going to have to learn to do, and hopefully she learns this year, is serve-receive a little better and attack the ball at a higher trajectory. She has a very impressive arm and hits extremely hard. She also has a really nice, calm demeanor as she plays. She's kind of a sleeper in this class and I think she is going to be a contributor pretty early in her career."
Amanda Young (defensive specialist)
As a dual-sport athlete in high school, Young's volleyball accomplishments include being named In the Game Magazine's Athlete of the Year for 2013 and 2014, and being named to the all-conference first team in 2014 and 2015. Young comes to CSU by way of Gretna High School in Nebraska where she was also the state champion in the 200-meter dash in 2014. She was named a member of the European Global Challenge Team for volleyball. Young's academic success is impressive as well, as she has maintained a 4.0 GPA and is a member of the National Honor Society. She competed for the Nebraska Juniors volleyball club.
"She's a dedicated young athlete and she has had her eye on us for a long time," Hilbert said. "She's talented and she's athletic and she's a fast defensive specialist. I've watched her and I've been impressed by her speed and her ability to move, as well as her focus and alertness. She's going to end being really good for us, and she actually reminds me of Jaime Colaizzi."
Signing class
Amazing Ashby – Cherokee Trail High School (Aurora, Colorado) – MB – 6'0
Olivia Nicholson – North Platte High School (North Platte, Nebraska) – MB/OH – 6'0
Katherine Oleksak – Sunnyslope High School (Phoenix, Arizona) – S – 5'10"
Breana Runnels – Independence High School (Bakersfield, California) – OH – 5'10"
Amanda Young – Gretna High School (Gretna, Nebraska) – DS – 5'8″
Collegian Sports Editor Emmett McCarthy can be reached by email at sports@collegian.com and on Twitter @emccarthy22.