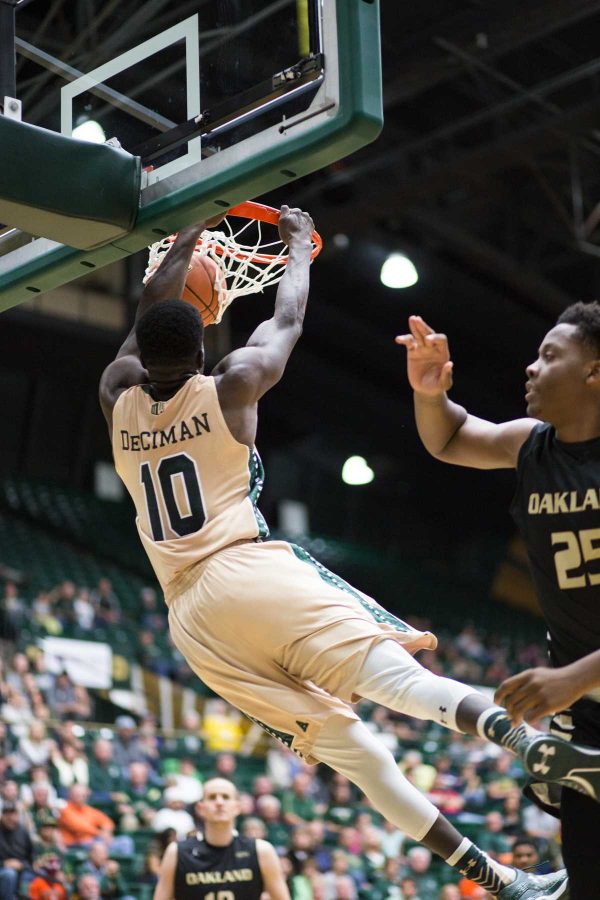 When CSU hoops coach Larry Eustachy said in the preseason that he had his best-ever shooting team this year, many were surprised.
A drop-off in scoring from last year's squad that set the school record for wins in a season was expected. A seemingly huge points void was left by the departure of three of the Rams' top four scorers last year in JJ Avila, Stanton Kidd and Daniel Bejarano.
But that void has been handily filled and Eustachy's words proven plenty true three games into the Rams' season. They took down Oakland (1-1) 95-89 in an offensive showcase Sunday afternoon with the same balanced attack that brought wins against
Northern Iowa
and
Loyola Marymount,
doing so in front of 2,638 fans at Moby Arena.
For the second time this year, five players scored in double figures for the Rams (four notched 10 or more against Loyola Marymount). Gian Clavell again tied his season and career-highs with 21 points, while setting a new career-high in rebounds with 12 for a double-double. Joe De Ciman added 18, John Gillon 17, Antwan Scott came off the bench for 16 and Emmanuel Omogbo chipped in another another 10.
"I think it is (the best shooting team I've coached)," Eustachy said. "You have five guys you have to guard, all the way out to the 3-point line. Even better than I thought, because Emmanuel can shoot, he's a good shooter."
As Eustachy is known for heavily emphasizing defense and rebounding, scoring 95 points in the third contest of the season surprised even him.
"95 points, (San Diego State head coach) Steve Fisher would like to have about 30 of these," Eustachy said. "It's a lot of fun when you can score like that. It makes up for a lot of mistakes."
CSU's offense sure made up for some mistakes Sunday.
Omogbo forced CSU to play small to end the second half as he picked up three fouls in three possessions. He came out of the game with 4:42 remaining before halftime.
With both forwards Omogbo and Tiel Daniels on the bench in foul trouble, the Rams were hurt inside at times while they played with five guards. The Golden Grizzlies' 6-foot-9, 270 pound forward Percy Gibson kept them in it in the second half with timely buckets in the post. The senior transfer from Iowa State totaled 18 points and nine rebounds. Sherron Dorsey-Walker was also huge on the glass for Oakland, snagging 13 rebounds, seven offensive, to go with his 16 points in a double-double performance.
When Omogbo was in during the second half, he defended carefully to ensure he wouldn't risk fouling out. The Rams were outscored 48-34 in the paint.
"Gibson is talented," De Ciman said. "He was in foul trouble, too, so that shows the kind of player he is. Emmanuel and Tiel did a really good job getting in front of him, and sometimes they threw over the top, so it was on the guards, it was on me a lot of time. They did their job, but he's a tough player."
When foul trouble hits CSU's bigs later in the season, Eustachy and his players hope to be able to depend on 6-foot-8 forward Kimani Jackson for size. The sophomore did not play Sunday, and has not yet this season.
"Our team prides itself on its depth," De Ciman said. "KJ is ready to come in. But it's nice (foul trouble) is happening now. We can go watch film tomorrow morning and learn from it … Now coach knows how these situations can play out in his head."
Jackson will likely play Tuesday when the Rams face Abilene Christian at home, Eustachy said.
Though Gibson's size was hard to handle for CSU, Oakland's best performance came from point guard Kay Felder, who notched a double-double with 23 points and 10 assists while playing every minute until fouling out with 29 seconds to go. Eustachy threw a variety of defenders at Felder, ranging from Gillon, Scott and Clavell, to freshman Prentiss Nixon and even JD Paige, who blocked a Felder layup attempt in the first half.
"We knew Felder was going to be tough," De Ciman said. "He's really talented. I thought our guards did a good job of fighting through adversity and doing the best that they could."
But the speedy John Gillon provided some defensive problems for Felder, too. In 26 minutes, Gillon notched eight assists himself to go with his 17 points, most coming while being guarded by Felder, the Preseason Horizon League Player of the Year. The Rams' starting point guard drilled all nine of his free throw attempts, too, including six in the final 1:15 to ice it for CSU.
Oakland came into Fort Collins ranked first in RPI by ESPN after notching a season-opening win over Eastern Michigan. Eustachy expects the win over the Golden Grizzlies to look good later in the season. They were picked to finish second in the Horizon League behind Valparaiso. University of Texas transfer Martez Walker becomes eligible for Oakland Dec. 16, Eustachy said, and he is expected to be another major contributor.
"I think it's going to look great," he said. "Nobody is better than their point guard (Feldon)."
CSU tips off with Abilene Christian at 7 p.m. Tuesday.
Sam Lounsberry can be reached at sports@collegian.com and on Twitter
@samlounz
.