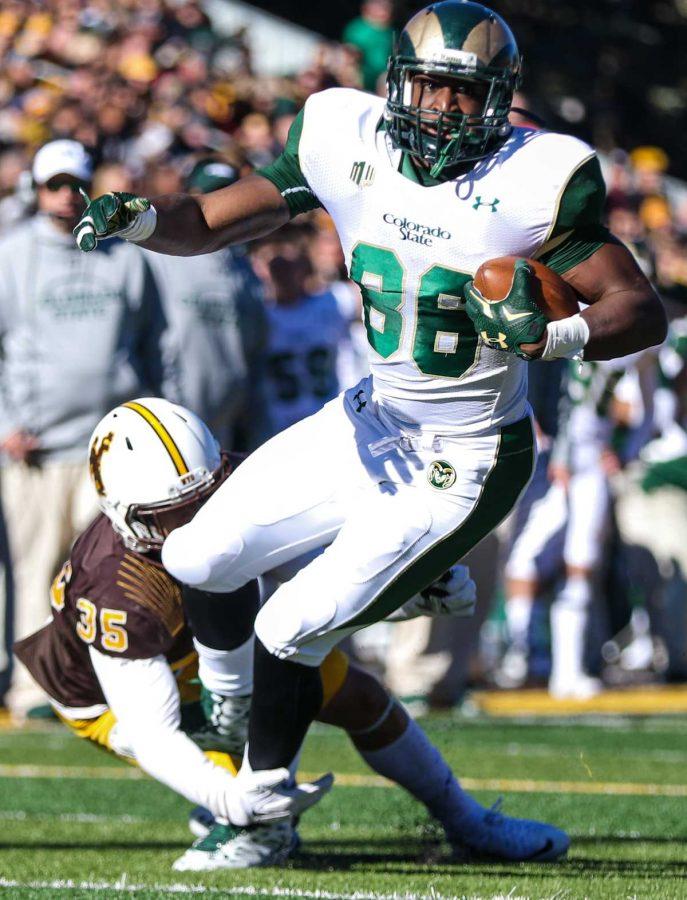 A six-foot-four, 245-pound multi-faceted tight end is a great asset to have for a football team, but Colorado State tight end Kivon Cartwright's value is not limited to on-field attributes.
The fifth-year senior out of Pueblo, Colorado truly represents what it means to be a man and would be a great addition to any football program or community, on or off the field.
Though Cartwright's value is not limited to the football field, his abilities on the field should not be overlooked or understated.
To start, he presents a big target for his quarterback in the passing game, quarterback Nick Stevens would be the first to tell you that.
"He's also a huge target, got a big wingspan, he can go up and get a ball if it's not a perfect ball or if you put it up for him," Stevens said earlier this season when asked about how Cartwright effects opposing defenses.
Cartwright should not be labeled as a pass-catching tight end only, though. When called on to block he is willing to get physical and play hard-nosed football to keep the offense rolling.
"My focus is being a complete tight end," Cartwright said. "Not just a receiving tight end or a blocking tight end, I want to be a complete guy. Every play call is different and what it boils down to is just winning your one-on-one matchups."
Cartwright's goal of becoming the best complete tight end he can be began at Pueblo South High School, where as a three-sport athlete he discovered that football was the game he truly loved to play.
"My first love was basketball until I stopped growing and got a little thicker, so football it was," Cartwright said. "My head coach pulled me aside and he knew I loved basketball, but he told me football pretty much was my ticket so then I really started to focus on football from there."
And when he sets his mind to something, Cartwright accomplishes it.
"After I played my first varsity football game I was hooked and I knew then that I wanted to play Division I college football," Cartwright said.
That led Cartwright to Colorado State, where he has become a valuable player on the field. The tight end has 72 receptions for 1,098 yards and 10 touchdowns.
But the example he sets with his leadership and the strength he displays in the face of adversity is what makes him invaluable as a leader off the field.
After registering only one catch for 22 yards in 2014 due to injury, Cartwright was unsure if he would ever be able to play again because of injuries and NCAA eligibility rules.
It was in February of this year that Cartwright received news that he was granted an extension of eligibility to compete in the 2015 season (the announcement can be seen in an online YouTube video here), and would be able to return to the team he loves – and that loves him back.
"I found out an hour before everybody else so that video, it was all real because I got a call to go to Coach Bobo's office and they told me to keep it quiet for an hour," Cartwright said. "It was a very emotional time… just to be able to be a part of this program for another year and be with my brothers in the locker room for another year was huge for me."
It was equally important to his teammates as well. Not only did they get back another offensive weapon, they returned a player with immeasurable value as a leader.
Cartwright's attitude towards this difficult season full of ups and downs goes to show this leadership.
"It's been a big learning experience for me, having high expectations early in the season and having little set backs here and there, but I wouldn't say it's been frustrating at all," Cartwright said. "I've been learning a lot about myself, about the game of football, about my team and it will all work out good in the end."
Senior safety Kevin Pierre-Louis may have summed up Cartwright's leadership and importance to the team best.
"We like to call him the 'old man walking'," Pierre-Louis. "Old man walking. Kivon… he's a special guy; very special guy. He took me under his wing when I got here and I still feel like I'm under his wing now."
And though the sixth-year senior may not always be the most vocal leader, leading by example has just as profound of an effect.
"He's so mature as a person, he has his head right," Pierre-Louis said. "I like to tease him because we are very close, I like to call him an 'ABC' guy, he's not going to go from 'A' to 'C' and then to 'B', he's doing it in order and that's the type of guy he is. He likes to do it right. Kivon is a special kid."
For Cartwright, the only way to wrap up a memorable career is to focus on winning these final games one at a time, starting Saturday with his final game as Hughes Stadium.
"It would be huge to leave with a win, this group of seniors came in when I was actually already in the program but when they came in they made it a point to be the class to change around the program and they really did," Cartwright said. "I'm just thankful that I can be a part of that and see it all the way through."
Collegian Football Reporter Geoff Huebner can be reached at sports@collegian.com or on Twitter @Huebnermedia93.