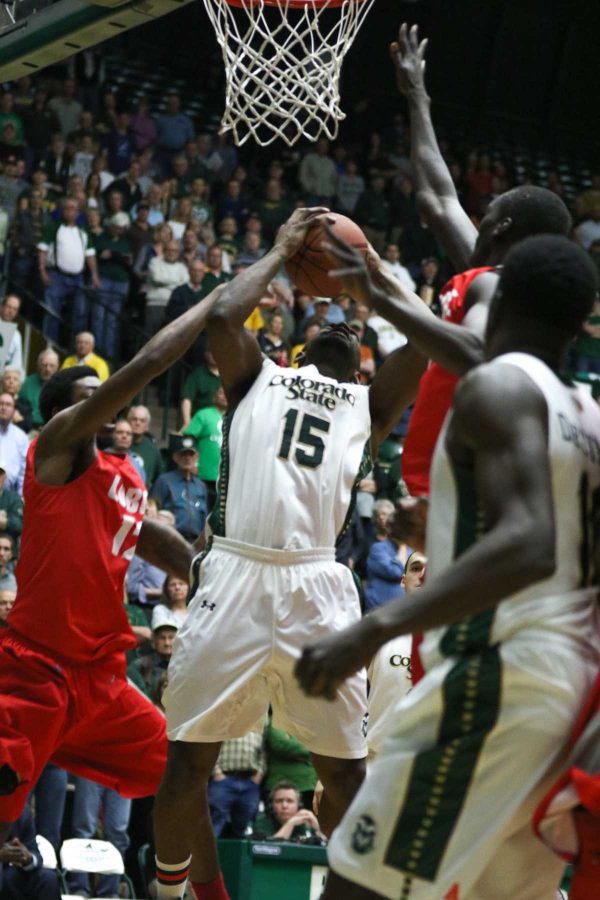 Colorado State again brings in a new-look roster under Larry Eustachy, with five newcomers joining the squad, along with two returning redshirt freshmen. For those unfamiliar with the Rams, here's a breakdown of their roster.
NamePPGAPGRPGMPGJohn Gillon14.44.22.730.3 Gian Clavell10.21.73.528.5 Joe De Ciman9.52.35.532.2Emmanuel Omogbo7.80.66.926.4Tiel Daniels7.51.69.528.7Antwan Scott6.51.52.316.7Fred Richardson III6.30.83.216.5Kimani Jackson5.40.53.511.2J.D. Paige1.20.20.45.5Toby Van Ry0.70.10.34.0 Totals69.513.537.8200Point guard
John Gillon- The redshirt junior was listed as one of Sports Illustrated's 20 Breakout Scorers in 2015, and could be among the elite guards in the Mountain West if he can bring it all together each night. Projected stats: 14.4 PPG, 4.2 APG, 2.7 RPG, 30.3 MPG
Antwan Scott- Scott was a heralded transfer coming from Grambling State, but a nagging foot injury cost him the entire season last year. He's fully healthy now, and should provide a scoring spark off the bench. Projected stats: 5.8 PPG, 1.8 APG, 1.9 RPG, 16.7 MPG
Prentiss Nixon- As every freshman does, Nixon will have a substantial learning curve adjusting to the college game. Don't be surprised to see him redshirt this season. Projected stats: Redshirt
Shooting guard
Gian Clavell- The Puerto Rican guard was electric at times off the bench last season, and the Rams will have to count on his scoring and defense this year. Along with Gillon, Clavell will likely be one of the team's top scorers. Projected stats: 10.2 PPG, 1.7 APG, 3.5 RPG, 28.5 MPG
J.D. Paige- Paige redshirted last season, and has been impressive at times during the preseason, according to Eustachy. However, the Rams depth at the '2' and '3' positions will make it tough for Paige to find a lot of minutes. Projected stats: 1.2 PPG, 0.2 APG, 0.4 RPG, 5.5 MPG
Anthony Bonner- Bonner is another freshmen who will spend the year learning the ropes, barring a number of catastrophic injuries. Projected stats: Redshirt
Small forward
Joe De Ciman- "Joe D" is the only player in Eustachy's tenure to start and finish his career at CSU, and he has developed into a consistent scoring, rebounding and defending threat. Projected stats: 9.5 PPG, 2.3 APG, 5.5 RPG, 32.2 MPG
Fred Richardson III- Richardson was one of CSU's most versatile players last year, and should be again. The senior can play spots two thru four, will be tasked with guarding some of the opponents' best wing players. Projected stats: 6.3 PPG, 0.8 APG, 3.2 RPG, 16.5 MPG
Power forward
Emmanuel Omogbo- Along with Kimani Jackson, Omogbo is a highly-touted junior college forward who Eustachy is very high on. He'll provide instant toughness and athleticism inside to pair with Tiel Daniels in the starting lineup. Projected stats: 7.8 PPG, 0.6 APG, 6.9 RPG, 26.4 MPG
Kimani Jackson- Jackson comes in with lofty expectations after being named one of the top JuCo players in the country last season. Not being in Fort Collins this summer hurt his conditioning, but he'll still be a quality backup in the frontcourt this season. Projected stats: 5.4 PPG, 0.5 APG, 3.5 RPG, 11.2 MPG
Toby Van Ry- The Fort Collins native redshirted last season alongside J.D. Paige, but likely won't see much playing time this season either with the Rams' frontcourt depth. He provides a solid outside scoring touch, but Van Ry will only see the floor sparingly. Projected stats: 0.7 PPG, 0.1 APG, 0.3 RPG, 4.0 MPG
Nico Carvacho- The 6-foot-10-inch freshman has been a pleasant surprise for the Rams this fall, and could develop into a talented player in the Mountain West once he spends some time in the weight room. Look for Carvacho to redshirt, but possibly contribute next season. Projected stats: Redshirt
Center
Tiel Daniels– There's likely not a more dominant physical presence in the league than Daniels, and CSU will rely on him to become more of an offensive presence down low. Expect to see Daniels nearing a double-double each night. Projected stats: 7.5 PPG, 1.6 APG, 9.5 RPG, 28.7 MPG   
Collegian Senior Sports Reporter Keegan Pope can be reached at kpope@collegian.com and on Twitter @ByKeeganPope.