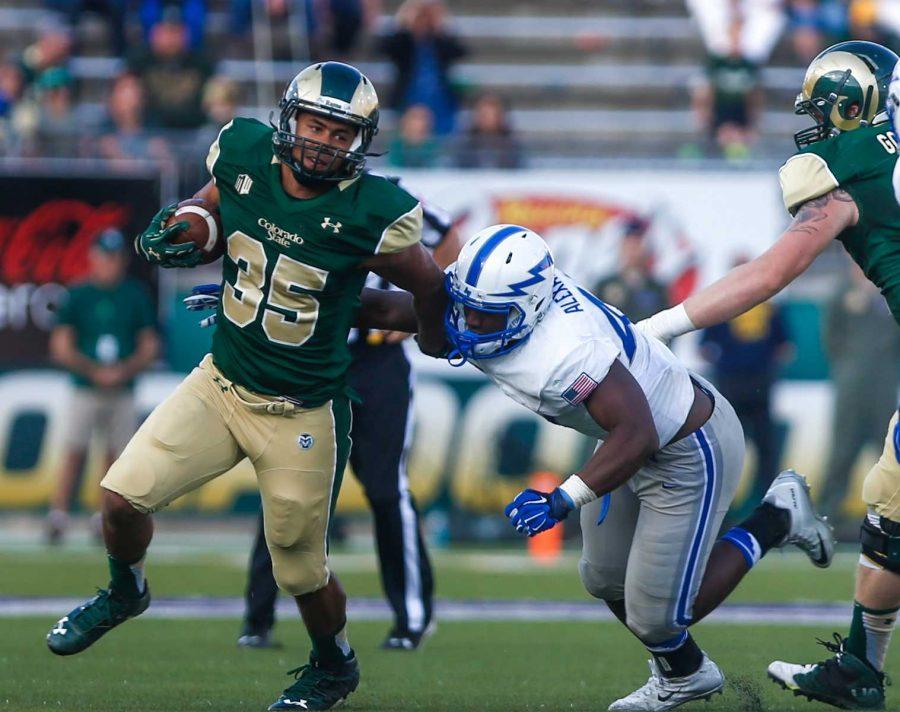 (Keegan Pope/Collegian)
***
After losing three of its last four games, Colorado State came into Saturday's homecoming game against Air Force in desperate need of a win. The Rams did exactly that, and did so in dominating fashion, beating the Falcons 38-23 in front of a sellout crowd of 32,546 at Hughes Stadium. 
Here's the good, the bad and the ugly of CSU's win:
The good
Nick Stevens and Jasen Oden Jr. 
A lot has been made of CSU's quarterback situation this season, and for good reason. Neither Nick Stevens or Coleman Key has been particularly impressive through the first half of the season. But Stevens was outstanding Saturday afternoon, completing 23 of 30 passes for 296 yards, three touchdowns and one interception, which head coach Mike Bobo attributed to wide receiver Joe Hansley cutting behind the defensive back instead of in front of him. Stevens was calm, poised and confident while delivering three impressive touchdown strikes, two of which went to Hansley. 
He wasn't without help, though. Oden Jr., who entered the season as CSU's backup, if not third-string running back, has taken over as the Rams' go-to option over the past few weeks. He was particularly dominant Saturday, rushed 89 yards and two touchdowns yards on just 11 carries, including a 42-yarder in the first quarter. Oden Jr. burst through a number of arm tackles, and picked up a number of first downs with his tough, downhill running. On the day, CSU rushed 175 yards on 37 carries — not mind-blowing numbers by any means — but the Rams were 10 of 12 on third-down conversions at one point before finish 10-for-15. 
The bad
Penalties
CSU was able to avoid costly turnovers Saturday, the Rams still shot themselves in the foot with penalties. The biggest example of that came on the second drive of the game, when Hansley returned a punt 75 yards for a touchdown, but it was called back after a block-in-the-back penalty on Preston Hodges. Sure, CSU scored on the ensuing drive, but silly penalties like that have hurt them all year. Late in the game, when CSU was trying to run out the clock, left guard Zack Golditch was flagged for holding, and although it didn't change the outcome of the game, again, CSU needs to avoid plays like that. A week after almost everything went wrong against Boise State, all of these seem a bit nit-picky, but as head coach Mike Bobo pointed out after the game, there's still a lot to work on, and winning one game doesn't mean CSU has arrived. 
The ugly
Traffic and people leaving early
Neither of these things had anything to do with what transpired on the field, but there wasn't much that was ugly for CSU in this one. What was ugly was the traffic getting into Hughes Stadium Saturday afternoon and the fans who left before the fourth quarter even started. In terms of traffic, most of that can be blamed on a sellout crowd, which was particularly impressive. What was not impressive was the line of taillights leaving the parking lots when CSU was ahead 35-13. Now I can understand leaving early when your team is being blown out, but this is the first time CSU had won at home since Sept. 5. There's no worse look for a fan base than leaving when your team is ahead. Come on, Ram fans. You're better than that. 
The skinny
As just about everyone has said, this was a must-win for CSU to remain in bowl contention, and to keep this from turning into a rebuilding year. The Rams got what they needed, even if they didn't finish it off quite like they would have liked to. Looking forward, CSU gets a much-needed bye week before hosting San Diego State on Halloween night. Their schedule is substantially easier in the second half of the season, including a road game against 1-6 Wyoming in three weeks. CSU could, and probably should run the table the rest of the way barring any catastrophic injuries or suspensions. 
Collegian Senior Sports Reporter Keegan Pope can be reached at kpope@collegian.com and on Twitter @ByKeeganPope.