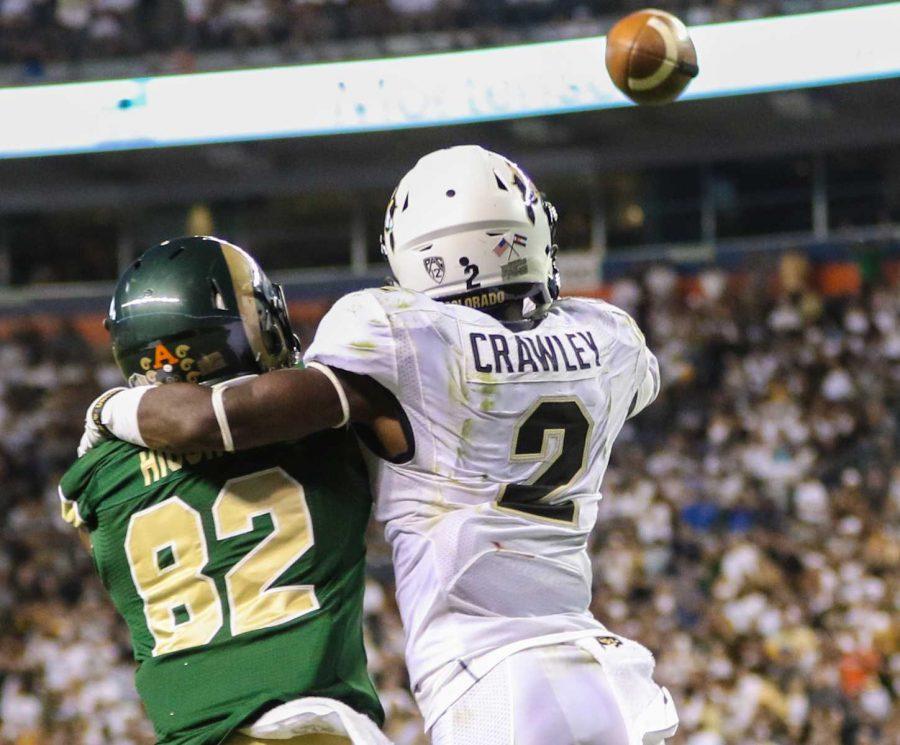 Colorado State opened up conference play last week with a loss at Utah State. The dropped the Rams to 2-3 overall, and 0-1 in the Mountain West. This week they return to the familiar confines of Hughes Stadium, where they hope to get their first-ever win over No. 25 Boise State.
Below are some highlights from Monday's press conference with head coach Mike Bobo, senior safety Kevin Pierre-Louis and senior offensive lineman Sam Carlson:
Q: How has Boise State become one of the top programs for non-Power 5 schools nationally? 
 Bobo: They just do it at a high level. Consistently, over and over again, and I think they've gained confidence over the last 10 to 15 years of playing well and now when they take the field they expect to win every time. … that's where you want your program to be. You want your program to be a consistent winner where every time you take the field you're expecting to win.
Q: There is a lot of talk about the Boise State defense, but what does the offense do well?
Bobo: What makes them very good to me is that they can run the ball and throw the ball equally effective. And they can do it out of a multitude of formations and sets. They can be a two-back power team, they can be a one-back spread team and they are efficient. … They do a good job of having five to six plays a game that are brand new so you've got to play assignment football.
Q: What would a win mean against Boise State?
Bobo: One, it's our second conference game and we would be 1-1 in the conference and it's our first conference home game so any win in the conference is big. We're playing Boise State who is the conference champion, who is a top-25 team, and like I've said, we're trying to become a top-25 team on a consistent basis.
Q: What's the key to getting off to a fast start against Boise State?
Bobo: I think we've got to be able to stop the run, we've got to be able to play well on third down on defense, and then if they do move the ball we've got to play great redzone defense. We can't allow explosive plays, we allowed way too many explosive plays the last couple weeks defensively. … Offensively we can't shoot ourselves in the foot and turn the ball over.
Q: What do you think of when you think of Boise State?
Pierre-Louis: When I think of Boise State, I think they are a great team. They are top-25 for a reason so I give them respect. I've been playing them for three, four years now so I know they are a strong team and they don't beat themselves.
Q: Are you excited to be playing at home again this week?
Carlson: I'm glad to be back in Fort Collins. I think we have a great home field advantage when everybody is here. Boise State is a great opponent and I expect a great atmosphere on Saturday.
Q: The offensive line has been banged up, has that slowed your development as a group or is that just an excuse?
Carlson: It's certainly played a factor in what we are trying to do on offense but it shouldn't be one that's big enough to effect what we're doing because we have guys that have been studying and learning the offense and should be able to step in. … We have guys that I trust fully to do what we need to do.
Collegian Football Reporter Geoff Huebner can be reached at sports@collegian.com or on Twitter @Huebnermedia93