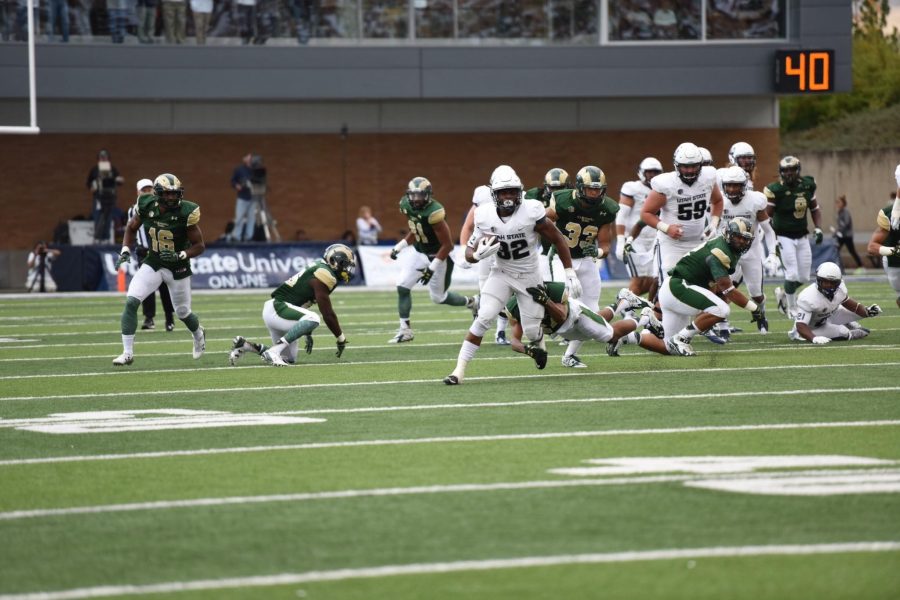 LOGAN, Utah — Colorado State lost for its third time in four games Saturday night at Utah State, leaving players, coaches and fans alike scratching their head. After losing just three games all of last season, the Rams have lost three times in their first five games in 2015. There wasn't a lot to be excited for after CSU's 33-18 debacle at the hands of the Aggies, but here are the good, the bad and the ugly from Saturday night.
The good
The receiving duo of Rashard Higgins and Xavier Williams
Higgins and Williams were the best receivers on the field Saturday night, and it wasn't close. The duo combined to haul 14 balls for 185 yards and a touchdown, and made a couple of fantastic catches in traffic. Williams is by far the lesser-known of the two, but players and coaches rave about his size and athleticism. He caught 30 passes a year ago in a limited role, and hasn't seen a ton of balls come his way yet this year. If CSU wants to get its season back on track, that must change. CSU quarterback Nick Stevens has done a better job of getting Higgins more involved in recent weeks, as their chemistry and timing continues to improve. Higgins isn't on pace to reach his 2014 total for catches, yards or touchdowns, but that was to be expected with a young quarterback in a new system throwing him the ball. If there was one bright spot Saturday night for the Rams, it was their ability to get the ball in the hands of playmakers.
The bad
CSU's rush defense
As I said in my quick analysis Saturday night, the Rams have been very poor against the run over the past two weeks, giving up an average of 288 yards on the ground against UTSA and Utah State. Head coach Mike Bobo alluded to the Rams' struggles as a lack of discipline, and linebacker Kiel Robinson blamed on it on breakdowns in communication between players. Whether it's one or the other, or even a bit of both, the mental lapses nearly doomed CSU against UTSA and finally got to them against Utah State. Most of USU quarterback Kent Myers' school-record 191 rushing yards came on designed zone-read plays, and more often than not, CSU's defenders were caught with their eyes in the wrong place or their bodies in the wrong gap. CSU was able to recover a few times, and forced four Aggie field goals, but those points were the difference between CSU heading back home 2-3 or 3-2.
The ugly
Mistakes and penalties
Colorado State players wouldn't come out and say they were undisciplined. Bobo didn't hold back, though. The first-year coach said he gets the sense his team is "all playing like freshman." Some of that can be attributed to a new coaching staff, but regardless of who is on the sideline, CSU's mistakes have been incredibly ill-timed and costly. Utah State was actually flagged for more yards Saturday night, but CSU's seemed to come at the worse possible times. With 9:10 to play in the fourth quarter, and the ball at its own 13, CSU had the momentum, and a chance to march down the field and tie the game. The Rams' drive started well, with Stevens completing consecutive passes to Williams and Higgins for a first down. But CSU was called for false starts on two straight plays, pushing them into first-and-20. A scramble by Stevens on third-and-11 would've given CSU a first down, but it was called back for holding. CSU punted two plays later, and on the following drive, Utah State closed out the win with a 74-yard scoring drive, capped off by a 33-yard touchdown run from LaJuan Hunt.
The skinny:
CSU is who we thought they were – sort of. With the relative success CSU has had over the past two seasons, it is easy to forget what the Rams had to replace off of last year's team. The Mountain West Offensive Player of the Year. A 1,200-yard rusher. Two linebackers who rank among the best in school history.
Despite its experience on defense, the Rams are relatively green on offense. No pun intended. Mistakes are expected under a first-year head coach. But being unable to correct and respond from those mistakes is what has ultimately doomed the Rams in their three losses. None of the three teams CSU has lost to – Minnesota, Colorado or Utah State – has played a particularly dominant game of football on both sides. What they were able to do though was minimize the number of big plays they allowed, and capitalize on CSU's mishaps. So far, the Rams have been unable to do either of those things in their three defeats. CSU continues its brutal opening to conference to play next week with a home game against Boise State, who crushed Hawaii 55-0 Saturday night in Boise. They must find a way to eliminate those errors, or they could be in for a very, very long night when the Broncos come to town.
Collegian Senior Sports Reporter Keegan Pope can be reached at kpope@collegian.com and on Twitter @ByKeeganPope.