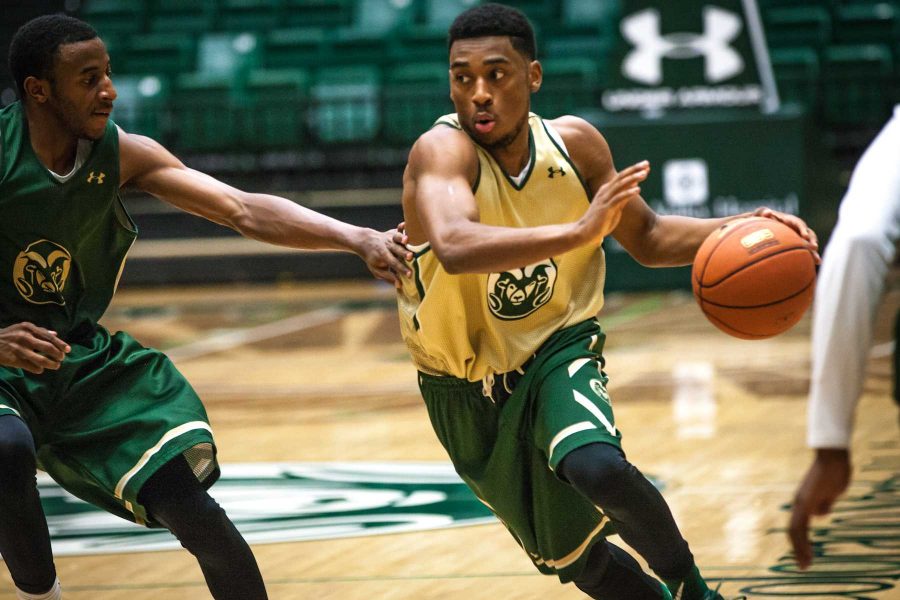 Gian Clavell walked off the floor Tuesday afternoon with a 4-inch cut above his eye. Emmanuel Omogbo made a few trips to trash can behind the basketball goal on the west end of Moby Arena to "get rid of" his lunch. Joe De Ciman, who is in his fourth year under head coach Larry Eustachy at Colorado State, collapsed his 6-foot-6-inch frame onto a folding chair as soon as the team broke its final huddle. 
This was just another practice for the CSU men's basketball team, who began official practices last Friday, and will go six days per week until its home opener against CSU-Pueblo Nov. 7. 
The Rams opened practice the way they normally do — with wind sprints. Over the next three-plus hours, CSU had two breaks — once when they reviewed film during a five-on-five drill, and once more while coaches divvied up teams for the final half an hour of drills. Near the two-hour mark, exhaustion began to set in, but Eustachy and his staff didn't let up, with the fourth-year head coach at one point saying, 'This is what great coaching staffs do, they find out how to break their players down before they build them back up.'
Eustachy's methods are unconventional, but he says pushing his players, especially the newcomers, to the brink of their physical ability is essential if his team is to hold up during a grueling five-month season. 
"I've always thought that the first two weeks are the biggest part of the season" Eustachy said. "What you teach and what you emphasize is what you're going to instill into your team for the whole year. I think a lot of coaches make the mistake of not emphasizing things that win you games until it's too late. What we do with these guys during the first two weeks carries over into the rest of the year." 
The majority of the things that Eustachy and his staff emphasized were the same as they have always been: defense and rebounding. The Rams spent the better part of an hour in a three-on-three defensive drills. The drill might have been a little more physical than you'd expect from a basketball practice, though. In one 30-second segment, Omogbo put center Tiel Daniels in a quasi-rear naked choke hold as he battled around a pick, senior Fred Richardson III tossed freshman guard Anthony Bonner to the ground like a rag doll and guard Antwan Scott held enough players' jerseys trying to get through screens to warrant enough penalty flags to cover the entire 94-by-50 court at Moby Arena. 
It's likely CSU's entire team would foul out in the first five minutes of a game if players were that aggressive, but to match up with bigger, stronger teams, players say that these drills are necessary.
"We don't have no McDonald's All-Americans here," Richardson III said. "So we've got to be the most physical and well-conditioned team in the league. This program is built on toughness, conditioning, thinking while you're tired and just playing hard. We don't have three or four guys who are projected NBA draft picks, so these first couple of weeks help get the new guys introduced to what we do and what to expect when the season comes. Teams like San Diego State and UNLV, they've got big guys who will pull jerseys, they'll knock you to the ground so we've got to be able to re-enact what those games are going to be like in practice." 
The physical play goes hand-in-hand with an intense, ultra-competitive environment. There's plenty of trash talk, verbal jabs and in-your-face bravado. Richardson and fellow seniors Gian Clavell, Tiel Daniels, Joe De Ciman and Antwan Scott are at the forefront of that, and De Ciman says that as seniors it's their job to stoke that competitive fire, but to also know when to tone it down off of the court. 
"As seniors, our goal from Day 1 has been to lead this team," De Ciman said. "We told them that there are going to be good days and bad days, we told them how Coach Eustachy is, and we told them what Mountain West play is going to be like. We're all competitive guys, so there's going to be some trash talking and all of that, but as soon as we get off the court we understand we're a family and that we're in this together." 
Collegian Senior Sports Reporter Keegan Pope can be reached at kpope@collegian.com and on Twitter @ByKeeganPope.