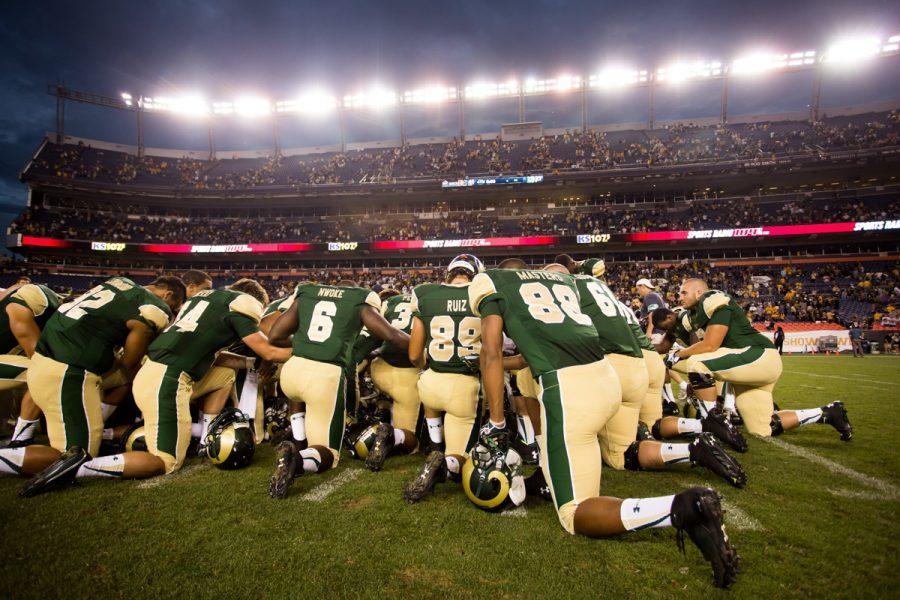 "Before I'd see him in Boulder, I'd see my son in hell!"
Those are the final words of "Fum's song".
Thurman "Fum" McGraw became Colorado State's first consensus All-American in 1948 and 1949. At 59 years of age, the former athletic director sang his famous cheer in the Rams' locker room before the 1986 Rocky Mountain Showdown. It helped pump up the team as CSU took Folsom Field by storm and beat the Buffs 23-7 on their own turf.
But the in-state rivalry with the University of Colorado has not always been so kind to the Rams. In anticipation of Saturday's game, let's take a look back at some Showdown history.
The Beginning
The team's first played in 1893 when CSU – then known as the Colorado Agricultural College – founded its football program. CU's season came three years earlier in 1890.
The first meeting was not much of a contest, as CU blew out the Rams 70-6 in Fort Collins. The game was likely played at an unnamed field just east of College Avenue between Locust and Plum Street.
CU went on to beat CSU in the first eight games between the teams, outscoring the Aggies 335-18. In 1906, CU forfeited the game, resulting in a 0-0 tie.
CSU finally got its first win in the series in 1912, when the Aggies upset the reigning Rocky Mountain Athletic Conference champions 21-0 in Fort Collins. CSU would win its first RMAC championship in 1915.
After a 15-14 CSU win in 1958, CU refused to continue playing CSU due in part to the deteriorating Colorado Field it called home, and the impression it gave that CSU was not interested in being a football school. The rivalry was renewed in 1983 with a 31-3 CU win.
Where we are now
CU has a major 62-22-2 edge all-time in the Showdown heading into the 2015's installment.
Recent years have proven better for the Rams though. The Showdown was played on a neutral field for the first time in 1998. Since then, every game has been played in Denver other than three meetings in Boulder (2004, 2005, 2009).
The Buffs hold a slight 8-6 edge in games played at a neutral location. CSU won last year's matchup 31-17, and has know won three of the last six.
A win Saturday would give the team its first back-to-back Showdown wins since 1999-2000. The Rams' 41-14 win in 1999 is also infamously known as the time Denver Police pepper sprayed fans and the CSU marching band.
The Colorado State… Bulldogs?
Ever heard of Peanuts the Bulldog? Probably not.
In 1935, the Colorado Agricultural College made the change to the Colorado State College of Agriculture and Medicine (Colorado A&M).
However, the school did not adopt a ram as the official mascot until 1959. Prior to that, the school entertained a few unofficial mascots, most notably Peanuts the Bulldog.
The dog was purchased from a professor by student Floyd Cross in 1912, who later went on to become a dean at the school. Known for his encouraging barks on the sideline, Peanuts unofficially represented the team during two RMAC championships and appeared in team photos.
Peanuts was also adopted by Battery A of R.O.T.C. as its mascot and accompanied the men to the east coast as they prepared for deployment to World War I. Peanuts was not allowed to travel overseas with the men and was returned to Fort Collins in April 1918. However, Peanuts died not long after his return to the school.
According to CSU volunteer historian John Hirn's website dedicated to preserving the history of Aggies football, Peanuts was poisoned by CU students.
Fum's song
McGraw's famous cheer used to be sung by fans before the fourth quarter of games at Hughes Stadium along with a video of the former athletic director singing it in the locker room. Former CSU president Larry Penley did away with the song in 2006 after receiving complaints about its offensive suggestions. Here it is, in its entirety:
"I'll sing you a song of college days, and tell you where to go.
Aggies, where your knowledge is, and Boulder to spend your dough.
C.C. for your sissy boys, and Utah for your times,
D.U. for your ministers, and drunkards School of Mines.
Don't send my boy to Wyoming U. a dying mother said.
Don't send him to old Brigham Young, I'd rather see him dead.
But send him to our Aggies, it's better than Cornell.
Before I'd see him in Boulder, I'd see my son in hell!"
Collegian Sports Editor Emmett McCarthy can be reached by email at sports@collegian.com and on Twitter @emccarthy22.