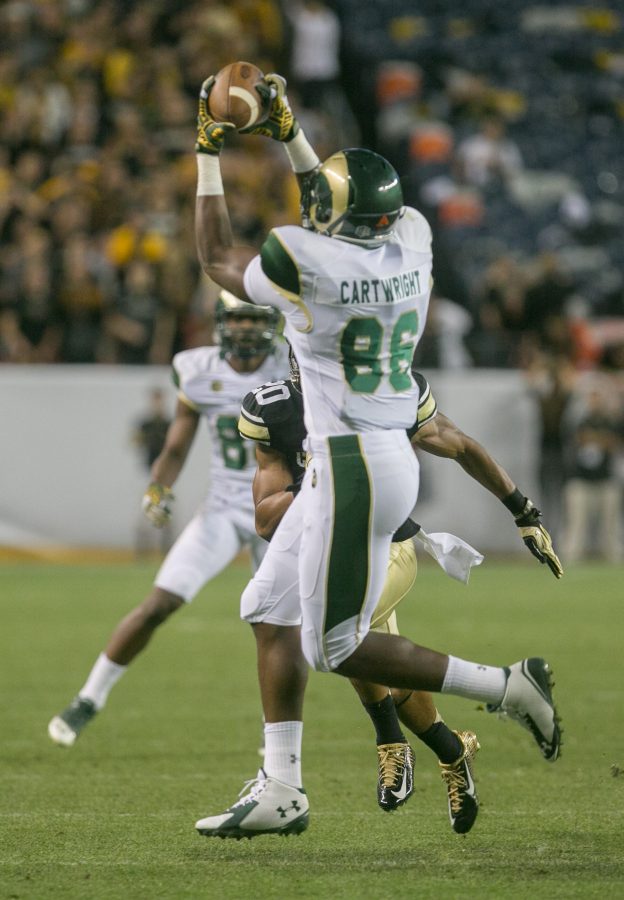 With the news of the CU-CSU football rivalry likely coming to an end after 2020, due to the decision by decision of the Buffs' athletic department, fans might have been given an impression that the Rocky Mountain Showdown isn't a huge game.
That would be the wrong impression, according to the Rams, at least.
"They think they're the big brother, so to speak, so it's a rivalry," said Kivon Cartwright, a CSU tight-end out of Pueblo South High School.
CSU players, especially ones such as Cartwright who are from Colorado, understand the meaning behind this game, and know that nothing has changed in CSU's attitude toward its southern neighbor. This year's Rocky Mountain Showdown will be fueled by the same sense of rivalry the CSU-CU series has held since it began in 1893.
"Being an in-state kid, it is a rivalry. It's a special game," Cartwright added.
Once they hit the field at Saturday, the Rams will be anything but friendly.
"On the field when the ball snaps, I have a healthy dislike for anyone I'm up against," Cartwright said. "(CU) is just another team, we're preparing the same, but when the ball snaps, it's definitely a dislike."
Senior offensive lineman and Fort Collins product Sam Carlson echoed Cartwright's sentiment, saying that he wants to beat the Buffs "so, so bad."
"That's why we're putting in all these hours, and watching a lot of film and preparing," Carlson said. "That's the biggest thing you can do is be prepared and go in and play with a lot of effort."
One of Carlson's most cherished memories on a football field was last season's Rocky Mountain Showdown. In his first start as a junior, Carlson proudly recalls the goal line stand CSU's defense made in the second quarter with CU up 7-0 to turn the game around in favor of the Rams. They went on to run for 266 yards on the ground behind Carlson and the rest of the offensive line en route to a 31-17 victory.
"We were able to feed off that and go down and score and keep scoring," Carlson said. "The momentum shifted and that was one of the coolest experiences. Especially being at Sports Authority Field, that's one of the coolest things you can ever experience."
Though head coach Mike Bobo is in his first year and is from nowhere near Colorado, he still understands what a rivalry like CU-CSU means to players and fans, and how meaningful it is to be on the winning side of it. As offensive coordinator of Georgia before arriving at CSU, Bobo participated yearly in one of the most heralded rivalries in all of college sports: Georgia vs. Florida football.
From 1990 to 2010, Florida dominated the rivalry, besting the Bulldogs in 18 of 21 meetings. But UG turned it around in the last few years, winning three straight from 2011 to 2013. With CSU coming up with wins in two of its last three Rocky Mountain Showdowns, Bobo has the chance to lead CSU to a new era of dominating these next, and the potentially the final, five years of the rivalry.
"It's kind of a new deal for him, obviously he hasn't been around here, but he's realized how important the CU-CSU game is to people associated with CSU," Carlson said. "It's a game we love to win and it gives us a lot of bragging rights for the year. … He wants to win and he can tell it means a lot to us as well."
For the Rams, and especially their in-state seniors who have watched CU vs. CSU for years, the Rocky Mountain Showdown is something they can't help but look forward to just a little more than others.
"I really want to go out my last year with a bang," said Cartwright, whose career would have ended after last year if not for being granted a medical redshirt this offseason. "I did think last year was the last one, and that was a bang, so I just want to keep it going."
Collegian Assistant Sports Editor Sam Lounsberry can be reached at sports@collegian.com and on Twitter @samlounz.