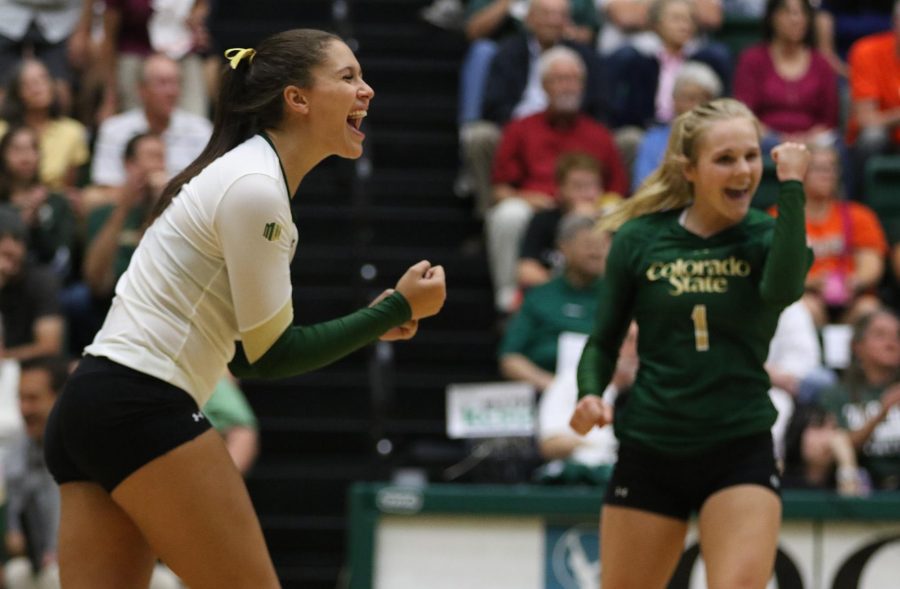 The Rams are looking for a seven-peat.
No. 19 Colorado State has wrapped up the duration of its non-conference matches, and is now heading into Mountain West play with hopes of claiming a seventh straight Mountain West title. CSU is set to start off the journey Thursday with a match against Utah State at Moby Arena, and will follow that up Saturday with another home match against Boise State.
There is always a target on the Rams' back due to their exceptional performance in the MW in recent years. They made it through conference play nearly unscathed last year at 17-1. CSU went 7-3 in their non-conference matches this season, which leaves them with something to prove as they enter the MW.
Head coach Tom Hilbert explained that opposing teams might view the Rams as being more vulnerable this year after seeing them come up on the losing end of a few non-conference matches, albeit against top-flight opponents. 
"I'm sure they all feel like they can get a shot at us," Hilbert said of CSU's MW opponents.
The Rams faced some issues implementing their new 6-2 rotation early on in the season, mainly in the sense that Hilbert feels they are not using their outside hitters to their full advantage.
"It's a combo of everything," Hilbert said. "They have some setting issues, they have some tentativeness which they have to get rid of. They have to get their feet to the ball better, and start hitting harder."
Fortunately for the Rams, they had the opportunity to get some mistakes out of the way in their tough non-conference schedule.
Throughout the season, Hilbert has been advocating for mature play, but he is also encouraging his team to be more aggressive.
"If they make a mistake out of aggression, you don't get mad at them for it," Hilbert explained. "You tell them that it's a good mistake."
Coach Hilbert touched on the supposed pressure and expectations that come with six straight titles.
"You have to be trying to improve yourself to go out and play well," Hilbert said. "That's what you try to do no matter what, and that also happens to give you the best chance of winning. So this whole expectation thing, we really cant be messing around with it. We have to just go play well."
CSU senior Adrianna Culbert, the MW Preseason Player of the Year, has a chance to say she won a title in each year of her college career. 
"It would be awesome," Culbert explained. "All the seniors since I've been here have had that, and so it would be a great thing to be apart of that culture and know that's what we're leaving in this program."
To Hilbert, there are four teams in particular that stand out as contenders to dethrone CSU this year in the MW. he believes will be CSU's biggest contenders in the race to see who wins the Mountain West title this year: Wyoming, New Mexico, Boise State and UNLV.
"Those four (teams), and us, I think probably one of those are going to win this league," Hilbert said. "It's (going to be) the team that can win at home and knock a few off on the road."
No. 19 CSU hosts Utah State Thursday at 7 p.m. at Moby Arena to kick off its MW schedule.
Collegian Sports Reporter Pia Myers can be reached by email at sports@collegian.com and on Twitter @emccarthy22.