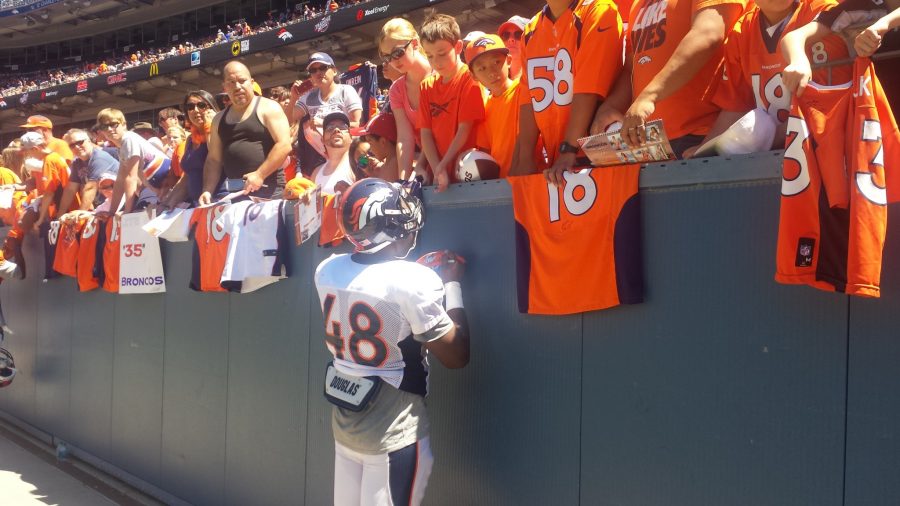 The Denver Broncos are still undefeated in in 2015, moving to 3-0 with three consecutive after beating the Detroit Lions 24-12 Sunday night.
After a scoreless first quarter, Ronnie Hillman finally scored the Broncos' first rushing touchdown of the season. It looked like the Broncos would take a 7-6 lead into the break. Peyton Manning had different plans as he threw a 45-yard touchdown to Demaryius Thomas with just five seconds left in the half. After an 11-yard touchdown pass to Owen Daniels put the Broncos up 24-12 late, their defense was able to seal the win.
Denver was able to force three turnovers, along with sacking Stafford four times. Second-year linebacker Shaquil Barrett only made one tackle, but it was arguably the play of the game. The former CSU star stripped Stafford on a sack, and teammate Malik Jackson recovered the ball. Manning went 31-for-42 for 324 yards and tossed a pair of touchdowns in the Broncos' win.
Here's what the Collegian sports staff had to say about the game:
Emmett McCarthy (Sports Editor): Watching Demaryius Thomas practically just post up on Darius Slay at the end of the first half was too much fun. Rough night for Slay, but DT pretty much did the same thing last week when he boxed out Chiefs rookie Marcus Peters for a big first down catch late in the fourth quarter.
Those types of plays, along with the highlight reel catches by Calvin Johnson Jr. and Emmanuel Sanders, make me wonder why teams don't just toss more jump balls in the direction of their star receivers. A.J. Green and Julio Jones both did savage things to cornerbacks Sunday as well. Even a smaller receiver like Steve Smith (my God, that dude is awesome) nearly won a game singlehandedly. 
You always hear about defenses taking away a certain player, but when that certain player is a DT or a Megatron, just throw it their direction anyway and see what happens. Like, I think Chris Harris Jr. and Aqib Talib make up the best cornerback duo in the league. But if they played a game of 500 against the Broncos receivers, my money would be on DT.
Post routes or short curls – it doesn't matter. When you have an elite receiver, challenge the defensive back to make a play.
Oh yeah, and Shaq Barrett is the man.
Justin Michael (Sports Writer): The Broncos victory over the Lions can be summed up rather easily: Denver continued to struggle to run the ball, but Peyton Manning played good enough to bail them out. No, Peyton did not throw for four or five touchdowns like he has done so many times in the past. However, he did look comfortable for the first time in the early portion of the Broncos season. Manning had power behind his throws, and was able to hit touch passes he had struggled to make in the first two games. Letting Peyton throw from the shotgun is clearly the best option for the Broncos in 2015. Not only has Manning played from the shotgun his entire career, but it allows him to see the field more easily. The formation also benefits Manning's throwing motion. The Broncos quarterback benefits from being able to step forward, set his feet and make a smooth throw.
The offense played better in week three but still failed to sustain drives at times. The defense has continued to bail this team out of tough situations all season, and last night they continued the trend. The defense has totaled 10 turnovers and 10 sacks through the first three weeks. More impressively, it is not just the superstars producing for Denver. The three turnovers forced last night were all by non-starters. If the Broncos defense continues to perform at this level, with so much depth, they just may be the best defense in the NFL.
Final Thought: With running back Juwan Thompson leaving the game with a neck injury, Kapri Bibbs should be called up to the active roster. The Broncos lack of running game has been the Achilles heal of the undefeated team. The Broncos only have carried three running backs on the roster through three weeks, and none of them have proved to be effective on a consistent basis. Bibbs does not need to carry the burden alone, but I expect the former CSU superstar to be on the active roster within a few weeks.
Travis Green (CTV Sports Producer): PFM! Denver still won't win the Super Bowl though. But maybe we'll see Kapri Bibbs on the active roster next week.
Chad Deutschman (Sports Reporter): It's a good thing the Denver Broncos have a stout defense. It hasn't been since "Tebow Time" that the Broncos needed to win games on the defensive side of the ball. I'll bite the bullet first; Peyton Manning is not what he used to be. Peyton isn't the same quarterback he was 4 years ago – he isn't even the same quarterback he was last year. Peyton went from stud to dud faster than Brady got away with "Deflategate". Just kidding. Yes, Peyton may have lost a step, but that old sheriff can still get the job done for Denver and he proved that against Detroit.
Peyton has looked shaky at times during the Broncos 3-0 start, but I put that on the offensive-line, not because Peyton's one stubbed toe away from retirement. Gary Kubiak's new offense is supposed to make things easier for Peyton, not more difficult.
Having averaged an incredibly low 57 yards per game on the ground thus far, good enough for a solid 31st place in the league, it's safe to say Kubiak's approach is not working. There is no run game to open things up for Peyton. But give it time, as it's a relatively new O-line group. They will get it figured out, and when they do all the talk of moving on to Brock Osweiler will vanish. Until then, the defense will continue to get'r done for Denver.
Sam Lounsberry (Assistant Sports Editor): In the first half last night, NBC analyst Cris Collinsworth said he heard that Peyton Manning has told the Broncos' coaching staff there are certain passes, especially deep ones, he can't make anymore. Minutes later, Manning threw his longest pass of the season, a 45-yard touchdown to Demaryius Thomas to end the first half. He also stepped up in the pocket multiple times and rocketed bullets over the middle for first downs. Some of those balls were thrown as hard as he ever has. Either he was feeling good yesterday, or Peyton simply still has it, regardless of what he tells his coaches.
And yes, Shaq Barrett is the man.
Collegian Sports Desk can be reached by email at sports@collegian.com and on Twitter @RMCollegianSpts.