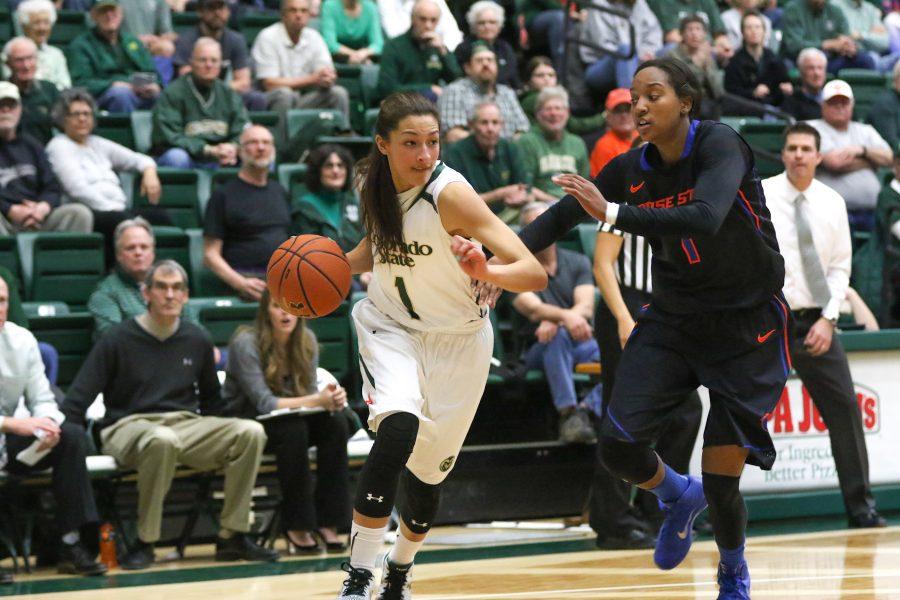 Not every impact basketball player is a double-digit scorer.
In fact, almost every great basketball team has that one irreplaceable player with electric energy that teammates and home crowds feed off of. Often, that player cares not about offense, scoring the ball or stats of any kind, but rather about coming into a game and outworking, out-hustling and straight up stopping opponents.
Championship teams seem to commonly feature one of these players on their rosters; guys like Dennis Rodman and Bruce Bowen, who lacked scoring ability, but with defensive tenacity contributed to eight NBA Finals titles between the two of them.
For Colorado State's women's basketball team, that player is junior forward Victoria Wells.
Wells has become the first player off the bench for head coach Ryun Williams this season, and a defensive stalwart for the Rams during their 17-6 start to the season that has set them up for a run at a second consecutive Mountain West regular season title.
While she may not show up often in the box score or lists of the conference's stat leaders, Wells has been integral to her team's success with a defensive intensity unmatched by just about any other player. She currently leads CSU in steals with 1.9 per game and ranks second in rebounding, snagging 6.0 boards per contest.
But perhaps more important than Wells' hustle stats is the ardor she plays with that seems to become apparent in her teammates and coaches the moment she steps on the floor.
"When Victoria comes in the game, the scoreboard goes in the right direction," Williams said. "Her energy is extremely infectious, and just brings a tremendous spark."
Not only does she shock life into teammates, but home crowds at Moby Arena find life after a Wells hustle play leads to a CSU basket.
"I think the crowd loves her and we love her too," senior guard Gritt Ryder said.
Wells' ability to defend at CSU became quite apparent in the Rams' key revenge-win over Boise State last month in Moby Arena that came at a time when the Broncos were the only team to hand CSU a conference loss.
Boise State standout guard Deanna Weaver looked unstoppable in the first half against the Rams on her way to 11 points in the first 20 minutes, carrying her team to a comfortable 49-37 halftime lead. But the guard's confidence was erased in the second half by the smothering defense of Wells, and Weaver was held to just six second-half points—four of which came at the free throw line—after her scorching offensive first half.
"She's a pest," Williams said of Wells' defensive efforts. "Her hands are everywhere, she's so energetic, she's long, she gets a lot of touches on the basketball, and that's where we pride ourselves is on that end of the floor."
The junior takes her own pride in showing off her defensive skills, especially against those talented players.
"It's fun when you have a good player that can score," Wells said. "It's exciting getting under players' skin. Everyone thinks they're the best out there, I just want to be better at my job than they are at theirs."
Wells gained her love for locking down scorers out of necessity, as her love for winning supersedes nearly any other player's. After winning a CIF Southern Section Championship at Sierra Canyon High School in Los Angeles, Wells took a scholarship offer from Marshall University in Huntington, West Virginia. As a freshman at Marshall, she led all freshmen in Conference USA in steals with 1.9 per game, but the team's mediocre 16-14 season convinced Wells to transfer somewhere that she would be a part of a winning culture.
"I hate to lose," Wells stated. "I wasn't surrounded by winners (at Marshall), and I wanted to be surrounded by a program that wins."
The forward settled on transferring to Trinity Valley Community College to play for the Lady Cardinals' junior college team so she could avoid sitting out a year mandated by NCAA transfer rules. There, Wells helped Trinity Valley win a NJCAA national title with a 36-1 record while putting up a line of 7.2 rebounds, 3.0 assists and 2.0 blocks per game.
"Tori is a born winner," Ryder said. "She knows what it takes to win and does the small things."
If one of the small things is a determination on the defensive end of the floor that consistently brings her team wins, Wells certainly completes it.
"There's always going to be someone bigger, smaller, quicker, stronger, slower. You just have to have more heart and play hard," Wells said.
Her arrival on this season's talented CSU squad, with potential for capturing the Mountain West tournament and an NCAA Tourney berth, has not come without a few bumps in the road.
CSU wasn't even Wells' first choice after her year of junior college at Trinity Valley. Wells originally signed a letter of intent to play at Texas Southern, but when its head coach Cynthia Cooper-Dyke left to take a job at USC, the Los Angeles native sought release from her commitment and visited CSU.
"I met with Coach Williams and saw the direction we were headed, I knew that I was coming to a program that was going to win," Wells said.
But just before the season started last year, Wells' first year in CSU's program, she suffered a stress fracture in her right foot that required surgery to repair and kept her out all of last season. She watched from the sideline as her team stormed to a MW regular season title and fell in the MW Tournament to Fresno State in the championship.
"Last year was probably one of the hardest times of my life," Wells said. "I was happy for the team, we did great, but still knowing in that championship game, knowing that I could have been out there to help them win was really difficult."
Wells endured another injury earlier this season, a concussion, that kept her out seven games. But she came back with the same tenacity and drive to win she's possessed her whole basketball career.
"She's had a college career full of some adverse moments," Williams said. "The fact that she's come back from that playing as well as she has, that says something about her."
Collegian Sports Reporter Sam Lounsberry can be reached at sports@collegian.com and on Twitter @samlounz.