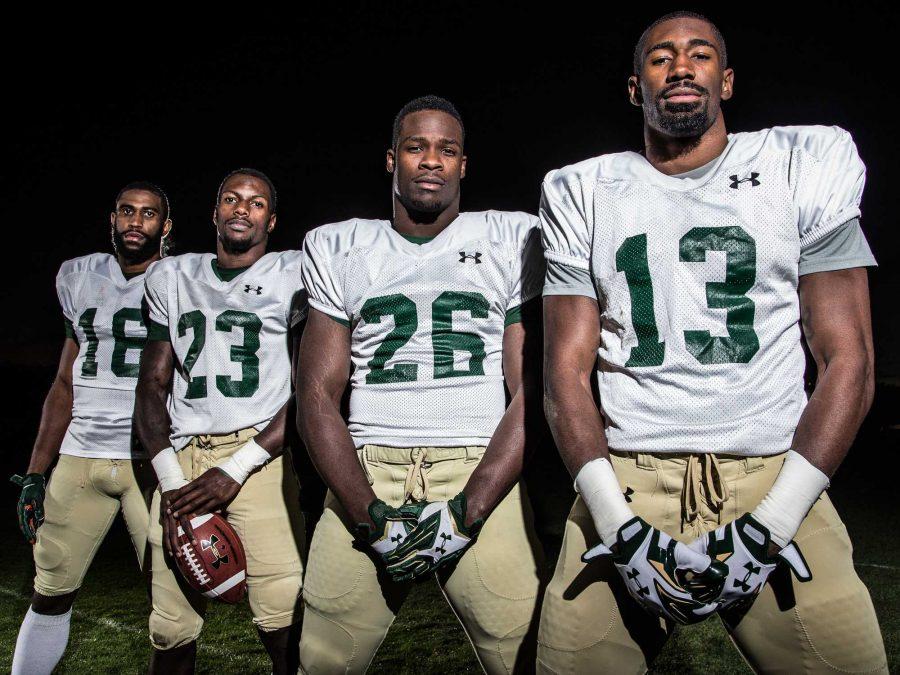 Before the Colorado State football team played a single game in 2014, one group on the team had to make a choice.
The Rams starting secondary of cornerbacks DeAndre Elliot and Bernard Blake and safeties Kevin Pierre-Louis and Trent Matthews could go down the same path that led to a great passing defense in 2012, or the path that led to mediocre numbers in the secondary last season.
Ten games into the season, the Rams are boasting a 9-1 record and are ranked No. 23 in the nation by the Associated Press, their first national ranking in 11 years. With that success, it's evident what path the four defensive backs chose.
"We've known each other for four years and we've been playing with each other for three years," Matthews said. "I think it's the year where we told each other in the offseason that we're gonna have to step up. We were ranked 120-something in pass defense last year and before that we were ranked in the top 50, so we compared the two and we had to decide what we had to do for (2014)."
Pierre-Louis, Elliot and Matthews were all freshman in the 2012 season in which their secondary was ranked 14th in the nation in passing defense, allowing just 203.2 passing yards per game. But their great individual performances didn't lead to a great season. 2012 was head coach Jim McElwain's first year with the team, and the necessary growing pains led the team to a 4-8 finish despite the secondary's play.
"It was a bittersweet feeling," senior cornerback Blake said. "We were satisfied with our individual stats as a unit, but we would trade that in for the wins any day. That's something that hurts still, but it just shows what our talent was like."
Interestingly, the 2013 season was almost the complete opposite. The Rams finished with a successful 8-6 record and won a bowl game, but the secondary that was so good in 2012 didn't have anywhere near the same success. They allowed an average of 72.5 more passing yards per game, and the team fell from being ranked 14th in passing defense to 124th.
But despite going 8-6 and winning a bowl game in historic fashion, the young secondary didn't want to settle for being ranked 124th in the country, and they knew that they could turn things around in 2014.
"It kind of didn't work for us the previous year when we took the shortcut," junior free safety Pierre-Louis said. "So we went through the hard road and worked hard (in the offseason), put in extra work, and we're hoping it will pay off."
This season the defense has allowed 11 passing touchdowns in the first ten games when last year they allowed 24 passing touchdowns in as many contests. The team is currently allowing 22.1 less passing yards per game than last season and the secondary has ten interceptions so far. Elliot, whose fourth quarter interception against Nevada sealed the Rams win in week 7, believes the secondary's improvement has a great deal to do with their work off the field.
"We really take the secondary, and the whole defense of the team, and we really treat it like a family," Elliot said. "We like getting to know each other more than just what we do on the field, so I feel like it's really starting to show on the field."
As the only senior on a Rams secondary full of juniors, Bernard Blake has had a big impact on the unit's growth and transition into 2014.
"(Bernard) took us under his wing and showed us and taught us some of his game; some of the techniques he does, on and off the field," Elliot said. "We do look up to Bernard as the big brother and the impact player; somebody to go to when you need help."
Although Bernard is the big brother of the bunch, all of the secondary have grown into their roles.
"All those other guys are like leaders so when one of us goes down the other ones just pick up automatically off of instinct," Pierre-Louis said. "They don't panic, they keep everything cool and they play just like I was there. It comes with age and maturity and I feel like those guys are mature enough to put something behind them and go out there and play."
However, much of their bond comes from all hailing from the same state — Texas. Blake played in Bastrop, Matthews in Converse, Pierre-Louis in Del Rio and Elliot in Dallas, where he played for the same Dallas Carter high school depicted in the film "Friday Night Lights."
To put it simply, the boys from Texas have made their mark in Colorado.
Collegian Sports Reporter Steven Jacobs can be reached at sports@collegian.com and on Twitter @steven_jacobs_.