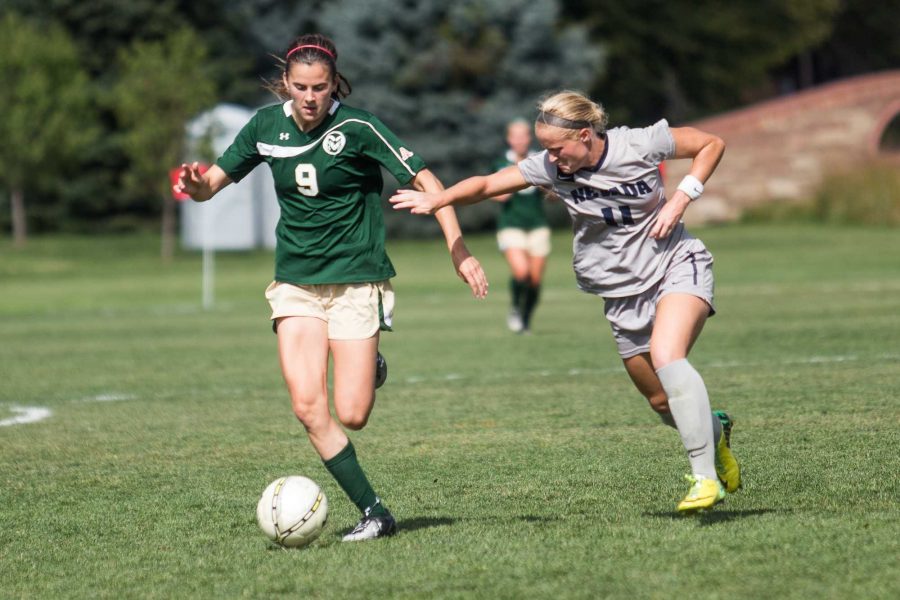 In its second year, the Colorado State women's soccer team has suffered seven losses out of its first ten games, but has captured three wins, already an increase from last year's mark of 2-13-3 in the Rams' first season.
Despite the seven losses, the Rams are much improved from their first-ever season last year in the way they defend and compete, but their attack has struggled to come together to produce many goals.
Junior forward Gianna Bertana has emerged as an offensive anchor in her first season with the Rams, though.
Three times late in matches, the forward has saved the day for the Rams with dazzling fast breaks stretching across the field for scores, either scoring or assisting on the game-winning goal in each of Colorado State's three wins.
After spending two years at Foothills College in Altos Hills, Calif., where she helped lead her team to a Coast Conference championship and a California Final Four in her two years there, Bertana decided to come to Colorado State this year for her junior season.
Though she had offers from several other schools, Colorado State was the only Division I program to recruit Bertana.
"We had gotten some information from her junior college coach, and when you're building a program you try to find as many experienced players as you can," Bill Hempen, CSU's head coach, said of recruiting Bertana.
When he sent assistant coach Kelly Labor to watch Bertana in a match last year, Hempen received a phone call back that started with Labor saying "Yeah, she's the the real deal."
Labor saw Bertana play three different positions, forward, midfielder and center-back, in a single match.
"She was good at all of them," Hempen said.
"When I came here I fell in love with Colorado," Bertana said of choosing CSU. "I loved the coaching staff and when I met everyone on the team, I knew this was the place."
From a recruiting standpoint, Hempen liked most Bertana's speed and athleticism. She has put on incredible displays of both in her little time as a Ram, using her high endurance for speed-bursts late in games for all five of her points.
Bertana first scored in the second match of the season over Northern Colorado in the 87th minute, zooming past Bear defenders to receive a lead-pass from Janelle Stone that Bertana floated in one-on-one with the goalie after shaking a final defender with a dodge.
The forward struck next against College of Charleston when she blew past midfielders on a fast break directly down the middle of the field and snuck a pass between two defenders to set up Amy Eckert for the game-winning goal.
On Sunday, Bertana got the Rams their first conference victory of the season with another late fast break goal over Nevada while they were down a player, putting on a wild fake toward the middle of the box before smashing a shot with her right foot off the bottom of the crossbar and in.
"Her engine never runs out," Hempen said of Bertana's stamina. "Thats why late in the game, she's still going at about the same speed as in the beginning."
Her speed gets her places, but Bertana's running style puts defenders out of place. The forward often wildly waves her arms while dribbling toward defenders, allowing for quite suggestive fakes that send opponents in the opposite direction.
"I like to keep going at defenders, making it hard for them and trying to confuse them," Bertana said.
"She's a little unorthodox, using those swim moves, but she finds her way," Hempen joked about Bertana's fast breaks.
"When I'm dribbling I see all the defenders around me, and if no one steps I'll keep going, and if one does step I pass it off," Bertana added. "If I get close to the goal, I shoot."
As a transfer, Bertana has made herself the offensive spearhead in her first season with the Rams, quickly becoming a friendly, lead-by-example type player for CSU's young program.
"She's always with the girls that have been here as well as the freshmen," Hempen said. "She's a first year player, but not a freshman. It's neat to see how the older player is really a friend with everybody. That shows a maturity in her."
Bertana's early offensive burst this season has helped to kickstart CSU's program in its infancy. Participating in the building of something brand new was part of what attracted Bertana to Colorado State's program.
"I thought it would be a fun place to go. There's nowhere but up you can go from here," Bertana said of the program.
The Rams travel to Boise State Friday for their next conference match. Bertana and the Rams hope to start a goal-scoring steak of games against the Broncos, who were picked to finish third in the Mountain West, but started off 0-2 last weekend.
Collegian Sports Reporter Sam Lounsberry can be reached at sports@collegian.com and on Twitter @samlounz.