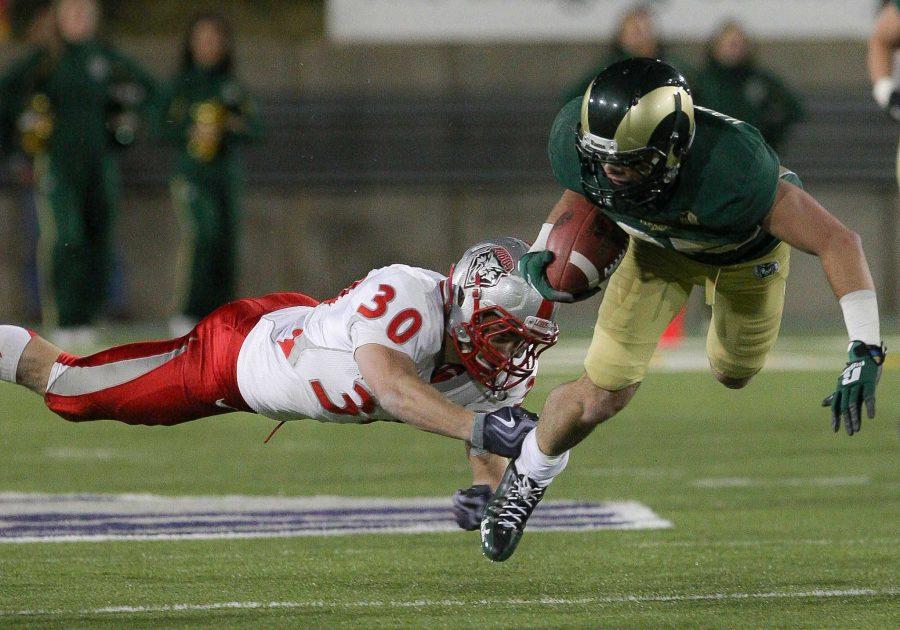 Colorado State junior wide receiver Joe Hansley had to transform when he came to Fort Collins.
During four seasons at Highlands Ranch High School outside of Denver, Hansley played running back, wide receiver, defensive back and was a return specialist, but when CSU recruited him, it was just a wide receiver they were looking for.
Many players face difficulty and adversity when they transition from high school football to college football, but Hansley was not one of those players. He embraced the change. He put aside the fact that he was a two-time All-State selection, three-time letterman and three-time offensive MVP in high school. He put aside his school records for total career touchdowns (66) and total career rushing yards (3,894). When the CSU coaches asked him to be a full-time wide receiver, Hansley was willing and able to do it.
"I think it's the course a lot of people take," Hansley said. "When you get to college you focus on one thing and get refined in that position. It's really the talent level, not being able to do everything."
Unfortunately for Hansley, giving up the running back position and switching to primarily wide receiver did not just mean leaving a position he was so fond of, it also meant changing a legacy that has been in his family for generations.
Hansley's father Todd was a running back for the University of Indiana in the early 1980's, and his grandfather Terry was a running back for Ohio State University in the 1950's and briefly played for the Cleveland Browns in the early 1960's. But Hansley, and his football family, are fine with him playing at any position.
"My grandpa was a great running back, so was my dad, but they support me in playing receiver," Hansley said. "It's fun for them to come watch me play and I enjoy when they come to watch."
Although Joe will be the first wide receiver in the Hansley family, he will not be entering the position empty-handed. His fellow teammates have seen how much he is able to incorporate his knowledge from all of the positions he's played into his role as a receiver, and the team is better for it.
"Playing all of those positions in high school honestly helped him a lot," said senior quarterback Garrett Grayson. "His football IQ is very high. Anytime you have someone with a football IQ like he does, that's going to help everybody. It gives everybody a ton of confidence. He's very smart and he knows where the green grass is in defenses."
As a freshman, Hansley already started to impress, earning a good amount of playing time among a talented group of receivers and collecting 274 yards and three touchdowns on 21 receptions. It became obvious in Hansley's sophomore season that putting him at the receiver position was the right decision. That season, his numbers rose to 613 yards and a touchdown on 52 receptions.
As a junior, Hansley enters the 2014 season alongside sophomore receiver Rashard Higgins, who led the Rams with 68 receptions for 837 yards and six touchdowns last season, and senior receiver Charles Lovett, who hauled in 26 passes for 396 yards and two touchdowns last year. The three receivers work hard to be a lethal one-two-three combination for opposing defenses, and they like to have fun, too.
"The receiving corps, we'll goof around a little but we take it seriously," Hansley said. "I like playing with Rashard, he's fun to go out there with. Chuck, too. Being out on the field with Rashard and Chuck is awesome."
Hansley now wants to work on maintaining consistent receptions from game-to-game. In week 1 against Colorado, Hansley had zero receptions, but in week 2 against Boise State Hansley led all CSU receivers with 7 receptions for 149 yards and a touchdown.
Quarterback Garrett Grayson points to extra work after practice when comparing Hansley's stat-line from week 1 to week 2. "They're staying after to catch some extra balls," Grayson said. "We've watched film a couple times together and that's really the most important thing so we know we're on the same page with each other. We started it last week and it really showed against Boise State."
Joe Hansley and the Rams host the UC Davis Aggies on Saturday, September 13 at 1:00 p.m. The Aggies are coming off of a huge 52-17 win against Fort Lewis, but the Rams will be looking to improve their record to 2-1 going into their bye week.
Collegian Sports Reporter Steven Jacobs can be reached at sports@collegian.com and on Twitter @steven_jacobs_.

Related articles
Pope: Boise State loss raises questions for Colorado State football team

Boise State too much for CSU football to handle