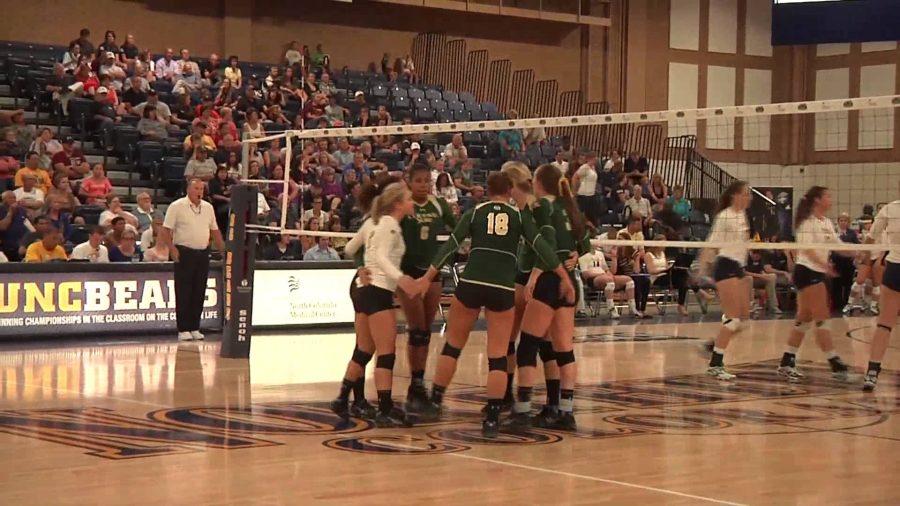 Greeley,Colo.— With the roar of heckling fans to the continuous battle at the net, the No. 13 Colorado State volleyball team improved its record to 4-0 with a 25-17, 25-13, 25-21 win over Northern Colorado that stretched its consecutive set win streak to 12 to begin the season. That streak is the longest since 1986.
"I did think it was a great serving effort by us, a great passing game, great defensively and great blocking," Head Coach Tom Hilbert said. "That last game blocking is what got us through the tough times. Again I would like to see some other things get better, but we played well enough to win against a pretty good team."
Wednesday's match against in-state UNC was a back and forth battle between which defense could dig the opposing kills as well as anticipating the quick tips over the net.
"If I would ask Brooke (Coulter, CSU's assistant coach) she did not like that a lot of tips were going down," Hilbert said. "But this team is obviously really good at the short kind of junky stuff and we got a lot of them too so really I thought we did a good job."
CSU has relied on its defense to make pivotal plays in key situations and tonight was no exception. Libero, Jaime Colaizzi had 10 digs as well as defensive specialist, Cassidy Denny and all-around player Adrianna Culbert who each racked up in 15 digs.
The Bears scored most of their points on back row tips into the corner as well as cross-court kills landing outside of the Rams' defensive sets. Fortunately for the Rams, CSU was able to transition faster and make more defensive plays.
"Jaime (Colaizzi) made a really critical dig in the third set that kept us in it," Hilbert said.
While it was expected for the Bears to rely on middle blocker, Andrea Spaustat, they quickly realized CSU had pointed Spaustat out, making UNC set other players.
UNC was forced to set outside hitter, Brianna Strong as well as setter, Ashley Guthrie who took the ball into her own hands tipping it on the second pass into the CSU front row multiple times throughout the match. Strong and Guthrie led the Bears offense with 13 combined kills and contributed on defense as well with nine blocks.
Middle blockers, Kelsey Snider and Acacia Andrews were the go-to hitters for CSU, with Snider reaching double-digit kills (11) and Andrews adding seven more, tonight's match-up had the Rams struggling to spread out their attack the way they did in wins over UC Santa Barbara and Marquette last weekend.
"I think we started off a lot better than we started in the first and third set so I think we gained the momentum right off the bat," Snider said. "It was just hard for them to get it back."
CSU has only one day to prepare for a match-up with Florida A&M on Friday before taking on last year's national runner-up and current No.4 Wisconsin. The Rams will take on the Badgers Saturday at 7 p.m. in Moby Arena.
"Its not like we can put new things in and really one of the biggest things we need now is rest," Hilbert said. "I do think playing a lot of matches is good, it has shown us some things but our ability to go back and work on our weaknesses isn't going to come till week four."
Collegian Sports Reporter Haleigh Hamblin can be reached at sports@collegian.com and on Twitter @haleighhamblin.