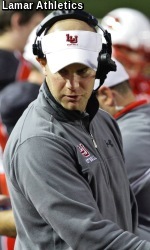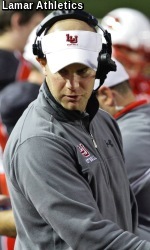 Colorado State football Head Coach Jim McElwain announced Kevin Barbay as director of player personnel Monday.
Barbay will play an important role in orchestrating the Rams' recruiting efforts. He will also serve as the liason between CSU and the NFL for pro-day events.
"My family and I are extremely excited to be joining the Ram family and Coach McElwain's staff," Barbay said in a statement released by the University. "I have done a lot of research on the town, and I'm super excited to move my family to Fort Collins. I feel that I'm coming into the Colorado State football program at an exciting time."
Barbay worked as the wide receivers' coach the past two years at Lamar University, the same school he graduated from in 2006. He also worked as a graduate assistant at Baylor, the quarterbacks' and wide receivers' coach at Texas A&M-Commerce and the tight ends' coach at the University of North Texas.
"We're very fortunate to be able to welcome Kevin to the Ram Family," McElwain said in the statement released by the University. "The importance of this position toward the overall success of our program is immeasurable, and it speaks volumes about the perception of our program that we had so much interest in this position."
Barbay replaces Drew Hill, who accepted a job at the University of Oklahoma last week.
"I'm excited to get a guy with Kevin's football background as well as his many strong relationships," McElwain said. "His knowledge and organization of the recruiting process and the skills he has developed as a college assistant coach and a high school head coach make him a valuable asset to our program."
Collegian Senior Reporter Emmett McCarthy can be reached at sports@collegian.com.