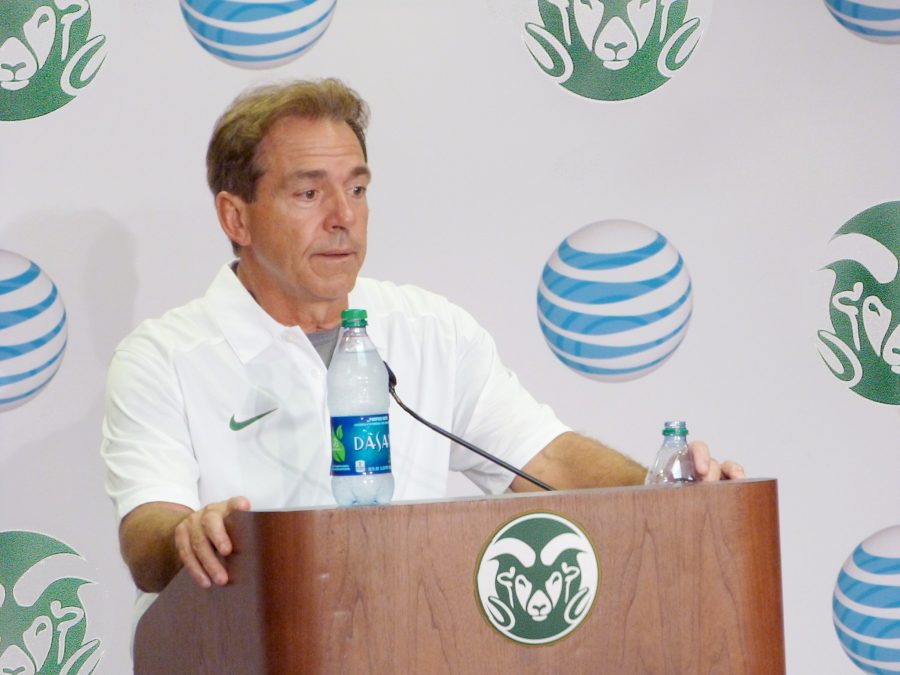 Nick Saban, who led Alabama from 2007-2014, has accepted the head coaching position of the Colorado State football program, the University announced Tuesday April 1. He will take over responsibilities immediately.
With 12 years of head coaching experience in the Southeastern Conference between Alabama and LSU, Saban has cited the desire for a change of pace as reason behind accepting CSU Athletic Director Jack Graham's offer. The addition of Lane Kiffin to the Crimson Tide coaching staff in January has created an undesirable environment for Saban, cramping his old-school style.
Though Kiffin is likely to fill Saban's spot, Alabama has yet to confirm any changes.
"I noticed that Jim (McElwain) had a real set of contenders back on September 21 when they made the trek down to Tuscaloosa," Saban commented in his first CSU press conference. "We were expecting to beat them by at least 50 in our cupcake game, but that wasn't the case. These guys put up one hell of a fight."
Saban's entrance into the CSU program is expected to be a smooth transition with the help of McElwain. The two worked together for three years in Alabama from 2008-2011. Saban has already noted that he intends on giving McElwain a key role on his staff and will rely on him to get settled in.
"You know what? I'm excited. I've had to fetch the man's coffee before, so that won't be hard to get used to," McElwain said with a chuckle. "Having a guy like that around will, without a doubt, benefit under any circumstance."
Saban's presence in Fort Collins will be accompanied by his former man under center, AJ McCarron, who has decided to surpass the NFL Draft and begin his coaching career – looking to follow in Saban's footsteps. McCarron will be taking control as quarterbacks coach.
His main focus is to make sure CSU doesn't have the same problems that he and the rest of the Crimson Tide did on their home-opener last season.
"Obviously, the big thing is communication. We need to make sure we have that communication to get back to another bowl game," McCarron said. I'm not quite sure what the communication situation is like here at Colorado State, but communication will be key. Once we start communicating, we can focus on Heisman Trophies and whatnot when the communication is nailed down."
McCarron's main duty will be to support and mentor CSU starting quarterback Garrett Grayson. Grayson threw for 3,696 yards in the 2013 season, picking up 23 touchdowns and a 138.4 passer rating.
When asked about the addition of McCarron to the coaching staff, Grayson's response hinted that he was more focused about what it brought off the football field.
"I'm more excited about Katherine Webb being in Fort Collins to be honest," Grayson said with a smile from ear to ear. "Just because there's a goalie doesn't mean you can't score."
Webb, who was named Miss Alabama in 2012, recently got engaged to McCarron three days ago.
For more information on how the CSU football situation takes shape, stay posted to the Collegian as the story develops.
****EDITOR'S NOTE: This article is merely a parody and is completely FAKE. Happy April Fool's Day!****
Collegian Sports Editor Quentin Sickafoose can be reached at sports@collegian.com and on Twitter @QSickafoose.