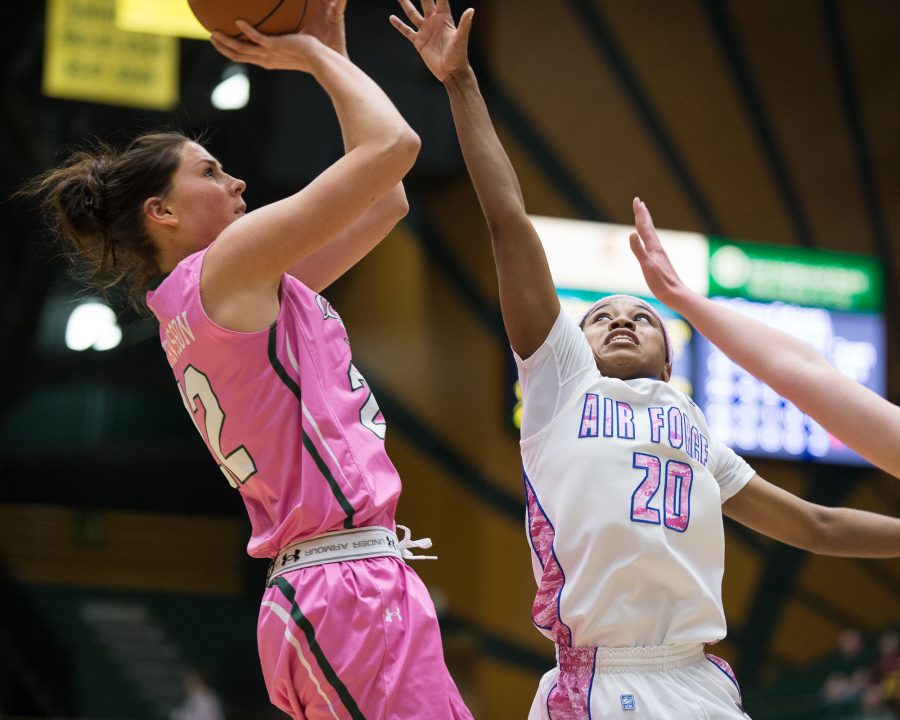 For the second weekend in a row, the CSU women's basketball team blew out their visiting opponents by a margin of at least 40 points.
The Rams dominated conference rival, Air Force, in the "Pink Out" game raising awareness of breast cancer, taking away a victory of 88-28 in their Saturday afternoon matchup at Moby Arena.
Even though the Falcons took the initial lead in the game by sinking their first basket, they failed to reclaim the lead for the duration of the game.
"They have had good starts and they have played a lot of teams in this conference really well," captain Sam Martin said. "We definitely made it a point to come out and said that they are not winning from the first minute. Don't let them think they are going to win. I think that was really how we played so well."
CSU went on 13 scoring runs and held the Falcons scoreless for more than 20 minutes of the game.
With everything going CSU's way, the 60-point lead allowed the Rams to showcase some of their talent from the bench and give the starting five a rest.
"This is a tough time of year. You are playing a lot of games, you are still trying to get some rest, you have some travel in there," head coach Ryun Williams said. "It is hard to get really good practice time and so this was a really nice practice for our bench. It's extremely valuable to get these kids minutes."
Eleven of their 15 players seeing time on the court and ten of those getting points on the board.
"It was a lot of fun," sophomore Hanne Mestdagh said. "It was really just a team effort and we started really well and it is just fun to have everyone in the game. There is no pressure. You just got to play CSU basketball and it is fun everyone gets in and everyone gets to score."
The CSU bench accounted for 36 points, and in a rare occasion, the bench had more playing time than the starters.
"You know it is a pretty good night when your bench gets more minutes than the starters," Williams said. "Really solid performance it was good to get kids that don't get a lot of minutes and I thought they performed well. Fun game and proud of our bench."
Even though the goal of this game was to get another win, there was a larger force at play that drove the Rams to such a dominating performance. The "Pink Out" game was dedicated to raising awareness for breast cancer and then two breast cancer patients led the Rams out of the tunnel on Saturday, it was clear that it was more than just a game.
"I think it was really cool. We talked about how we are playing for something else today," Martin said. "Having those two women that were there in the start was definitely something that was fun to do. We were not just playing for pink uniforms, we are playing for the breast cancer awareness. I think that was big for all of us."
The Rams' winning streak now stands at seven.
"Coach always emphasizes that, no matter who we're playing, we're playing CSU basketball. He always says that even if the Lakers walk in or Lebron walks in, we are playing CSU basketball," Martin said. "That is really what our mindset is no matter where we are or what court we are on, we play CSU basketball."
Collegian Reporter Hannah Cornish can be reached at sports@collegian.com and on Twitter @hmcornish.