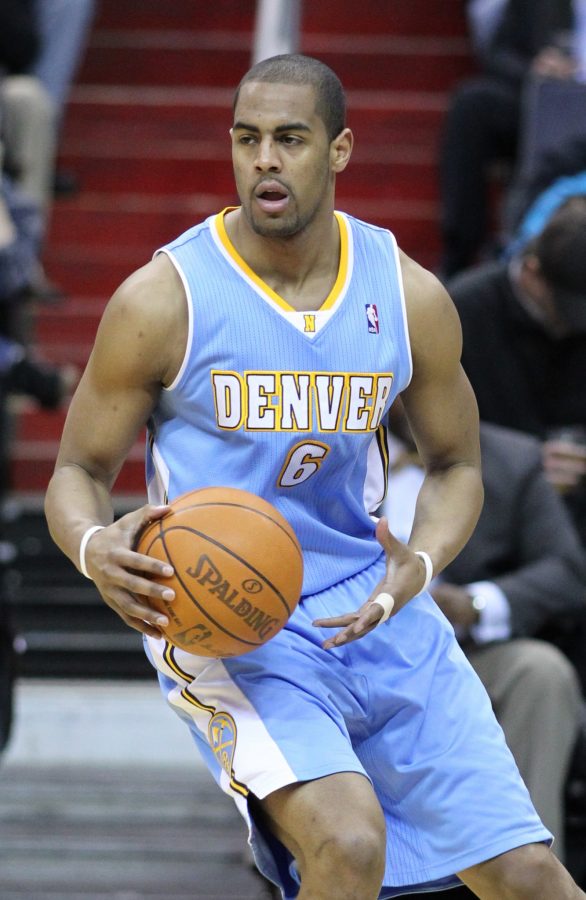 "It isn't our job to play "Monday Morning Quarterback" while surveying the actions of the Nuggets' management. However, we must take time to step back and evaluate whether or not an NBA franchise can rely on role-players to carry a team, rather than fighting to obtain a big-name superstar."
Twitter: @DillonMThomas
DENVER-When the Denver Nuggets traded draft choices to the Detroit Pistons during the Summer of 2009 in order to obtain the youthful Arron Afflalo, never could the Nuggets' loyal envision him exploding into one of the most impacting guards in the NBA.
The Nuggets' front office found a hidden gem when they brought him to Denver. Afflalo, coming off a season in Detroit where he only started 8 games, averaged a mediocre-at-best average of 4.9ppg.
However, Afflalo's playing time was limited to a lousy 16mpg. Afflalo would capitalize while on the court, shooting above average percentages, upwards of .400 from the field and 3pt land.
Afflalo quickly found his role in the fast-paced George Karl offense in Denver. In the 2011-2012 NBA regular season, Afflalo- in what would be his final season in powder blue- was averaging 15.2ppg, while his PT had more than doubled since his time in the MotorCity.
Former Nuggets' GM Masai Ujiri had a team in his hands that many argued was a superstar away from competing for a Larry O'Brian trophy. Ujiri had the unique opportunity of obtaining a top-caliber team, trading NBA superstar Carmelo Anthony, and having to work to replace him with another league-elite.
Ujiri was thirsty for a superstar while the city of Denver was running in stride alongside him.
Seemingly out of nowhere, Ujiri was able to pull the inevitable, and obtained Olympic Gold Medalist and defensive specialist Andre Iguodala in exchange for Afflalo, Al Harrington, and a pick in the NBA Draft.
Least to say, Iguodala's time in Denver didn't exactly live up to the expectations his name brought with him. Iggy managed to start in all 80 games that he was available for. However, his stat line didn't push Denver any further than that of AAA's.
Horrendous shooting percentages from the free throw line aside, Iggy only average 13ppg, and his motivation in the first round of the playoffs seemed to be average at best.
Could it be? Is it possible that Arron Afflalo, Mr. low-top Addidas himself, was the emerging star the Nuggets had been searching for all along?
If you were to base your judgment simply off of stat lines, one could accurately argue so.
As we all have come to realize, the Orlando Magic somehow managed to dominate the four-team-trade that forced them to ship Dwight Howard to the Lakers. It took many of us more than a year to realize, but the stat lines make it clear.
Since entering the NBA, Afflalo has yet to see his PPG average decline. In 28 games played this season, Afflalo is nearly shooting .500 from the field. His 3pt specialty is ever-present, as he is averaging .444 from beyond the arch, racking in 22ppg.
Afflalo now finds himself among the elite, yes…elite, SGs in the Easter Conference. Fantasy Basketball owners across the globe are quickly realizing that Afflalo is the ideal piece to have on their squad, while the Magic rejoice in their abundance of draft picks that surround him.
Meanwhile in the 5280, the Iggy-less Nuggets are now searching for a go-to scorer under first year head coach Brian Shaw.
Randy Foye looked to be the man at the beginning of the season. He was seemingly given the nod to fire upon will from 3pt land, which may be the reason he now finds himself on the Nuggets' bench. Foye, now on his 5th team of his NBA career, is only contributing 8.4ppg, a significant drop from both Iguodala and Afflalo.
Brian Shaw has been forced this season to explore the depth of his team. Regular and anticipated starters like Foye, JJ Hickson, Kenneth "Manimal" Faried, and Wilson Chandler have all seen their starting bids put in limbo at times.
This has allowed the emergence of Jordan Hamilton to the starting lineup.  It was just over two months ago that the team faced the decision of whether or not to cut him or not. Some may argue that the only reason he made the team was because of his current rookie-contract.
The Nuggets' loyal look to be growing a little restless with the inconsistency of the Nuggets' player strategy, and it also seems to be trickling onto the court from the locker-room.
It isn't our job to play "Monday Morning Quarterback" while surveying the actions of the Nuggets' management. However, we must take time to step back and evaluate whether or not an NBA franchise can rely on role-players to carry a team, rather than fighting to obtain a big-name superstar.
Dillon Thomas can be reached on Twitter: @DillonMThomas