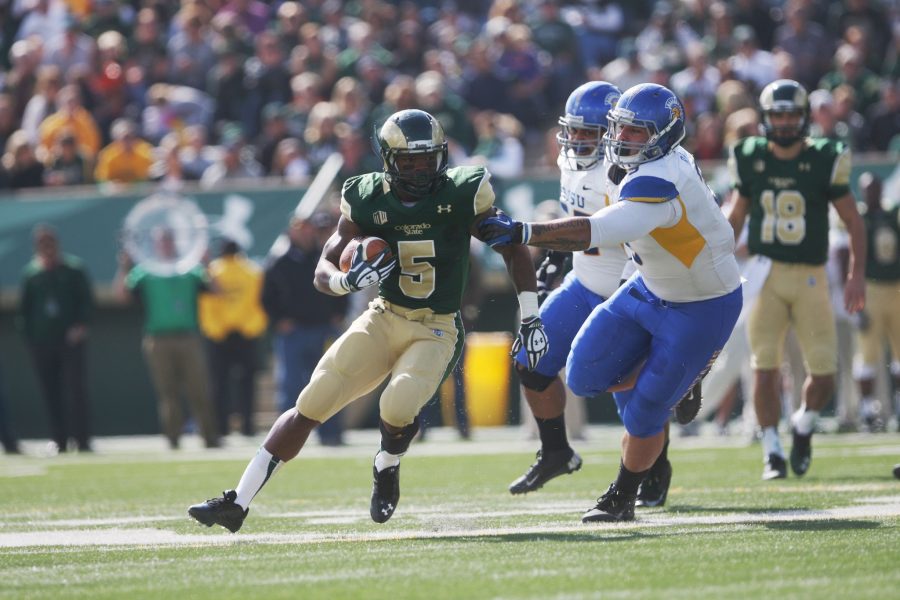 Two words to describe the CSU secondary? Bitter and crispy. A New Mexico team, averaging 99 yards passing per game burned them for long play after long play. Two words to describe Kapri Bibbs? Heisman worthy.
But first the defense. After a decent performance last week against Nevada, the secondary gave up completions of 50, 53 and 55 yards, two of which for touchdowns.
The game became an offensive shootout, each team trading scores. The Lobos in the air, the Rams on the ground, once again using the tenacious running style of Kapri Bibbs.
Garrett Grayson started the game strong, going 6 for 6 and tossing a 8-yard touchdown pass to Joe Hansley on the opening drive. Hansley re-established himself as an offensive weapon for Grayson in the first half, with four receptions and a touchdown.
Grayson also did his fair-share of running. After being sacked twice, he took matters to his own feet, running for three first downs. He threw for more than 300 yards and 3 touchdowns, on top of Bibbs' 4 touchdowns – but the game still went down to the wire.
The Rams have flip-flopped this season with consistency, and this week, the defense flopped and the offense flipped.
Bibbs had his fifth consecutive 3+ touchdown game, sixth overall, second with at least four touchdowns, extended his NCAA-leading rushing touchdown total to 23, and added 291 yards to his 1,439 total.
After his fourth touchdown, the defense stepped up their game, starting with a key shut-down tackle on fourth-down by Max Morgan. Morgan leads the team in tackles, but he struggled to stop the Lobos' triple-option attack along with the rest of the defense – until the fourth quarter. New Mexico's Gongbay never saw Morgan coming.
Bibbs used that motivation to score his fifth touchdown of the game, after Grayson drove down the field.
That sealed the deal for CSU. Gongbay ran straight into Morgan on their next posession, Morgan squashed him, and the Lobos momentum. Then Bibbs just kept running. He recorded his sixth touchdown with less than a minute remaining in the game.
At that point, the Lobos looked like they just wanted to go back into the tunnel, and call it a day.
The Rams took the game 66-42, locking up their sixth win of the season. With that "W," the Rams keep their Bowl game dream alive, along with a chance to give McElwain his first winning season as a Ram.
They head to Logan, Utah next Saturday to pit themselves against the Keaton-less Aggies in their last away game of the season.
Game Stats:
CSU
Garrett Grayson
20 for 28, 302 yards, 3 TDS
Kapri Bibbs
38 carries, 291 yards, 6 TDs
Joe Hansley
4 receptions, 31 yards, 1 TD
Rashard Higgins
6 receptions, 71 yards, 1 TD
UNM
Cole Gautsche
6 for 9, 133 yards, 2 TDs, 2 INT
Crusoe Gongbay
12 carries, 98 yards, 1 TD
Tyler Duncan
4 receptions, 95 yards, 1 TD
Football Beat Reporter Cali Rastrelli can be reached at sports@collegian.com or on Twitter @c_rasta5