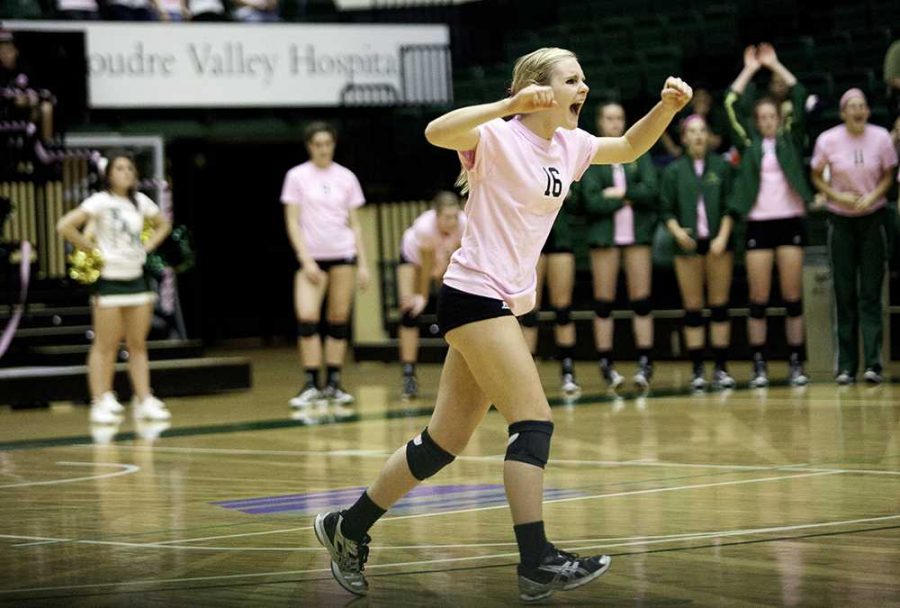 When Izzy Gaulia walked off the court last season after a 24-6 record, it seemed like it would be impossible to fill the void that she left in the libero position. However there was a particular player who already had the goal in mind.
 Jaime Colaizzi came to CSU last year after being recruited from Windsor High School and made her reputation on the team as a hard worker immediately known.
 "I know she came in with a lot of passion, a lot of hunger and she wanted to get better every single day; she always wanted to be the best," Gaulia said.
 "By playing with her that's what I've always noticed. She's not satisfied with being mediocre. She always worked hard and was never happy with her performance and that's pretty much how I think she looks at everything."
 Colaizzi took the opportunity to learn from Gaulia who was so well known for her energy and enthusiasm in the libero position and took much of the example she gave to heart.
 "I looked up to her a lot and learned a lot from her in the position and I think I play a different role than she did," Colaizzi said. "I'm not quite as loud and vocal. But I definitely looked up to her a lot when I was moving into the position. I knew I had big shoes to fill."
 Looking at it from an outside perspective, head coach Tom Hilbert saw that each player had different assets to contribute but that Colaizzi is already successfully filling the void left by Gaulia.
 "Izzy had certain knacks because she learned about different hitters in our conference throughout the course of the season so she knew how to play certain people," Hilbert said. "But Jamie will get all that. She's already getting a lot of that and I think she's an excellent volley ball player and is going to only continue to get better."
 Looking at the team's current record of 22-0, there's no question that Colaizzi must be doing something right in her playing. One of her primary contributions to the libero position is her defensive presence in the back court that has led to hear leading the team in digs, averaging 3.87 per set.
Recognizing this keen ability that Colaizzi has, coach Hibert commented that, "There's certain things that Jamie is better at than Izzy was and one of them is covering tipped balls right in front of her, shes very good at getting that ball. She's a great defensive player. Shes a little smaller than Izzy so theres been some issues with her with the range that she covers at times but really considering her size she does a very good job of getting to a lot of stuff."
So far this hometown girl has managed to step up to the challenge that has been presented to her and has done so as just a sophomore. With a 22-0 record at her feet and a second year season that can virtually already be marked in the books as a success, this young athlete has a long road of success ahead of her.
Sports writer Hannah Cornish can be reached at sports@collegian.com and on Twitter @hmcornish.