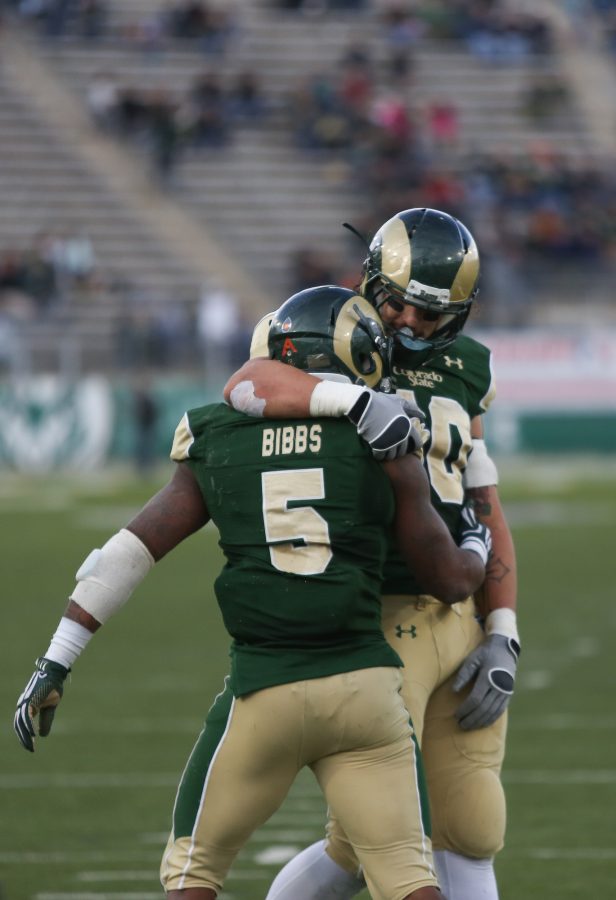 Running back Kapri Bibbs rushed for 312 yards and four touchdowns in Saturday's 38-17 win against Nevada, writing his name into the CSU record books.
Bibbs broke a 24-year-old record set by Tony Alford, a CSU running back from 1987-1990, who rushed for 310 yards on 28 carries against Utah in 1989. Head coach Jim McElwain said Alford, an assistant who coaches running backs and slot receivers at Notre Dame, had contacted Bibbs to congratulate him on breaking his record.
Alford also took to Twitter to congratulate Bibbs:
"@KapriBibbs S/O for breaking my single game rushing record. 312 yds is doing work!! Great job by all of you! Keep representing! Congrats!!"
At his weekly press conference on Monday, McElwain said it was a team effort that allowed Bibbs to have the kind of day he did. He credited receivers Joe Hansley and Rahsard Higgins for their downfield blocking, allowing Bibbs to rack up explosive touchdown runs of 28, 59 and 85 yards. McElwain also praised Bibbs for how far he has come as a player and as a person.
"I think he's growing up to the point he's starting to realize it's not all about him," McElwain said. "It's about the people around him and that's huge. That's part of the maturation process and that's part of growing up."
As a team policy, the media cannot speak with Bibbs because he is a first year player, but players were excited about the effort they saw from teammate.
"He's very appreciative of his offensive line and receivers doing their job," said offensive lineman Ty Sambrailo. "He's a big team player and he gives all the glory to the team."
Season Stats:
1,148 yards
19 rushing TD (NCAA best)
5 games with at least 3 touchdowns
Week 11 Awards:
Walter Camp Foundation Offensive Player of the Week
Mountain West Conference Offensive Player of the Week
Football Beat Reporter Katie O'Keefe can be reached at sports@collegian.com.