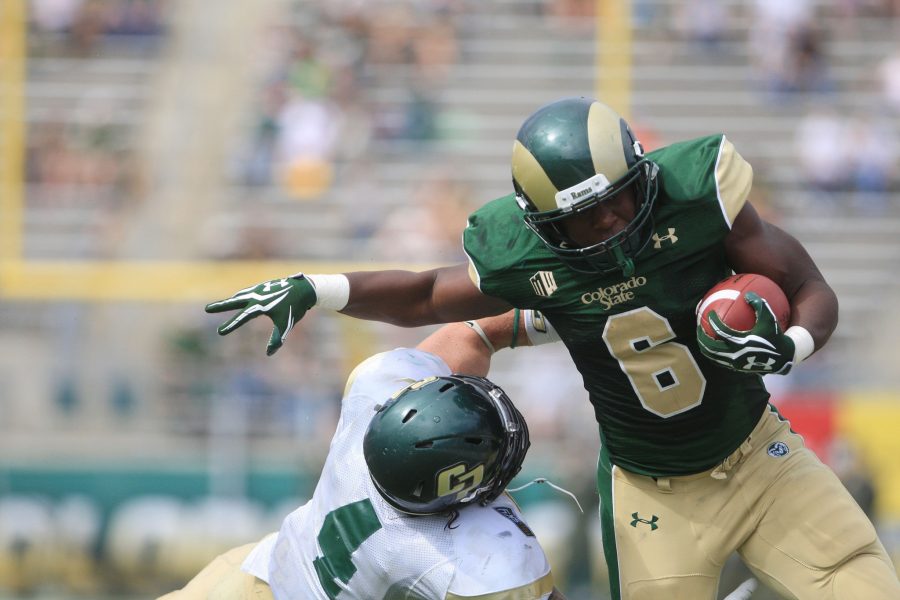 People do not always do what is expected of them, and Colorado State Coach Jim McElwain knows this. His team lost two games he's sure they should have won.
But on Saturday the Rams did what was expected of them for the first time all season; they won.
A lot of factors went into the Rams' victory, and McElwain had high expectations for all of them heading into the season.
"Like I said, I really believe in this football team," he said. "We found a way to dig down and get a win. I think it was a total team victory."
Good things happened across the field for the Rams: Chris Nwoke racked up 133 yards on the ground, linebacker Shaquil Barrett blocked a field goal for the first time in his career, then did it again, and offensive lineman Ty Sambrailo almost had a touchdown.
But the defining factor in Saturday's win was Garrett Grayson's performance. The junior quarterback went 21 of 30 for a career-high 297 yards and two touchdowns.
"Garrett played a good game. He looked under control, and some guys around him caught the ball," McElwain said. "That's what we expect out of him, and last time I checked, that's what they're recruited to do."
After a quarterback battle before the season began, McElwain chose Grayson as his starter. While he did not doubt his abilities, McElwain's practicality would have benched Grayson if he did not meet expectations for a third straight game.
No one understood this better than Grayson. After shouldering the brunt of the blame for the team's 0-2 start, he lost confidence in himself, but his team never did.
"I'm 100 percent behind the kid. All I've seen is dropped balls, myself included," tight end Crockett Gilmore said. "It wasn't like he wasn't hitting us right in the hands."
Grayson hit Gilmore with career-high seven receptions, and utilized his other tight end Kivon Cartwright for a 6-yard touchdown. So as he walked into the post game press conference, Grayson had an understandably large smile on his face.
"Being doubted by a lot of people hurt, I had never experienced that before," he said. "Those first two games were not good, and not me. It felt good to go out there today and show what I can do."
There was potential for an offensive production-struggle heading into the game, as CSU's leading wide receivers, Charles Lovett (knee) and Joe Hansley (ankle) would not play.
Thomas Coffman, who has handled a lot of returns for the Rams, stepped up in the first half. Grayson proved that the long-ball is a weapon in his arsenal, hitting Coffman on only three receptions, but tallying 78 yards.
"Coach Mac had been begging somebody all week to step up and show what we can do," Grayson said. "I was glad Thomas did that. I really can't say anything else about it."
Football Beat Reporter Cali Rastrelli can be reached at sports@collegian.com. Follow her on Twitter @c_rasta5