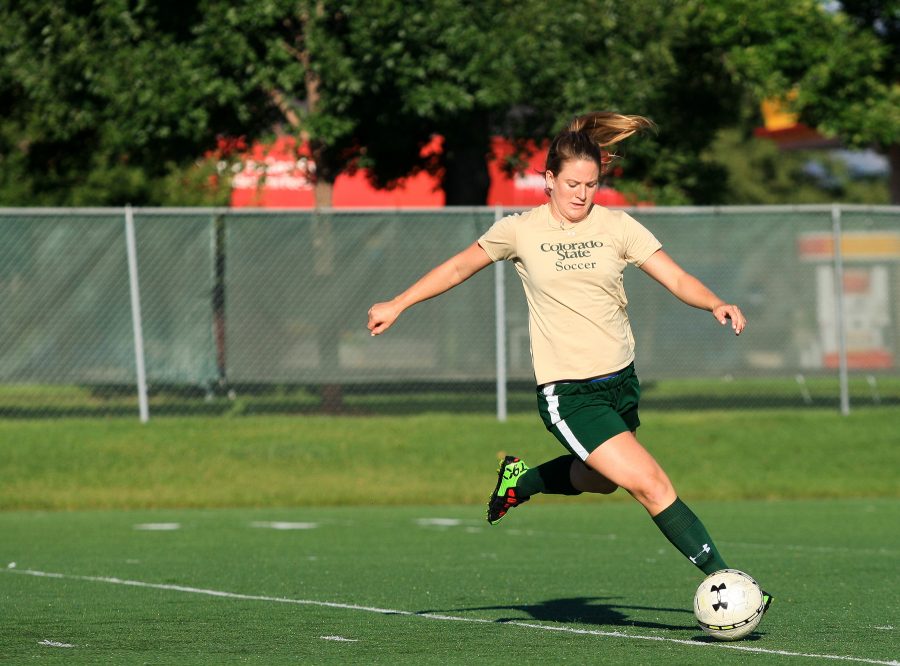 The CSU soccer team's Sunday night 1-1 tie against Northern Arizona may not seem like a big step, but it was a huge huilding block for the program.
The draw was not only their best performance of the season, but it was also the Rams' first positive result against a Division I program. As the team looks forward to their next match, and to the rest of the season, one of their biggest goals remains to continue getting better every day. Players and coaches alike are seeing improvements in conditioning and team play, as well as individual players stepping up their technical skill level.
"We've worked a lot in practice on finishing shots and creating good opportunities — it's really starting to show," said freshman midfielder Amy Eckert.
Head coach Bill Hempen has been extremely impressed with the way his squad has progressed from preseason in August to their third week of the regular season.
"The effort level, and the commitment and 'investment' level of the team has been very high," Hempen said.
For a young squad in their first year of existence, it's hard to set a goal for wins and losses during the season. This team isn't here to make a good showing, there's no doubt they want to win — in both of their last two matches, the Rams have been a few inches from either tying or winning their games.
It's the little things, like Eckert scoring a goal from the defensive midfield spot, that have been encouraging signs of better team play and chemistry for this budding team.
"We're playing as a team — we're offensive as a team, and we're defensive as a team," goalkeeper Elena Eidson said.
As the Rams travel to North Dakota to play in the Doublewood Inn Classic this weekend, they expect to improve and give themselves a chance to excel every time they see competition.
"Now we know we can play with good Division I teams. We're going to come out next week and keep working to improve," Eckert said.
Next up CSU (1-3-1) will face North Dakota State (3-5) Friday at 6 p.m. The Bison are led by freshman midfielder Lauren Miller and junior forward Anisha Kinnarath with four goals each. Sophomore goalkeeper Sierra Bonham has spent more than 500 minutes in net and has a 2.55 goals-against average.
The Rams return to the pitch Sunday morning against Southern Illinois-Evansville (5-1-1). The Cougars are paced by freshman attacker Kayla Delgado who leads the team with five goals. Sophomore goalkeeper Jennifer Pelley has played every minute in goal and has only given up three goals in the team's first seven matches.
Women's soccer Beat Reporter Keegan Pope can be reached at sports@collegian.com.