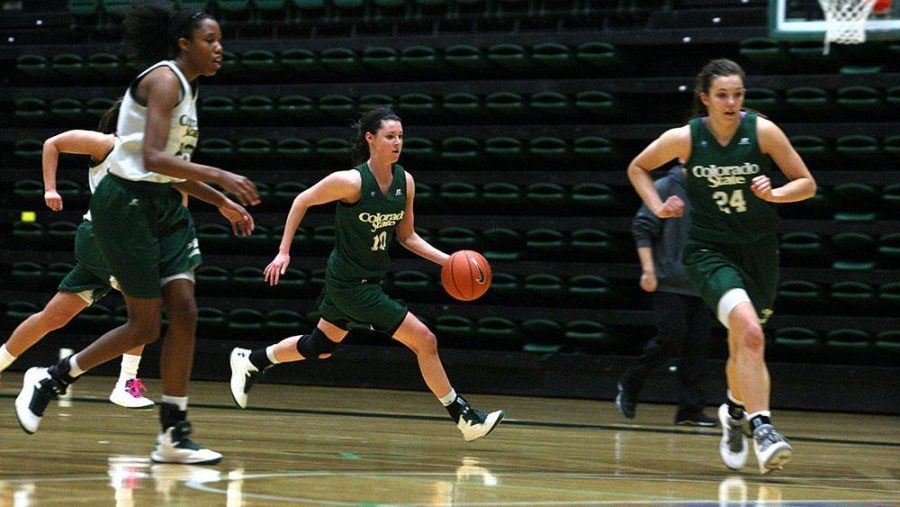 After suffering a difficult senior night loss to Wyoming, the CSU women's basketball team relishes the chance to knock off their rival in the conference tournament.
CSU heads takes on No. 3-seed Wyoming in their first game of the Mountain West Tournament Thursday at 9:30 p.m. in Las Vegas.
The Rams have come away short-handed in the previous two meetings with the Cowgirls, but they're hoping the third time will be the charm.
"We've got to do a better job of guarding their personnel and we've got to do a better job scoring," CSU coach Ryun Williams said. "They put a lot of production out there and you've got to counter that with a productive effort."
The Rams have their work cut out for them. The Cowgirls have held opponents to 58.4 ppg while averaging an impressive 70.4 ppg themselves, giving +12.6 scoring margin.
"They lead the league in scoring and they are a top 10 shooting team in the nation," Williams said. "You are not going to totally shut them down, so you've got to shoot with them a little bit."
In January, Wyoming scored 82 points to the Rams' 67. Last week, the Rams held the Cowgirls to 65 and may have come away with a win if they had tallied more than 51.
The Rams lead the Cowgirls in blocks, steals and forced turnovers per game, so if Williams' team can combine the strong offensive effort of the first game with the defense of the second, they will advance.
"Our interior play has been really good, which has helped us," Williams said. "If we balance that out with more productive guard-play, our kids can get a little crazy in this tournament and have some fun."
In addition to a growth in skill, the Rams have alternative fuel for beating the Cowgirls, namely vengeance.
"Meghan's senior night was hard," freshman Caitlin Duffy said. "We really wanted to win that game for her and beat Wyoming, but luckily we get another shot at that."
As Williams directed practice on Monday, focused determination was evident on every face, but none more than Meghan Heimstra's.
Heimstra, who has been explosive both offensively and defensively as of late, tallied a career-high 32 points against Wyoming on her senior night. In January, junior Sam Martin tied her career-high with 30 points on the night. Those high numbers create a problem for Cowgirls' coach Joe Legerski.
"Both players are very talented, they can score inside, and they also have the ability to shoot threes," Legerski said. "Colorado State is able to stretch you, they put you in too many one-on-one situations and that gets dangerous."
Heimstra's determination to avenge their last two losses has given her a determined, single-minded drive, even in the city that never sleeps.
"Vegas is fun, it brings its own energy," Heimstra said. "You just play all out, make sure you take care of yourself and focus on the game. Each one could be your last."
As far as plans outside of the game, the girls aren't going to be gambling in Caesar's Palace or riding the New York New York roller coaster.
"It's a long season, and walking around the strip is tiring on your body," Heimstra said. "We are just going to be bums and eat a lot and try to get back some energy. We aren't looking down the road at all, we just have brown and gold in our eyes."
Women's Basketball Beat Reporter Cali Rastrelli can be reached at sports@collegian.com.