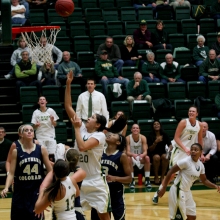 The CSU women's basketball team more than doubled its win total over the winter break while adding nearly as many losses as it previously possessed.
The Rams compiled a 3-5 overall record while beginning Mountain West play at 1-2 with a win over Air Force and losses to San Diego State and UNLV.
CSU opened the recess with a 56-54 win over Cal State Bakersfield before dropping three straight games, two at the Fordham Holiday Classic in the Bronx, NY.
Junior forward Sam Martin earned a spot on the all-tournament team after averaging 13.5 points and 5.5 rebounds in the two losses.
The Rams then won two out of their next three games, all played in the state of Colorado.
They crushed Division-II opponent South Dakota Tech by 40 before losing to San Diego State and downing Air Force to open conference play.
CSU opened the Air Force game on a 15-3 run after experiencing painfully slow starts throughout the non-conference season.
"I thought we were really disruptive, and we rebounded the ball well," CSU coach Ryun Williams said. "It was comforting to our kids to get on the board first. We needed this today."
The Rams continued their new pattern of starting quickly by opening up a 7-1 lead on UNLV, but they couldn't hold the lead due to turnovers which lead to a plethora of simple baskets for the Rebels.
CSU turned the ball over 23 times in that game after turning the ball over a shade under 16 times per game entering the contest.
"I think it was us, they had decent pressure but we've seen a lot worse," sophomore guard Caitlin Duffy said. "We weren't as tough with the ball as we should be."
CSU turned the ball over more than 15 times in five of its games over the break, and though the coaches can simulate pressure in practice, at some point it falls on the players to become more mentally and physically tough with the ball, according to Williams.
Though the Rams lost five of their eight games, the manner in which they lost has shifted since the beginning of the season.
Four of the team's first six losses were by more than double digits while only two of the games over break were blowouts.
Freshman Caitlin Duffy has helped CSU become a more competitive team through her increased offensive output.
Duffy averaged 13.5 points per game during the break compared to seven in the preceding contests.
"We definitely want the ball in her hands. She creates plays on the offensive end," senior forward Megan Heimstra said. "She has a really great three point shot and drive so it's really hard to guard her."
CSU plays its next two games at home, where they are .500 on the season, and is looking to begin to build confidence and momentum in the Mountain West.
"Coming off a loss is always hard but I think we're a close team and we'll come together. We are confident," Duffy said. "It's going to be nice to have two home games and we've shown a lot even in our losses of what we can be."