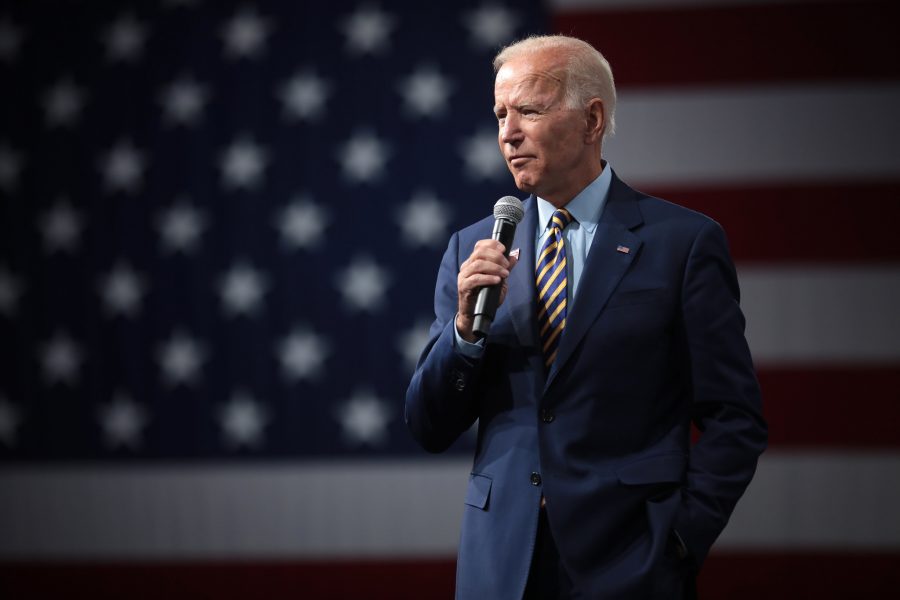 Editor's Note: All opinion section content reflects the views of the individual author only and does not represent a stance taken by The Collegian or its editorial board.
In the weeks leading up to Colorado's primary, the opinion desk will be going head to head on individual candidates' policy choices. We'll be focusing on some of the issues we think will affect student lives and whether or not we think that individual candidate's plan has what it takes. This week, two columnists are discussing Joe Biden's policies on the environment, education and immigration. 
Environment:
According to his website, former Vice President Biden believes that "climate change poses an existential threat — not just to our environment, but to our health, our communities, our national security and our economic well-being." This is a good mindset to have, and he's committed to not taking any donations from oil or gas companies. However, he still accepts donations from billionaires, who could have ties to the industry. 
Joe debated Sarah Palin in 2008 in a brief discussion on climate change, where he had the chance to address science denial and fossil fuel favoritism. During the debate, he admitted his support for "clean coal," which he says he's favored for 25 years. However, he does support the Green New Deal and agrees that climate change is a result of anthropogenic causes. 
My concern is that both his generation and the Democratic National Committee's idea of innovation might be our generation's idea of stagnation. Joe is also in favor of taxing carbon emissions, which a lot of economists think is the most efficient way to get businesses to reduce their carbon emissions.
As a student that cares about the environment, I think this plan lacks the foresight and understanding that regardless of a fine or tax, the industry is willing to pay to continue business as usual. While it's good that he supports the Green New Deal, it should be his primary focus. His plan isn't sustainable and seems like a way to keep industry executives happy without actually holding them accountable. 
Education:
Joe's education plan is more focused on primary education. He would increase federal spending in low-income schools, increasing teacher pay and resources. According to Vox, his plan "calls for more mental health care in schools and expanding resources for families, including home visiting by nurses for parents of newborns."
Most notably, he supports the creation of "community schools" in low-income areas that offer social services, doctors and other help. 
Joe's plans for student debt are less impressive, something of huge concern for college students. While he supports two years of free community college, he doesn't plan to make any cuts to the student debt. Instead, he would waive "$10,000 per year — up to five years — for those with public service jobs, such as teachers and members of the military," according to CNN.
Those earning less than $25,000 would owe nothing on their undergraduate federal student loans, while everyone else's payments are capped at 5% of their discretionary income above $25,000.
As a student, this plan is simply not ambitious enough. Giving people money to go to school is not the solution to the student debt crisis. Sure, students might be paying less, but they would still be paying out of pocket for college tuition.
Jobs right out of undergrad typically don't pay that much. However, I can't imagine most people having jobs that pay less than $25,000 a year. That's roughly $12 an hour full time. I made more than that working at summer camp when I was 17. Former Vice President Biden's education policy illustrates just how out of touch he is with younger voters and the struggle of paying for college. Overall, his educational plans are not beneficial for students.
Immigration:
Biden's plan for immigration is largely structured around his support for Deferred Action for Childhood Arrivals members.
His campaign says "Joe Biden understands the pain felt by every family across the U.S. that has had a loved one removed from the country, including under the Obama-Biden Administration, and he believes we must do better to uphold our laws humanely and preserve the dignity of immigrant families, refugees and asylum-seekers."
A noted absence from his plan is the act of decriminalizing border crossing without authorization by repealing section 1325 of U.S. immigration code. This is the main provision that allowed the Trump administration to separate families at the border. Other candidates have proposed this as part of their immigration reform, something that would be largely beneficial for students that care about immigration.
He needs to do more to secure the rights of immigrants. There needs to be a concentrated effort to make immigration easily accessible if we don't want people to do it illegally. Just like Joe's educational policies, I don't think this plan goes far enough.
Madison Thompson can be reached at letters@collegian.com or on Twitter @heyymadison.