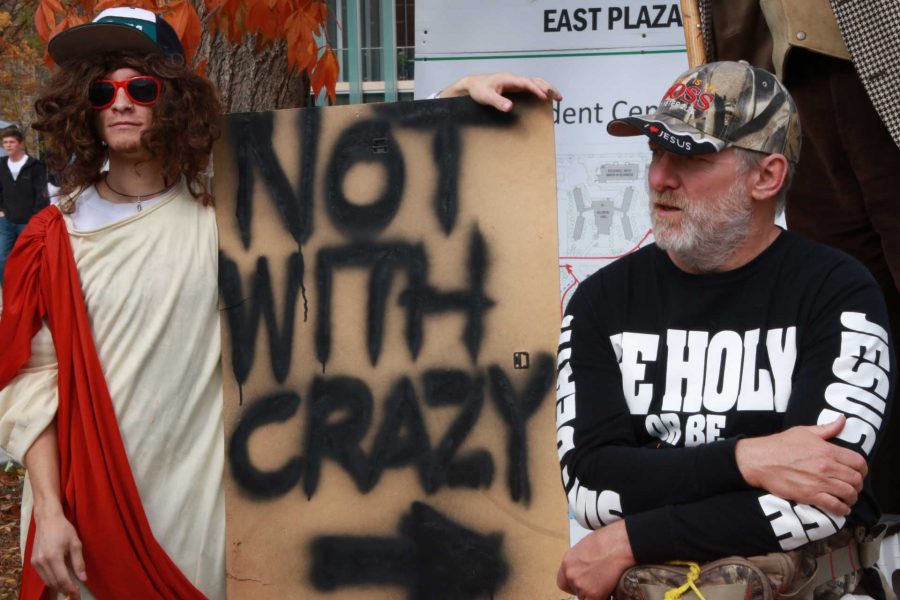 Editor's Note: All opinion section content reflects the views of the individual author only and does not represent a stance taken by The Collegian or its editorial board. 
Have you ever encountered a person who makes you think you just might be going crazy? Most of the time, this is unwarranted and benign. But your feelings could be the result of a psychological tactic known as gaslighting.
Merriam-Webster defines gaslighting as an "attempt to make someone believe that he or she is going insane," often by "subjecting that person to a series of experiences that have no rational explanation."
It might sound like gaslighting only takes place in abusive relationships or toxic friendships, but the phenomenon actually occurs on a much grander and more common scale. It's important to understand not only what gaslighting is, but also who does it, how it affects their targets and how one can avoid falling victim to such methods of manipulation.
College students in particular may be at risk of gaslighting for a number of reasons. For one, they are in a new environment full of thousands of strangers. For another, in college it is common to date more frequently and enter into romantic relationships. Young adults attending university also begin to interact with professors, employers and other previously unfamiliar authority figures. Any of these fresh faces might be a manipulator who gaslights others.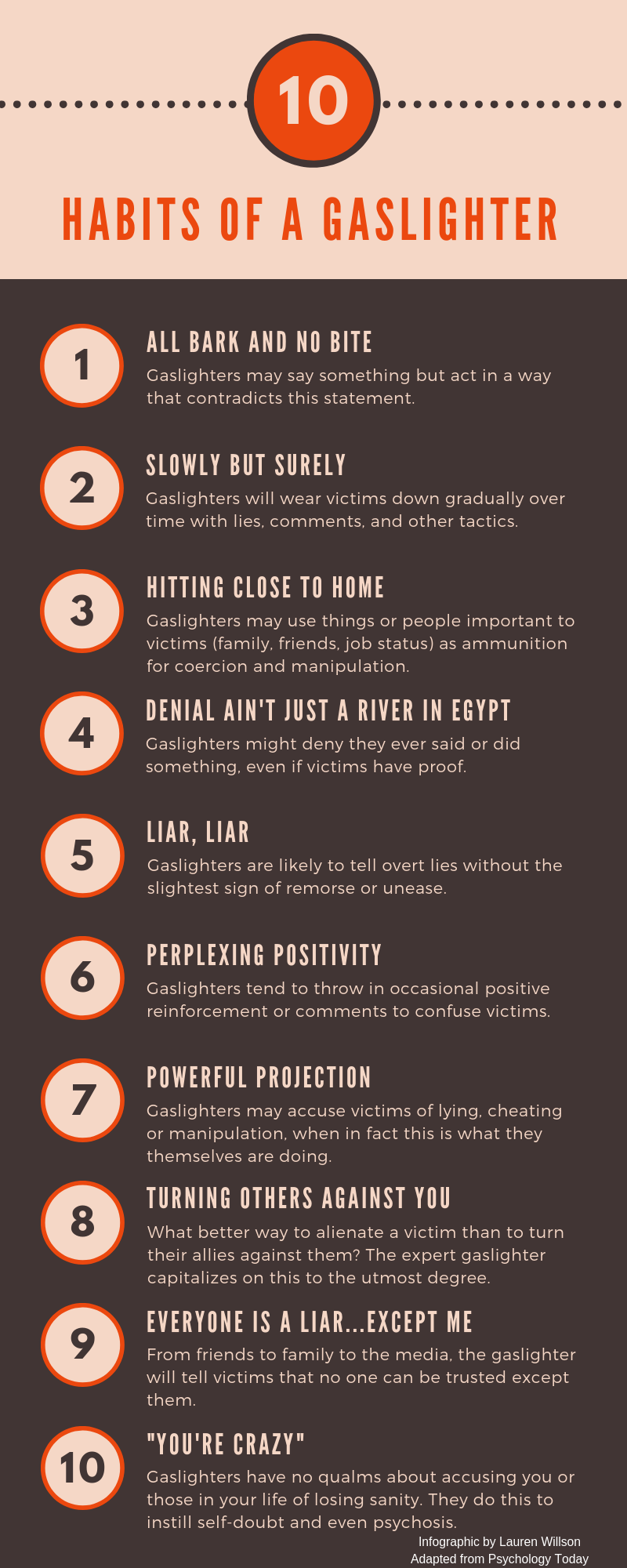 Who are the gaslighters?
A gaslighter can be virtually anyone who wishes to gain some kind of leverage over a person or multiple people. Stephanie A. Sarkis reports in a Psychology Today article that dictators, abusers, narcissists and cult leaders are likely to employ gaslighting techniques. These techniques range from the telling of blatant lies to turning others against you to flat out telling you that you are "crazy" or "insane."
Gaslighters often have narcissistic personality disorder, according to Healthline. Those with NPD tend to have an inflated sense of self-importance, a lack of empathy and an inclination to take advantage of others when they see opportunity for personal gain, according to Mayo Clinic. Not all narcissists are gaslighters, but most gaslighters exhibit narcissistic personality traits.
Not all targets of gaslighting become victims, but because many individuals are unaware of the warning signs, they may fall prey to the harmful tactics. For simplicity's sake, in this article, anyone subjected to gaslighting techniques will be referred to as a victim and not a target.
Victims of gaslighting can be affected in numerous ways. At least 13 different signs you are a victim of gaslighting are listed by Robin Stern, author of "The Gaslight Effect: How to Spot and Survive the Hidden Manipulation Others Use to Control Your Life," and associate director for the Yale Center of Emotional Intelligence.
Victims of gaslighting may begin to doubt themselves and their identity, feel as if their every move is wrong or isolate themselves from everyone except their gaslighter. At its most extreme, gaslighting can result in psychological lapses into psychosis.
"Gaslighting" derives its name from the 1938 play "Angel Street" by Patrick Hamilton. Set in late 1800s London, a woman increasingly loses touch with reality as her vindictive husband manipulates her into doubting her own memory and perception. Most notably, he does this by telling her she is imagining the dimming of the gaslights in their home even though he is the one altering their illumination.
The best way to prevent against gaslighting is informing yourself of the warning signs and understanding the roots of psychological manipulation, according to psychologist Marie Hartwell-Walker.
Look for patterns of warning signs. If you feel you are being gaslighted, consider whether the relationship is worth the cost. Build up a support system to help you after you've severed ties with your abuser, and remember that their self-serving actions are in no way a reflection of your worth.
Most importantly, get professional help if you feel you need it. CSU Health Network Counseling Services has walk-in hours Monday through Friday, as well as a 24-hour Mental Health Crisis Intervention hotline. These resources are included in student fees and free of additional charge.
CSU Health Network: (970) 491-6053
24/7 Crisis Hotline: (970) 491-7111
Lauren Willson can be reached through email at letters@collegian.com or via Twitter @WillsonLauren